December 15, 2014 by Shannon Lim-de Rooy | 0 comments
Make these Almond Cranberry Salted Chocolate Bark. Easy beautiful edible gifts in 10 minutes.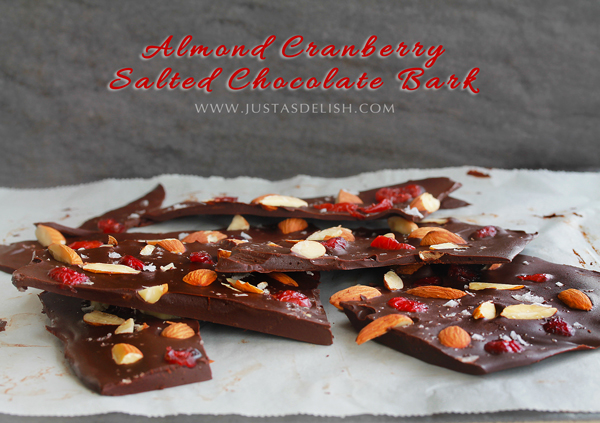 It's that time of year again – gifting time! I do not celebrate Christmas, I just enjoy joining in the joy of the year end festivities and gifting. I'm not very good at gift shopping – I always struggle to think of what to get someone & the frugal me dislike the thought my gift being stored away and never used.
I personally think the best gifts are edible ones. However most of the time, the edible gifts are unhealthy commercial sweets or cookies. One or two of these is OK, too much of it will make you feel unhealthy. The good news is there are many healthy and delicious edible gifts you can make. Friends who received my Passion Fruit Vinegars last year, kept requesting for them. Sorry, I make different gifts every year. You can get more ideas on my posts Homemade Edible Gift Ideas and 30 Healthy Dessert Ideas. People love receiving gifts when it's been made with love. Yes, I know you don't have time to make your own gifts, neither do I. But a lot of them are sooo quick and easy, like my previous No Bake Coconut Cranberry Seed Bars recipe.  And so are these Chocolate Bark. You can make them in bulk, and add personalised topping.  Continue Reading →