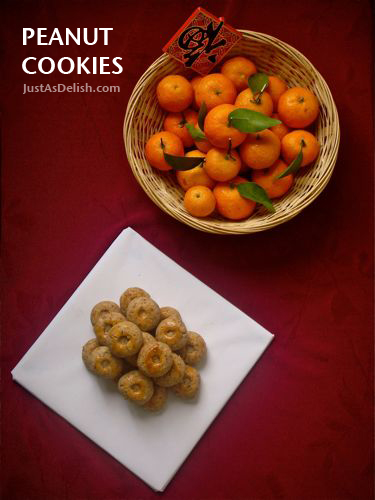 Peanut cookies are my favorite traditional Chinese New Year cookies, it's also my papa's favourite. I definitely must have these addictive melt in the mouth peanut cookies for every Chinese New Year. Once you pop one into your mouth, you will definitely won't stop at just one. What's your favourite Chinese New Year cookie?
Making these cookies brings up my childhood memories of helping my mama rolling hundreds of them with my sister while watching television. It's definitely a fun family project to do with the kids. Shape them into round balls and use the cap of the toothpaste to form the round pattern on top of the cookies before brushing the top with an egg wash. For the Lunar New Year celebration, indulge and enjoy them with a cup of Chinese tea.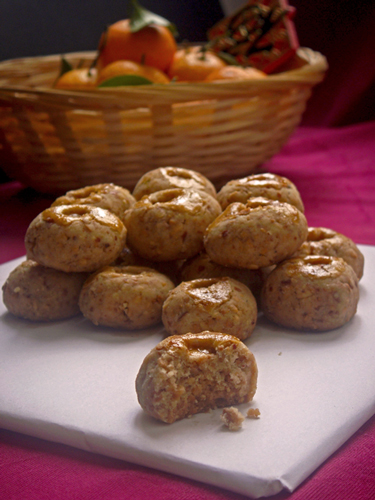 I'm already back to my hometown early to prepare for the Reunion Dinner at my grandparents house tomorrow. What dishes will you be having for your reunion dinner? I am preparing fresh Yee Sang (Fish Salad). Will you be having the following auspicious and symbolic foods through the CNY season?
•Bamboo shoots – wealth
•Black moss seaweed – wealth
•Dried Bean Curd – happiness (note: fresh tofu is not served because the color white symbolizes death and misfortune in Chinese culture).
•Chicken – happiness and marriage (especially when served with "dragon foods," such as lobster. Family reunion (if served whole)
•Eggs – fertility
•Egg Rolls – wealth
•Fish served whole – prosperity
•Chinese garlic chives – everlasting, a long life
•Lychee nuts – close family ties
•Noodles – A long life
•Oranges – wealth
•Peanuts – a long life
•Pomelo – abundance, prosperity, having children
•Seeds – lotus seeds, watermelon seeds, etc. – having a large number of children
•Tangerines – luck
For those who is travelling, please travel safe and enjoy the great food and company of your family members coming from near and far!

Peanut cookies is a traditional Chinese New Year cookies. These melt in the mouth peanut cookies are absolutely addictive.
Ingredients
4 cups ground roasted peanuts
¾ cup icing sugar
1 cup peanut oil or vegetable oil (might need a little more)
2 cups all-purpose flour
1 egg yolk, beaten slightly for egg wash
Instructions
Mix the ground peanut, sugar, oil, and flour together until well combined.
Shaped into small balls and place onto baking tray. If could not properly form into a ball and falls apart, add a bit more old to hold it together.
Use the back of a chopstick to make a circle pattern and to flatten the cookie slightly.
Brush the top with the egg wash and bake at 350 degrees F (180 degrees C) for 20 minutes or until brown. Allow cookies to cool on tray for about 10 minutes before removing them onto a wire rack to cool completely.
Store cookies in an air-tight cookie jar.


Notes
Alternatively you can roll the dough to ¼ inch thick, in between 2 plastic sheets and cut out with a cookie cutter. Apply egg glaze.