I grew up with homemade Chinese soups at our dinner table every day, and Chinese soup is somehow very comforting for me. I think soup is in the Hokkien people's food culture. Hokkien people are from the Fujian Province in China (my papa was born in Longyan, west of Fujian Province). Papa loved soup so much that he could just drink a big bowl of soup for dinner. Somedays when I want a light dinner, I have just a big bowl of soup.. aahh
One of my favourite soup is Chicken Herbal Soup. I love to take this gentle and nourishing tonic soup frequently to maintain good health. Herbal soups are most convenient to cook with a slow cooker – I put all the ingredients in the slow cooker before in the morning and it's ready when I return home for dinner. These photos are taken at night in my kitchen under the white fluorescent light, not bad huh?
There's many variation of herbal soup with different combination of herbs, and I have this tendency to mix up or recognize the herbs name. Being a BANANA (yellow skin but white-man thinking on the inside) does not help much, my man always joke about me being OCBC (Orang China Bukan China – literally translation is Chinese People Not Chinese). Well, I am of Chinese descent but I can't read or write Chinese much.
When I left home to Australia for university, my mama was so sweet (and clever) to make ready packets of the herbs combination for me to bring. I would use her sample packs as reference when I pick the herbs for my soup. Thank you mama
Years later, I've come to love this combination for my chicken herbal soup. I'm not sure what is the exact benefit of this combination, all I know it's for good health. Most Chinese dishes are somehow for good health and my man says "Chinese don't eat food that's not good for health!"
CHICKEN HERBAL SOUP
Serve: 4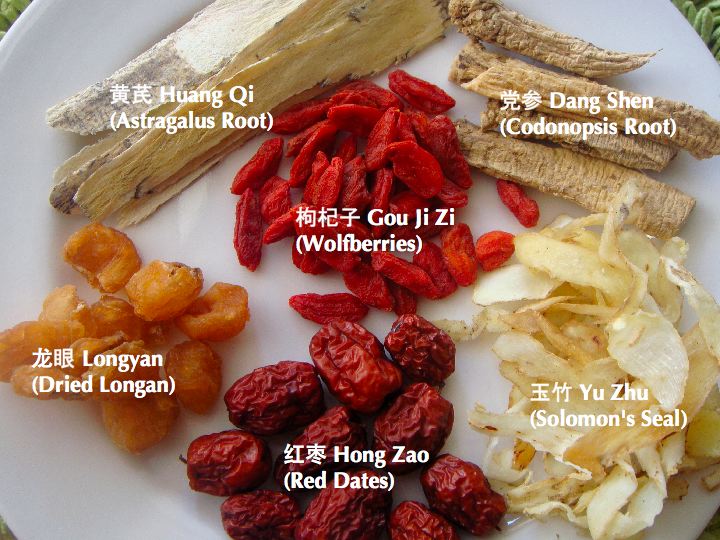 Half Chicken
10 Hong Zhao (Red Dates)
1 Tablespoon Go Ji (Wolfberries)
2 Tablespoon Yu Zhu (Solomon's Seal)
10 LongYan (Dried Longan)
5g Dang Shen (Codonopsis Root) – about 4-5 slices
6 slices Huang Qi (Astragalus Root)
1 liter Water (or according to your pot size)
Add Salt to taste
5 slices of Ginseng (optional)
1. Put all ingredients into pot and bring to boil. Simmer on low fire for at least 1 hour. If using slow cooker, put on high or automatic for 4-6 hours.
2. Add salt to taste. Serve hot.

Most people drink just the tonic soup and throw away all the ingredients. I would finish the whole pot of ingredients, except the herbs Dang Shen and Huang Qi. What about you?