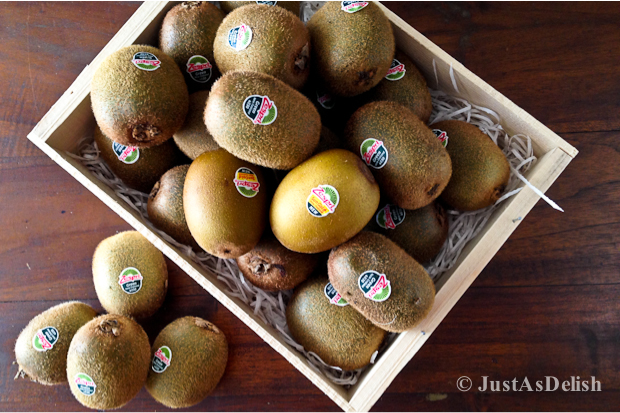 It has been non-stop kiwi photos, creations & tips on my Facebook, Twitter, Instagram & Google+ over the last 14 days. Nope I've not gone kiwi mad.. It was the Zespri® 14-Day Daily Scoop Amazing Challenge – to have a daily scoop of the amazing Kiwifruit for 14 days.
Even though I've always avoided Kiwifruit because it makes my tongue itch, I took up the challenge. Being the health foodie, I have to put the kiwi to the test, due to the tons of benefits this tiny fruit is packed with. As fruits are always part of my diet, taking 1 kiwi a day is easy enough. For the itchy remedy, choose SunGold variety that is sweeter and doesn't cause me any itchiness.
On my 5th day, I had to switch to taking 1 kiwi on alternate days. I always have good bowel movement every morning, but over first 4 days of taking 1 kiwi daily, my tummy was rumbling like having diarrhea and running for the toilet 3-4 times a day. After a week, I noticed my tummy is less bloated. I do get hungry in between meals causing me to snack on some my usual healthy snacks like nuts, dried fruits and homemade granola bars, resulting in me having smaller & lighter main meals. I'm definitely very happy that my overall digestion has improved and I'm 1kg lighter *happy dance* A happy healthy gut is always the start to good health.
So how did this all happen? Kiwifruit is packed with over 20 essential nutrients, high content of antioxidants and a natural source of dietary fibre for a healthy digestive system. And best of all, it has only a Glycemic Index (GI) of 49, which is excellent for diabetics like my grandparents.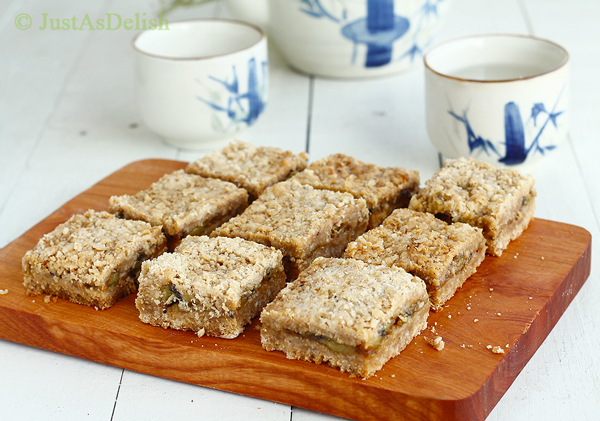 This nutrient densed fruit has not received the highlight it deserved and I've not come across much recipes using kiwi. Fortunately, a group of Malaysian bloggers have creatively come up with interesting new recipes during this challenge. I wish I could come up with more recipe creations, however my schedule for the past 14 days has been crazy. The ones I've created – Green pudding (kiwi+avocado+honey), Souffle Omelette with Kiwi Sauce & Kiwi Oatmeal Bar.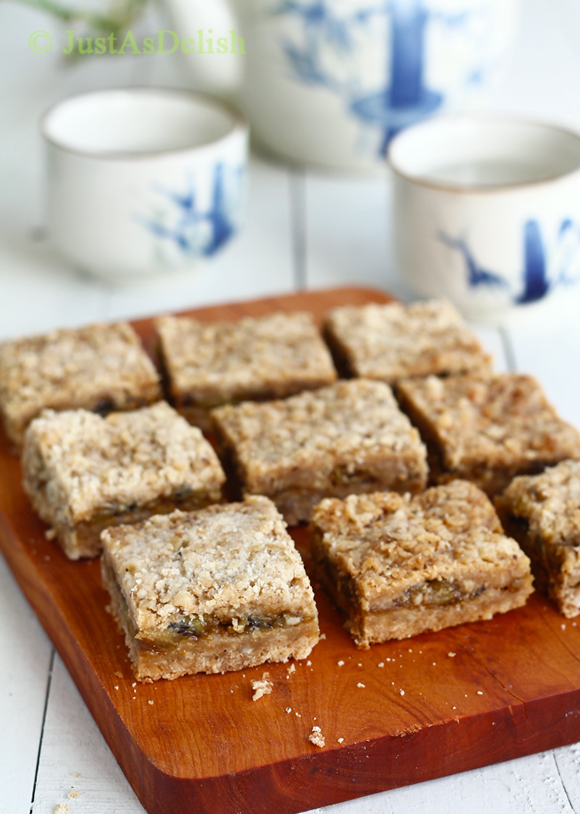 These soft chewy Kiwi Oatmeal Bars makes great afternoon snacks. I made mine gluten free but nobody could tell that they were. I like that there recipe does not need for any equipment and really easy to make.
So what are you waiting for? Remember to grab a pack of Kiwifruit into your grocery cart. I'll definitely grab The SunGold Kiwifruit. Thank you Zespri Malaysia for such an exciting campaign. Do check out http://www.zespri.com.my for recipe ideas and nutritional info.

Kiwi Oatmeal Bar
Ingredients
Filling
450g firm Kiwi - scoop flesh out and cut into quarters
70g (1/3 cup) Raw Sugar
2 tablespoon Cornstarch
Crust
250g (2 cups) Flour (I use 150g/1 cup Rice Flour & 120g/1cup Tapioca Flour mix)
90g (1 cup) Oats
4 tablespoon Ground Hazelnut
90g (1/2 cup) Raw Sugar
1 teaspoon Baking Powder
170g (3/4 cup) Butter - cut into cubes
Instructions
Preheat the oven to 350F/ 180C. Grease a 9 x 9 baking tray.
Combine the filling ingredients - kiwi, sugar and cornstarch in a bowl.
In another big bowl, mix together crust ingredients - flour, oats, hazelnut, brown sugar and baking powder. Add in butter, rub with your fingers until it resembles coarse crumbs.
Sprinkle half the mixture into the pan and pat lightly to pack it a little tight. Top evenly with kiwi mixture. Sprinkle the other half of the oat mixture over the top and pat lightly again.
Bake until light golden brown on top, about 30 to 40 minutes. Remove from the oven and let it cool before cutting into squares.