Mildly sweetened and sourish Wild Berry flavours with fragrant crumby crust, it was like eating berry cookies.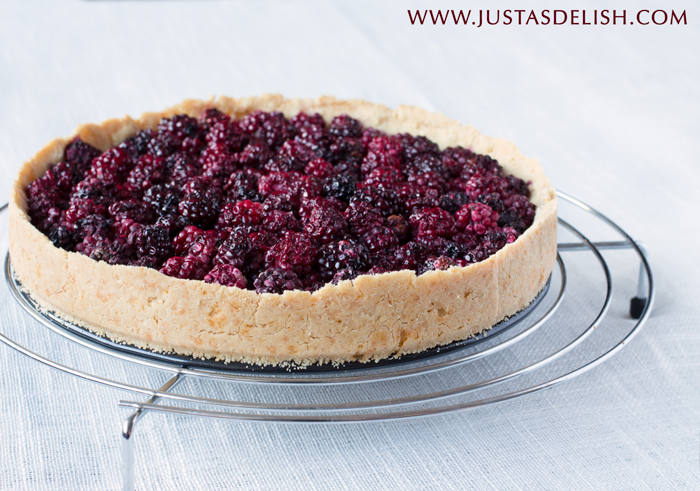 One of the cool thing about the summer in The Netherlands is foraging for blackberries (bramen in Dutch). I would grumble about erratic Dutch summer (mostly cold, windy and rainy) but all would be forgotten when the wild blackberries bushes are spotted. I even picked them in the rain! I can so imagine my mama frowning and nagging me about getting myself caught in the rain. And there was the time where I ignored my broken heel and party dress, and only focusing on berry picking. Haha.. the power of food.. 
And a week ago, we were both so obsessed with berry picking that we planned it well in advance – after dinner, proper shoes, comfy clothes and a huge container. The sun was setting, and we were squinting our eyes to search for ripe berries, promising ourselves not to return home until the container was full and heavy. Our loot was a whopping 1.2kg, however our 'greedy ambition' also picked up some under-ripe blackberries. If you are concerned that we took the food of the birds & squirrels, you can find blackberries bushes in almost every corner where wild bush patches grow. Just like we could find daun kadok, banana trees and papaya trees growing wild in Malaysia, except I've never done any foraging in Malaysia.
Berries are known for their antioxidant and vitamin goodness. Wild berries are especially loaded with beautiful and natural Omega 3s. The best way to enjoy them are, of course, popping them in your mouth as snacks, or using them in smoothies. The half-ripe berries we picked were made into tarts, offering a unique interplay between sour and sweet and a cool oozing red tart. Initially I was hesitant to bake tarts, as I do not have good experiences with making the crust. I was glad that I dragged my ass to make it, because Norbert said it was like eating blackberry cookies. Actually he could not get enough of the crust. Last weekend, I made another tart, and this time using a spring form cake tin. We both love the mildly sweetened and sourish flavours, that we finished half the tart in a sitting.. Oops.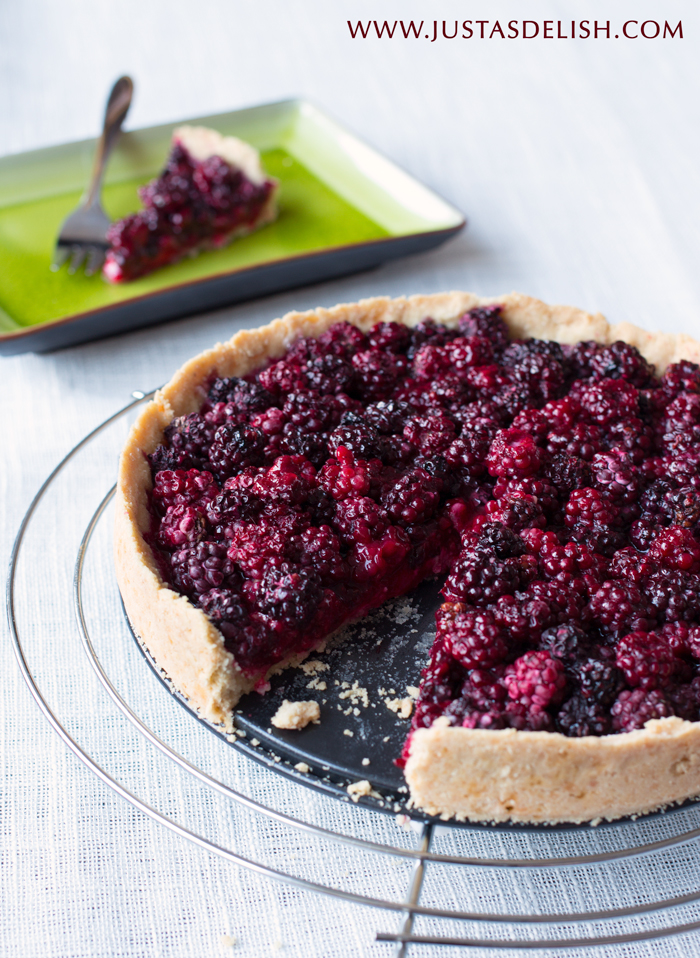 Cook's Note:
* This gluten free crust do not hold together well, it breaks easily because there is no starch in it. So it's easier to press the crust onto the pan than trying to roll it. If you want to roll it, freeze the dough for 20 minutes before rolling. I did not blind bake the crust in this recipe, as I do not mind a slightly soggy crust. If you prefer a crispy crust, blind bake the crust for 10 minutes before adding the filling to bake a further 30 minutes.
* I flatten the extra crust dough, place it on another tray and bake together with the tart for only 15 mins. They turned out to be fragrant crumbly cookies despite having no added sweetener.
* The Groene Koe organic butter makes the crust so fragrant (It's strange that the organic butter at Dirk is 10 cents cheaper than a branded non-organic butter, but yay for me!).

Wild Berry Tart
Mildly sweetened and sourish Wild Berry flavours with fragrant crumby crust, it was like eating berry cookies.
Author:
Just As Delish original recipe
Serves:
1 x 20cm (8inch) tart
Ingredients
Crust
80g Buckwheat Flour
40g Rice Flour (or any wheat flour for normal crust)
40g Ground Almond
60g Butter - cut into cubes
1 small Egg
pinch of Sea Salt
Filling
400g Blackberries (or any preferred berries) - can be fresh or frozen
2 tablespoon Cornstarch
2 tablespoon Raw Sugar
Instructions
Preheat oven to 180C. Brush butter around 20cm (8inch) spring form cake tin or tart tin.

Process crust ingredients in the food processor in 4-5 short pulse until it becomes crumbly. The crust breaks easily, so I find it easier to press the dough into the tin without rolling. *If you prefer to roll it, wrap the dough and chill in freezer for 20 minutes before rolling. Roll the dough between 2 parchment paper into 2cm thick, and, larger than your tin. Place and press down the rolled out dough into the tin.

Mix all the filling ingredients in a bowl and spoon into the tin.

Bake for 30 mins. Remove from tin and cool down before serving. The tart taste even better after chilled.