Aromatic & nutritious sprouted Pumpkin Seed Butter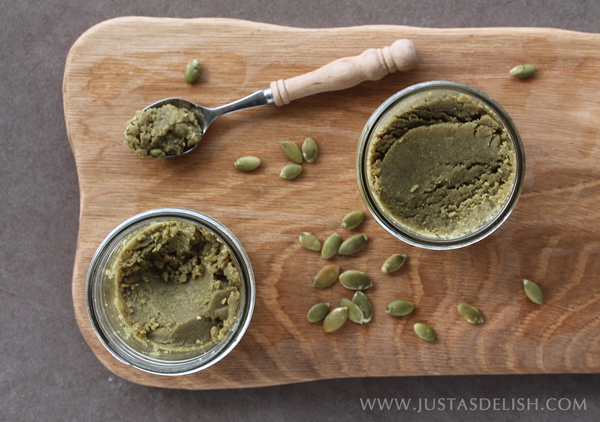 Sprouting is something mama have been doing on and off over the years, and I've picked up the habit a few years back, mostly sprouting alfalfa. It was only recently that I branched out into sprouting grains and legumes, after having found them being packed with nutrients and easy on digestion. 
What is Sprouting?
Seeds sprout after a few days in a warm, moist setting. It's the same method like sprouting seeds for growing a plant. You have most probably seen bean sprouts or alfalfa sprouts, but many other foods can also be sprouted including:
Grains: wheat, barley, rice, quinoa, buckwheat
Legumes: beans, lentils, peas
Seeds: sunflower, pumpkin, broccoli, millet
Nuts: almond, walnut, cashew, hazelnut, pinenuts, etc (nuts do not grow sprouts)
Nuts, grains, beans and seeds has many nutritional advantages to you, but many of them are covered with enzyme inhibitors that prevent premature germination and store nutrients for plant growth. Once you start the germinating process, the inhibitors are neutralised, that dormant seed is activated to become a live plant. It changes, inside and out, and when you eat that seed, you are no longer eating just a seed, instead you are eating a tiny little plant.
Sprouting Benefits
The sprouting process may make it easier for a body to absorb nutrients and vitamins. "The process of germination not only to produce vitamin C, but also changes the composition of grains and seeds in numerous beneficial ways. Sprouting increases vitamin B content, especially B2, B5, and B6. Carotene increases dramatically – sometimes even eightfold." Sally Fallon – Nourishing Traditions.
Have you ever had problems with legumes causing intestinal gas? Sprouting aids digestibility as it breaks down the legume. This means less work for your digestive system. It's definitely a big help for people with gastrointestinal issues like me.
Recently, I've been mostly soaking and sprouting nuts, seeds and rice. I'm currently in love with sprouted brown rice, it become softer and easier to digest. I think the reason most people don't sprout is because it sounds so intimidating. Let me tell you, it's really not hard at all and it takes very little time. I know that we are all busy people. But sprouting will not take much time, and will give you much in return. The method is pretty much the same for most seeds, grains, nuts, and legumes, use the sprouting chart for soaking and sprouting time. Once sprouted, they can be eaten raw or cooked and stored in the fridge for up to 3 days. For longer storage, dry them in dehydrator or oven on the lowest temperature or better yet use natural sunlight if you live in the warm weather.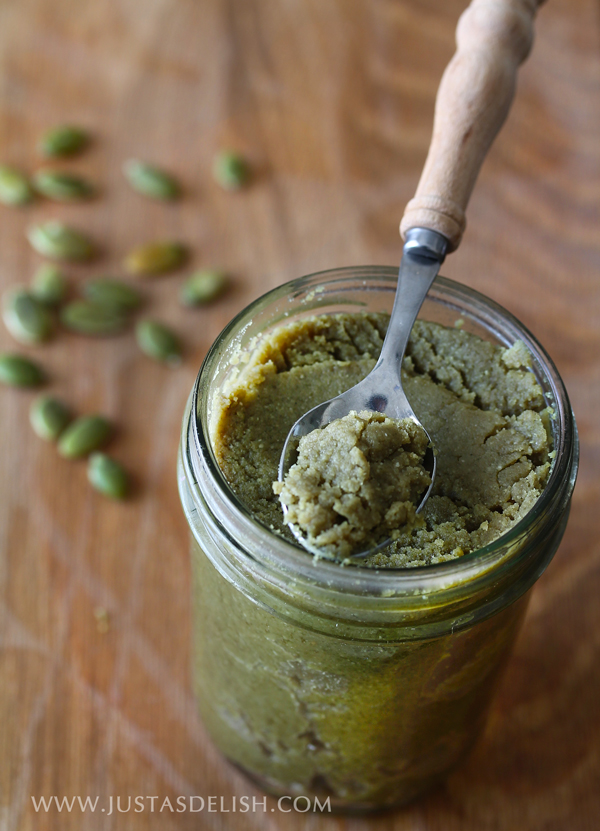 Having made a varieties of nut butters (Honey Roaster Walnut Butter and Spiced Almond Butter) in the past, it's time for a nutritious Sprouted Pumpkin Seed Butter. Pumpkin seeds or pepita are nutritional powerhouses wrapped up in a very small package, with a wide variety of nutrients ranging from magnesium and manganese to copper, protein and zinc. Rich in healthy fats, antioxidants and fibers, these seeds may provide benefits for the heart and liver health. Pumpkin seed butter is so aromatic that I just eat it straight out from the jar, by the spoonfuls 😀 Alternatively, use it as spreads, add to morning oats, mix in granola or make pumpkin seed choc truffle.

Sprouted Pumpkin Seed Butter
Aromatic & nutritious sprouted Pumpkin Seed Butter
Recipe
type:
Snack / Made from Scratch
Ingredients
2 cups (190g) raw Pumpkin Seeds
1 teaspoon Raw Honey
¼ teaspoon Sea Salt
2-3 tablespoon Pumpkin Seed Oil (or any mild tasting oil)
Instructions
Soaking and sprouting the pumpkin seeds.
Soak seeds with water in a large bowl and leave them overnight.
Wash and drain them in the colander for 24 hours. Rinse the seeds twice with water over the 24 hours. The seeds will look the same, as they don't grow sprouts, just more plump. Soaked seeds can be stored in the fridge for up to 3 days.
Dehydrating the pumpkin seeds.
Spread out the seeds on the dehydrator trays, set it on 40C for 6 hours or until the seeds become dry.
If you are using the oven, set the oven the lowest temperature with the door slightly opened for about 8 hours or overnight.
Make sure the seeds are completely dry before storage.
Making pumpkin seed butter
Place the dehydrated seeds in the food processor. Run the processor until they become fine. Scrap the sides if needed to assist the grinding process. Add in oil, honey and salt and continue processing until it start to turn sticky paste-like. Taste the paste to see if you want to add more salt or honey. Place the pumpkin seed butter into a small jar and can last up to 2 weeks.

Notes
Note: You can also toast the seeds when they are 70-80% dry in the dehydrator or oven.