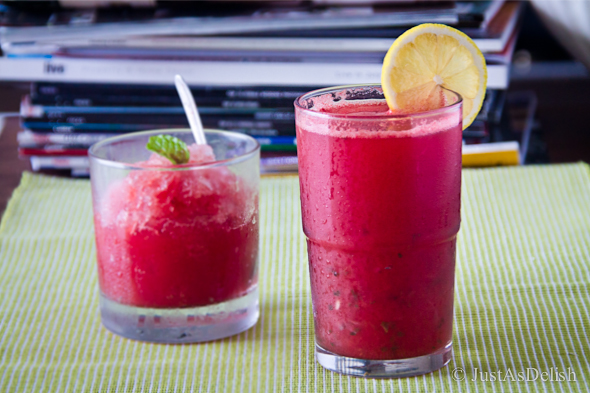 It is getting hotter by the day, and most days I am wishing to be soaked in the pool the whole day.. Ah.. that would be complete bliss..
Well, not having that kind of luxury, I make do with refreshing watermelon mint cooler by the poolside. What's missing in the picture are the mini umbrellas..
After one refreshing glass, an idea sparked: why not freeze the cooler and make it into granita. Oh that is so much more fun than cooler, it reminds me of sweet shaved ice balls I have as a child. Granita is an italian frozen dessert made of any type of juice/beverage, frozen and scraped to make into icy dessert.
Freeze the cooler, and use a fork to scrape into ice. Oh and serve immediately, the granita has melted while waiting for me to get the right angle for the photos. Now you also know what is the heat like for me!
Watermelon Mint Cooler & Granita
Ingredients
Half medium (about 500g) Watermelon - cut into cubes
2 handful of Mint
Juice of 1 Lemon / Lime
Sugar/Honey to taste - Optional
Instructions
Cooler
Blend all ingredients and serve garnished with mint leaves and lemon slice.

Granita
Pour cooler into freeze proof container, and place in the freezer. After it's completely frozen, use a fork to scrape the frozen liquid. Serve the ice immediately.