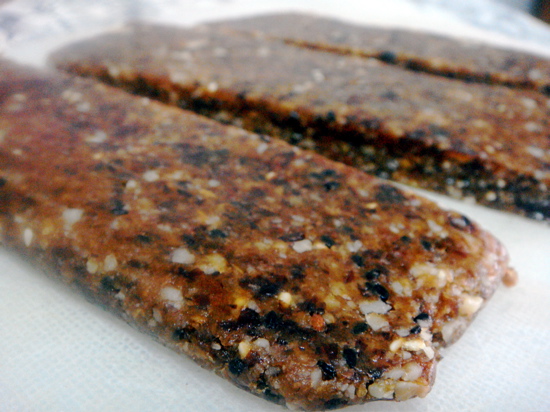 I have never been particularly drawn to energy bars and their weird ingredients lists, but then I read about how popular the Lärabars are in the States, I have to give it a try.
If you've yet to make their acquaintance, here's what you need to know: Lärabars is a raw food energy bar that is dairy-free, gluten-free, vegan & non-gmo, many fitness trainers recommend Lärabars for endurance & recovery – pre & post workout. These delightful bars compact but tender energy bars made of ground dates mixed with nuts and other flavorings – spices, dried fruits, coconut, cocoa powder – but no added sweetener. Due to it's simplicity, it doesn't long for someone to think, "Hm, I could probably make my own."
Dates make up the base ingredient in Larabars and is the source of the sweetness in these bars. I absolutely love dates because they taste like brown sugar-hence they are a healthy, nutritious way to curb my (sometimes out of control) sweet tooth.
Nutritional Benefits of Dates:
Excellent source of carbohydrates (great for pre- or post-workout)
Contain no cholesterol
VERY  high in fiber which is great for digestion
Packed with healthy minerals such as calcium, magnesium, phosphorous, potassium, zinc, and ion
Help regulate blood sugar lebels
Contains vitamins A1, B1, B2, B3, B5, and C.
With the beautiful Omani dates I bought yesterday, I created my own combination with walnut and sesame seed. I realised sesame seed makes everything taste better – at least more me!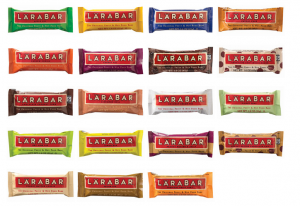 The recipe below is completely open to variations and substitutions to emulate your own favorite or come up with your ideal bar, and I hope you'll report back if you make a winning version. Larabar flavors offered are Apple Pie, Banana Bread, Blueberry Muffin, Carrot Cake, Cashew Cookie, Cherry Pie, Chocolate Chip Brownie, Chocolate Chip Cookie Dough, Cocoa Coconut Chew, Cinnamon Roll, Coconut Cream Pie, Ginger Snap, Lemon Bar, Key Lime Pie, Peanut Butter Chocolate Chip, Peanut Butter Cookie, Peanut Butter & Jelly, Pecan Pie & Tropical Fruit Tart.

* Lärabars were introduced in 2003 by an independant company based in Denver, but that company was bought over by General Mills in 2009.
Walnut Cookie Larabar

Makes ~3 bars (double the ingredients to make a larger batch)
1 1/2 cup dates (remove the seeds)
1 cup raw walnuts
1/2 teaspoon cinnamon powder
pinch of salt
1 teaspoon white sesame seeds (optional)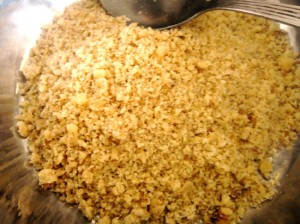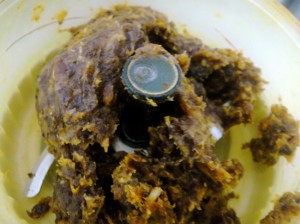 1. In the food processor, pulse the walnuts until it turns to bite size pieces (avoid pulsing too long, you don't want to end up with a powder-like texture). Empty walnuts into a big bowl and set aside.
2. In the emptied food processor, pulse Dates until become paste.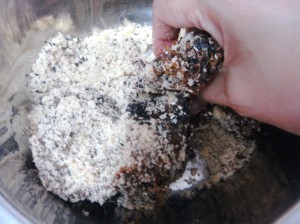 3. Place dates into the same bowl as the walnuts. Add sesame seed, cinnamon powder and salt.  With your hands, mix both items until they are well incorporated (this part can get messy)!
4. Form the dough into a large ball.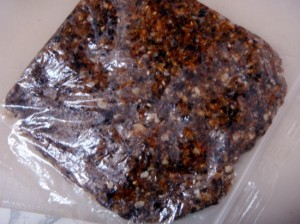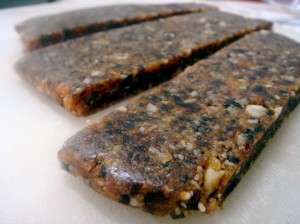 5. Place the dough ball into a zip lock bag and flatted with a rolling pin or just your hands. Refrigerate for 1 hour to before cutting them into bars.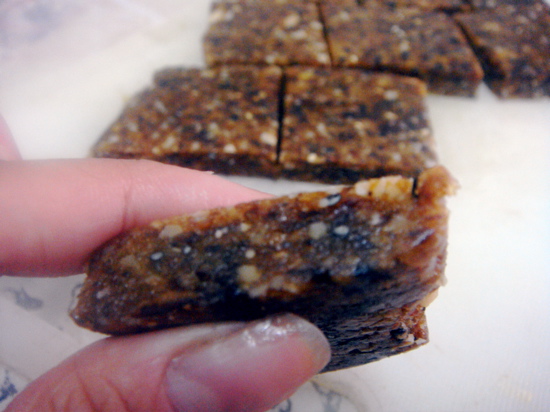 Can individually wrap these bars in cling wrap or foil, easy to take on the go. Or i cut them into smaller bite size pieces and store in cute small containers. Store them in the fridge for maximum life.
For a different flavour, try this Almond Cashew Cocoa Energy Bar.