Turn earthy nutty buckwheat pancake into stove top pizza loaded with goodness!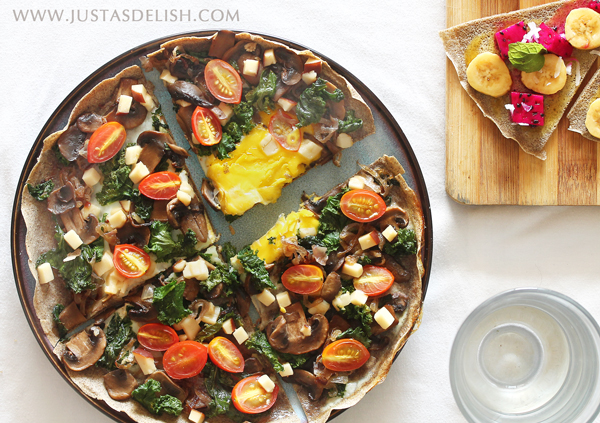 It might seem strange to some, but I don't miss any food made with wheat. This would be an utterly absurd thought when I was first told by my naturopath 3 years ago to omit wheat among a few other food groups. I was whining and protesting. I thought I would literally "die" without bread, cakes, pasta and noodles. I wanted progress, to get better, and yet detested change. Humans are strange beings, aren't we? Change is scary, and until we are forced to change, until we feel the pain, most of us prefer our safety net – clinging to the things we are familiar with.



Change is the essence of life. Be willing to surrender what you are, for what you could become.
Left without much choice, I omitted wheat and haven't looked back since as my health started recovering. And the best part is opening myself to embrace change and look inside to understand what it is I'm holding so tightly to and not able to let go. In fact, that change had made my culinary life filled with colours. Trying new ingredients I've never heard before, challenges my thoughts of conventional food creations. Why do we bind ourselves so tightly to what we commonly know as the reality, and even fight to defend what we think is the reality. Why does bread have to be of certain texture? Bread in my part of the world is soft and fluffy, while in some countries, it's preferred to be hard and dry like rye breads.
You might have seen naan or tortilla being used in place of a pizza dough. As I've had many unsuccessful attempt with a wheat-free bread dough, wheat-free pancake is the best substitute I've came up with. And who doesn't like pancake 🙂 This is inspired from the galette (buckwheat crepe) I had in Paris. This buckwheat pancake's texture is not as pliable as a normal pancake or crepe, it's more like a thin crust pizza with a tad crunch. Doesn't it look like an open face galette? The pancake works best on a non-stick pan like my Tefal Sensorielle pan, but a normal pan works too. Make sure the egg is fresh, else the egg white will spread everywhere when you crack it onto the pancake. Oh that colourful pizza piece on top right of the photo.. it's a fruit pizza (recipe will be shared soon)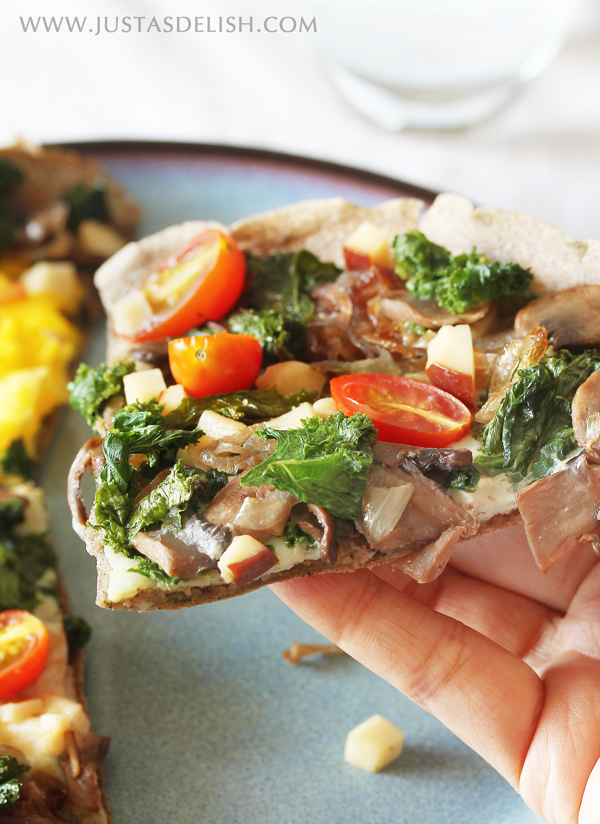 If you wondering what buckwheat is, you must try this earthy nutty seed that is high in protein, phytonutrients and minerals. Surely you must have tried Japanese soba noodles before. Soba is made with buckwheat flour but commercial soba are usually combined with wheat four. Despite the name, buckwheat is not related to wheat, hence making it a great wheat-free ingredient. You'd be surprised that buckwheat is common in Eastern Europe, Central Asia and East Asia.
Intrigued? Here's some buckwheat recipes for you to try:
Britanny Galette (SBS)
Buckwheat Tortelli with Walnuts and Ricotta (Jul's Kitchen)
Buckwheat Cinnamon Rolls (Nourishing Meals)
Buckwheat Graham Crackers (Sketch-free Eating)
Buckwheat Wrap (Just As Delish)
Buckwheat Blinis (Just As Delish)
Note: In Malaysia, buckwheat groats and flour is available at organic shops and organic section in some supermarkets.

Vegetarian Buckwheat Pancake Pizza
nutty earthy pancake as pizza on the stove
Ingredients
Pancake
70g (½ cup) Buckwheat Flour
180ml (¾ cup) Milk or Water (I used homemade almond milk)
2 medium Eggs\
Topping
1 big Yellow Onion - thinly sliced
a handful Brown Mushrooms - thinly sliced
a handful Kale - ribbed and roughly chopped (I use my homegrown kale. Other leafy greens work too)
2 Eggs
a couple Cherry Tomatoes - cut into half
4 tablespoon grated cheese (use your preferred cheese, I used smoked goat cheese)
Instructions
Heat up a pan on low heat, add 2 tablespoons of oil and sliced onions. Saute until it is brown and caramelised. Add in mushrooms and kale to saute until both are cooked. Season with salt and pepper, then remove from heat and set aside. Wipe clean the pan with paper towel if you're using the same pan for the pancake.
Whisk well the pancake ingredients in a mixing bowl. Heat up 26cm non-stick pan on medium fire (coat pan with oil if you are using normal pan). Pour ¼ cup of batter into the pan, lift up the pan and swirl the batter around to coat the pan evenly.
When batter dries on the surface, increase the heat to high. Crack an egg very near to the surface of the pancake. Place cooked veggies, tomatoes and cheese around the egg yolk, and place a lid over the pan for about 2 minutes to melt the cheese and cook the egg yolk.
Slide the pancake pizza onto a cutting board, slice into pieces and enjoy!

Notes
* The pancake ingredients make 4 pieces of pancake. Extra pieces can be stored chilled for 2 days in a large zip lock bag. Reheat chilled pancake with a pan.
* The smoked goat cheese I used doesn't melt under heat