Trying to stop my sweet tooth and junk food cravings, I have been searching for alternative flour-less baking desserts and snacks recipes past 1 month. There's some successful trial of substituting wheat flour that I have posted – Sweet Potato Cake Bites, Candy Dates Macaroon, and No Bake Cookie Dough Bites. But there were also some 'interesting' & 'inedible' food results (according to my sis CM) . Why go flour-less? According to Dr Peter D'Adamo's Eat Right For Your Type, wheat triggers digestive and health issues for Blood Type O. I've been following my blood type diet for 2 months and have seen amazing health results. I will have to find time to write about my experiences soon.
This month, I decided to switch my focus to Asian desserts that mostly do not require baking and wheat flour .*YaY*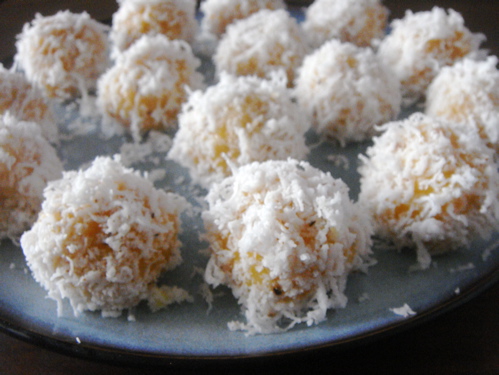 Onde Onde (also spelled as Ondeh Ondeh) is a common South Asian dessert. In Malaysia, Onde Onde is infused with pandan juice (juice from screwpine leaf) that gives it the natural green colouring, filled with Gula Melaka (Palm Sugar) and rolled in fresh grated coconut. Both pandan leaves and gula melaka are common ingredients in Asian desserts, and easily found in Asia. But out of Asia, these ingredients can be found at Asian shops. Instead of pandan juice, I substitute with sweet potato, making my onde onde into cute orange balls.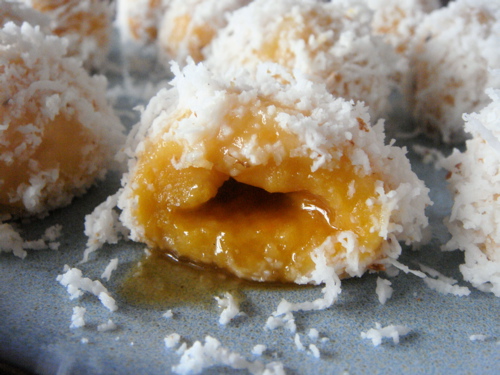 This Asian dessert is like the western molten cake (aka lava cake), that makes people go "ooz" and "aah" when the palm sugar burst into their mouth when they take a bite. Not only does this sweet treat taste heavenly, this easy-to-make dessert will impress your family and friends. It can be rather addictive, I can't stop popping these into my mouth!
This recipe will be submitted to Muhibbah Malaysian Monday November Round-up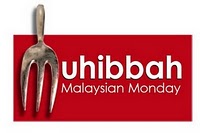 Sweet Potato Onde Onde (Sweet Potato Glutinous Rice Balls)
Sweet Potato Onde Onde / Ondeh Ondeh (Glutinous Rice Balls) is filled with Gula Melaka (Palm Sugar) and rolled in fresh grated coconut. The palm sugar burst into your mouth when you pop one into your mouth.
Recipe type:
Asian Dessert
Ingredients
200 gm Red Sweet Potato
100 gm Glutinous Rice Flour
100g Gula Melaka (Palm Sugar) - cut into 10 to 12 cubes, fingertip sized
100g Grated Coconut, for coating
pinch of Salt
Instructions
Steam the sweet potato over medium-high heat in a wok, until it's softened. If it's easily poked through with a chopstick or fork, it's cooked through. Cut into two halves and let it cool down.
In a small bowl, mix the grated coconut with salt. Set aside.

Spoon out the sweet potato flesh into a large bowl with the glutinous rice flour and knead into a dough. If it's too dry, add water bit by bit. If it's too wet, add a bit more glutinous rice flour.

Cut the dough into 12 equal portions / balls. Flatten the ball and fill the center of the dough with palm sugar. Roll them in your palm to form a smooth ball. Repeat this step with the remaining dough.
Bring a large pot of water to a boil. Gently place the balls into the water, cook until the balls float onto the surface of water. Reduce heat and simmer for another 5 minutes.

Remove the balls with slotted spoon and coat the balls evenly with desiccated coconut. Enjoy!

Notes
* Every sweet potato contains different amount of water, you can add some water if the dough is too dry, or add some flour if it's too wet. No matter whether you add water or flour, it has to be added by a small amount at a time. * To shorten the cooking time of sweet potato: Peel and cut the sweet potato into small cubes before steaming. Smash the flesh with a large spoon or potato masher.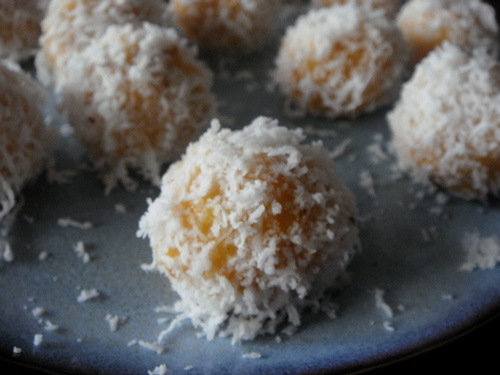 Have fun trying this recipe!