Happy Tuesday and it's Day 4 of October Unprocessed Challenge!
Some updates on my Day 3:
Breakfast: Meatfloss rice pancake, salad and orange lassi
These homemade meatfloss goes very well with these rice pancake recipe I shared a while back, reminds me meatfloss rice cracker from thailand
Lunch: Chicken rice
Dinner: Easy & delicious Spanish Paella.. oh my I'm salivating just thinking about it
So you must be wondering how to eat out during the October Unprocessed Challenge?
One of my strategy is ordering stir fry chinese dishes with rice. Most of stir fry dishes are freshly prepared, except maybe the seasoning. Yeah seasoning can be a bit tricky here when it comes to the definition of unprocessed. Soya sauce, oyster sauce and fish sauce is unavoidable for stir fry, and it's quite difficult to be homemade, so they are acceptable for me.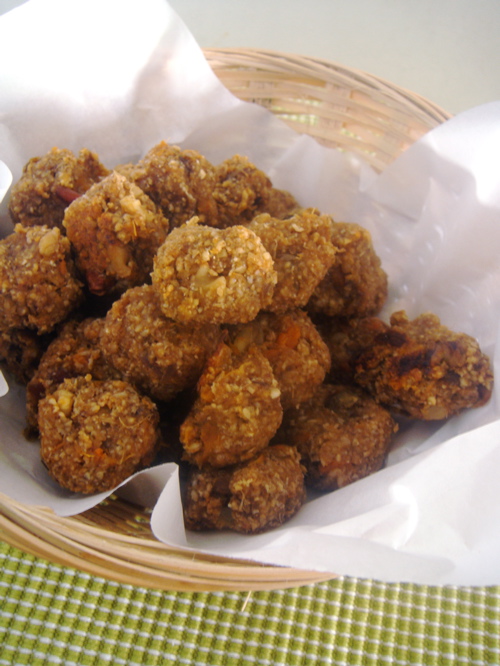 Now on with the recipe. I baked these sweet potato cake bites over the weekend, i love that it's flourless. I tweaked the recipe of No Bake Chocolate & Apricot Cookie Dough Bites & bake it. I found a nice trick for egg replacement – add water to grind flaxseed, and it will turn gooey to hold baking mixture. I'm glad these bites are moist and tender, and surprised that these small bites are actually quite filling – I had these for breakfast.

Sweet Potato Cake Bites + Day 3
Flourless mini cake bites with oats, sweet potato, dates and walnut. Healthy moist and tender snack or breakfast treat. Can also be no-bake cake bites. Gluten Free, Dairy Free, Egg Free Recipe
Author:
Inspired from my No-Bake Chocolate & Apricot Cookie Dough Bites
Recipe type:
Breakfast / Snack
Ingredients
2 small Sweet Potatoes - steamed & mashed
½ cup Rolled Oats - grounded
¼ cup Oat Bran / Rolled Oats
¼ cup Dessicated Coconut
½ teaspoon Baking Powder
¼ teaspoon Salt
¼ cup Raw Walnuts - coarsely chopped
¼ cup Dried Dates - soaked in water for a few hours & coarsely chopped
¼ cup Raw Honey (I used mashed fresh dates)
2 tablespoon Olive Oil
¼ teaspoon Ground Cinnamon
½ teaspoon Vanilla Essence
½ tablespoon ground Flax Seed
Instructions
Preheat the oven at 350 degrees. Greased or line baking tray
In a small bowl, add 1 tablespoon water with flax seed, stir and set aside for 5 minutes until the mixture thickens.
Meanwhile, place sweet potatoes in a steamer for 10 minutes until soft or test it by poking with a fork. Let it cool down, remove skin and mashed with fork. (You can also roast the sweet potatoes in the oven until soft. I prefer steaming because it's much easier & faster for me)

Add all ingredients in a bowl and mix till well-combined.
Shape 1 tablespoon of batter into small balls and drop onto baking tray.

Bake for about 12 minutes. Let it cool down before keeping in air tight container. Enjoy!

Notes
This can also be a no-bake dough bites! Instead of baking, just refrigerate the balls for at least 1 hour or overnight, then enjoy!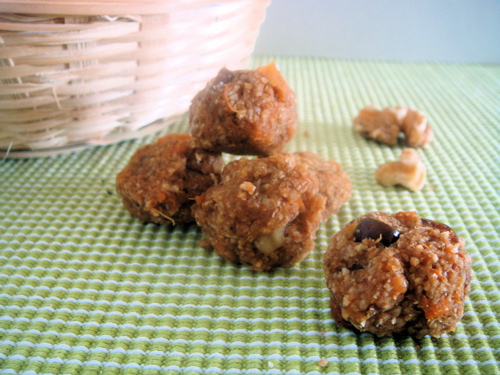 Sweet Potato Cake Bites, Gluten Free, No Bake Recipe, Oats, Egg Free