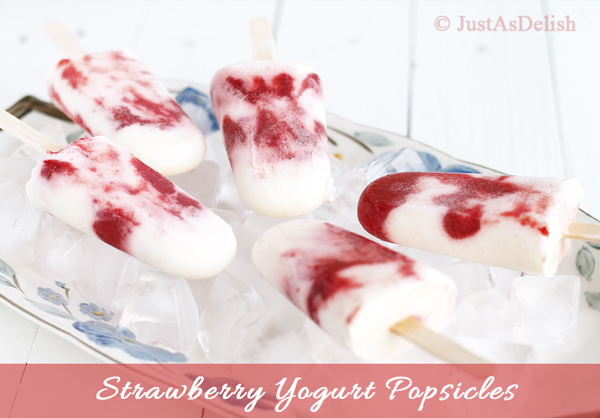 It has been 2 years. Time just fly. It seems like yesterday was my first post on Homemade Granola. Of course if you were to compare my first photo then and the photos now, you will notice the difference in my growth with this blog. Do I cringe when I see my old photos? Of course. Many times I've contemplated to reshoot my old recipes. Besides not having the time for that, I decide to keep the history, instead of erasing it. I am eternally grateful for the rocky beginning that pushes me to improve my cooking skills. I started blogging with the recipes I cook daily, even just for 1 person. To share and inspire others to start cooking too. My family made fun of me.. "How can you post your recipes online? Aiyo so malu (embarassing)". "Don't waste your time cooking & blogging, go do something more useful." From that to teaching cooking class is a HUGE thing for me. Everyday I count my blessings for all the opportunities that came along and people who believed in me. 
I can't believe I forgot about the date until yesterday. I did reminded myself a month earlier. Things cropped up out of nowhere in June. It happens and it's totally alright. But I didn't make anything to celebrate. So I gave myself a marvellous treat instead – a morroccan spa at Hamman Spa. Totally refreshed and rejuvenated.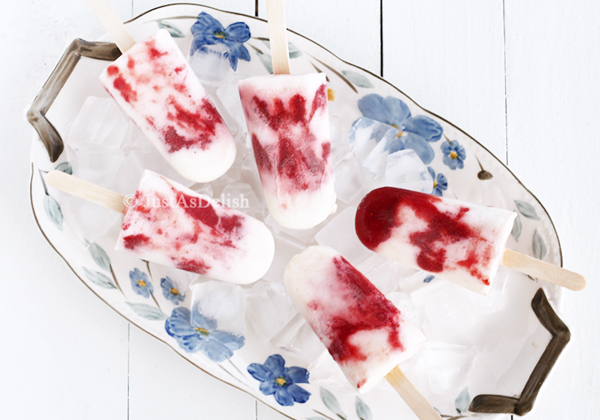 I select these delightful Strawberry Yogurt Popsicles for this celebration post.
Easy
Fresh
Real ingredients
Homemade
Healthy
That's what this blog is all about
And to many more years to come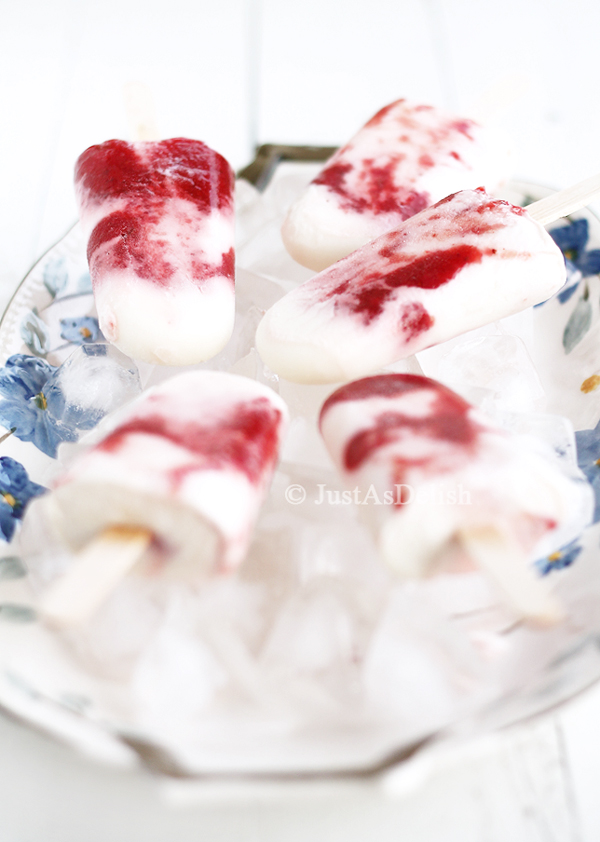 I got so excited when I saw this pin on Pinterest, that I immediately went to buy strawberries. I lightly sweeten the yogurt for a natural taste, but forgot that the sweetness level will drop after it is frozen. My friend's kids wrinkled their nose after a taste, so I highly recommend to increase the sweetness from your usual preference during preparation. These popsicles are so easy, it's strange to call this a recipe. Well for the sake of the food blogging, here's the recipe.
I would love to hear the things you are grateful for. Please leave me a comment below.
Strawberry Yogurt Popsicles
Refreshing homemade strawberry yogurt popsicles, great for dessert or mid-day snack
Recipe type:
Dessert / Snack
Ingredients
Homemade Yogurt / Plain Yogurt
Vanilla Extract
Honey
Strawberries - hulled
Balsamic Vinegar
Instructions
Mix yogurt with vanilla extract and honey (adjust amount to your preference)
Puree strawberry in food processor. Add honey and a tiny bit (1/2 teaspoon) balsamic vinegar (it enhances the strawberry flavour).
Scoop yogurt and strawberry alternately into ice cream/popsicle mould or small disposable cups, place ice cream stick and freeze.
Notes
Note: Sweetness level will drop after popsicles are frozen. Recommend to increase the sweetness from your usual preference when you taste it. Any fruit puree will work marvellously as well