Easy & healthy Strawberry Chia Pudding – an occasional treat to satisfy my sweet cravings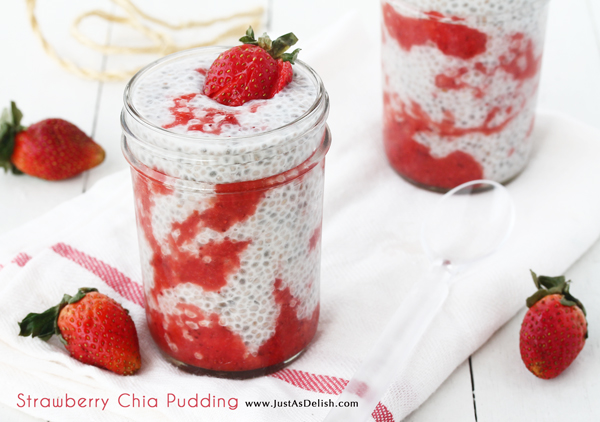 Chia Chia Chia. Chia seeds (salvia hispanica) have been catapulted into the category of ancient super food. Ain't that great because "Chia" is my Chinese name.
All the health food sites are raving about chia seeds – the miraculous seed that has a rich source of omega-3 fatty acid, helps build muscle and lowers cholesterol.  In the book "Born to Run" by Christopher McDougall, he wrote about the ancient civilizations such as the Incas, Mayans and Aztec who used chia seeds to help bring strength to hunters and warriors on long expeditions. Am I late to get on the bandwagon of chia seed? Are they really worth the hype as a miracle running fuel?
I started using chia seeds about 2 years ago, sprinkling them on my big breakfast oats and smoothies. More than 1 tablespoon a day will send me purging. I find this strange as it does not happen to other people I know, but it didn't get me curious enough to investigate this further. I stayed with 1 teaspoon occasionally.
2 months ago, I attended a nutrition talk with a group of good friends. This company was selling a specific blend of chia seeds that claimed to help many illnesses. Mix an amount of the blend with water and drink throughout the day. So 4 of us decided to experiment with normal chia seeds. I purged on the first 3 days. By the 5th day, fatigue made me gave up. During these 5 days, the 4 of us noticed that we ate less as we felt semi-full throughout the day. Maybe the sticky gel formed from the soaked seeds has a similar effect like psyllium husk of keeping you full? It is not surprising that all 4 lost some weight after 5 days.
As I dig deeper, there is research showing findings that the sticky gel from chia seeds forms a barrier which impairs digestion, fat absorption and causes a low protein digestibility. Definitely not helping someone with leaky gut condition like me.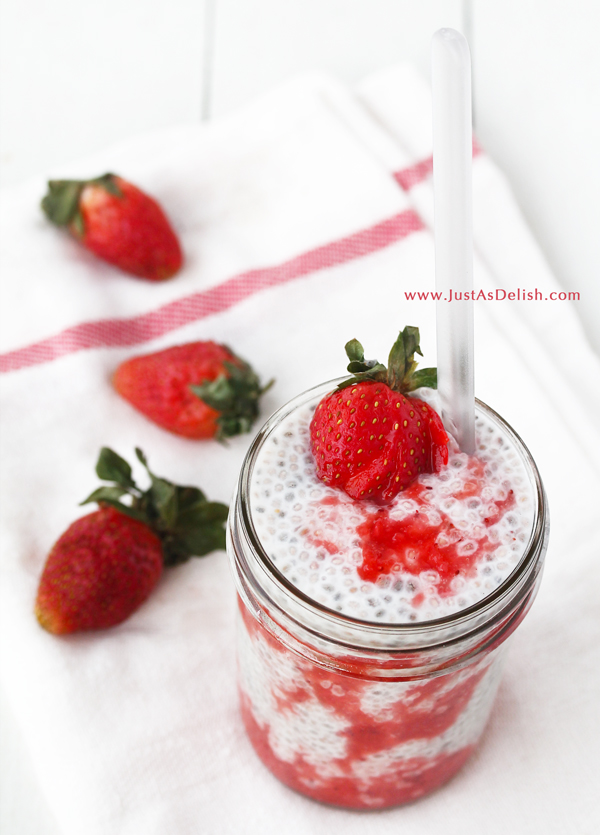 I do not know enough about chia seeds to say it's alright to use them as a staple food, definitely not a big bowl of chia pudding for daily breakfast like some practices. I would prefer some real staple food like breakfast oats or egg muffin. I always adopt the philosophy of moderation, regardless whether it's super food or not. Unless it's a prescribed supplement by my naturopath. If you want to know more about my findings, the links are at the bottom of this post.
Strawberry chia pudding as an occasional treat? Why not?  It is an easy & yummy dessert. Mix, blend, chill, eat. Don't like strawberries? Replace with your favourite fruits. 2 tablespoon of this healthy chia pudding is good to satisfy my dessert cravings.

Strawberry Chia Pudding
Easy & healthy strawberry chia pudding - an occasional treat to satisfy my sweet cravings
Instructions
Mix chia seeds, almond milk, honey and vanilla essence in a container or jar, chill for at least 1 hour. Use a whisk or fork to mix well to prevent the chia seeds from clumping together.
Puree strawberries in processor and chill.
To serve, scoop alternately the chia mixture and strawberry puree to make swirl designs.

Notes
Cook's note:
- A simpler method is to blend milk, honey, strawberries and vanilla, then pour into a container/jar with the chia seeds. Mix well and chill for at least 1 hour.
- A 3rd method is to add cut fruits into the milk - chia mixture, and chill.
- The recipe gives a western soup-like consistency, which I prefer. If you want a thicker pudding, use 1 cup milk.
- Choice of milk - dairy milk, nut milk, coconut milk,
hemp milk
- Can be stored in the fridge up to 3 days.
Source:
http://www.primalbritain.co.uk/chia-seeds-benefits-and-side-effects/
http://www.webmd.com/vitamins-supplements/ingredientmono-1224-CHIA.aspx?activeIngredientId=1224&activeIngredientName=CHIA
http://thepaleodiet.com/seed-fatty-acid-composition/