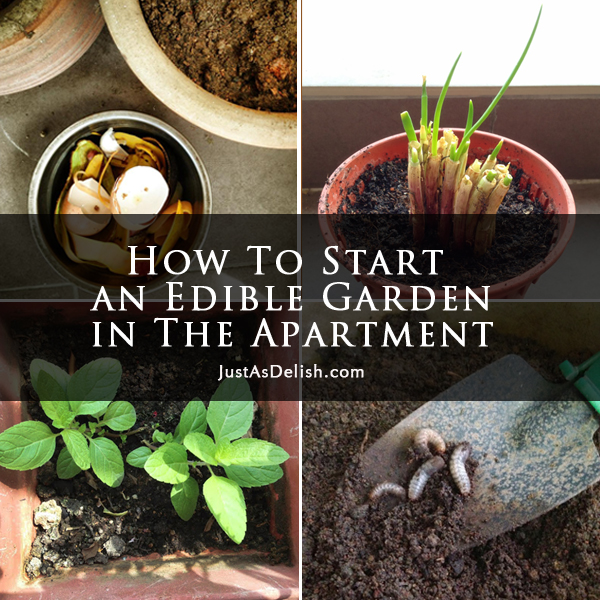 If you live in an apartment, it might seem impossible to grow your own food. Think again! Have you seen my Edible Balcony? You don't have to have any land, invest lots of money or have green thumb to be able to grow your own vegetables in your apartment. As long as you have a porch, a balcony or a window that gets some sunlight, you can start an edible garden with a variety of herbs and vegetables.
Here's my 5 tips on how to start an edible garden in the apartment:
1. Read up. Here are some articles to get you started:
2. Learn from the masters.
There are plenty of free online information – websites, online forums and Youtube videos. Lots of people are willing to share their experiences. Join online forums (I joined My Nice Garden Chat and Container Gardening Alliance). Talk to people who have lovely gardens. Want practical experience? Attend growing workshops, learn to compost kitchen waste, help out your at someone's garden. Volunteer at your local community garden. I've volunteered at Eat, Shoots & Roots in PJ.
3. Choosing the Plants
What to plant will very much depends on the space you have and the amount of sunlight it gets. Choose a few favorites that would do well in your soil/sun conditions. The easiest method is to see what grows well around your area. If you are totally new to gardening, buy/ask for seedlings instead of trying to grow from seeds. Saves you a lot of time. There's also a whole range of kitchen scraps that can regrow easily like mint, spring onion, thai basil. Start with hardy plants that is not so susceptible to pests like mint. My sweet basil (measly bugs attack) and rosemary (no idea what's the cause) couldn't make it.
4. What to plant in?
Don't be too ambitious – plants hate being crowded and will be weak if they haven't got enough space. Choose the deepest pots you can get, plants flourish in deep pots.  A frugal way to start is is using recycled items – water bottles or pallets with a little DIY.
5. Give your plants lotsa LOVE!
Love them like your pets, find babysitter when you are away for the plants that needs lots of care like tomato (need lots of water). I enjoy talking to my plants when I water them every morning. Don't laugh, it does make a difference 🙂 Make compost from kitchen scraps – it improves the soil with good organism. Feed plants with natural nutrients, epsom salt and coffee ground work wonders. I observe how they response when I make certain changes like placing under the sun or in the shade. Feel the soil with your hands to check if it is moist, overfeeding them with water can kill the plants. You will learn a lot with just paying a little more attention, and they will love you for it, just like how your pets or kids will too.
Growing an apartment garden can be a rewarding experience that produces a little bit of nature in your modern apartment. Start growing today and have some fresh food to add to your meals. If it doesn't work the 1st time, try and try again. Good Luck!
* Check out my Edible Balcony to get some inspiration & guide on How to Grow Kale in the Tropics