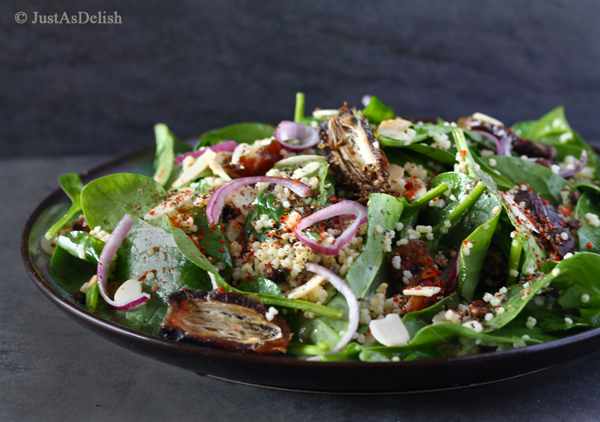 The Cakap Makan bloggers community on FB have been buzzing about the exotic Middle Eastern ingredients for the Asian Food Fest: West Asia blog event that I'm hosting this month. A lot of them have never tasted middle eastern food, let alone know where to buy those exotic ingredients like sumac, zaatar and pomegranate molasses. As I was going to Suria  (a middle eastern grocer in KL) to get some cheese and olives, I offered to get sumac for Lena of Frozen Wings. To my amusement, Suria only sell one size pack sumac (500g is a HUGE pack), I shared them with a few friends and searched for recipes to use up the balance of my portion. Sumac is a decorative bush that grows wild throughout the Middle East and parts of Italy. The dark purple-red berries are sold dried or ground and have a fruity, astringent taste. If you can't find sumac, the closest substitute is ground black pepper and lemon zest.  This Baby Spinach Salad with Dates & Almonds from Jerusalem is absolutely addictive because of sharp freshness of sumac and chili flakes. I've never thought chili would go so well in a salad. 
I finally understood why the world became obsessed with the cookbook Jerusalem by Yotam Ottolenghi and Sami Tamimi. For someone who hardly cook from a cookbook, I too can't seem to put this cookbook down. For the first time, I've made more than 5 recipes from a single cookbook and have marked a dozen more to try. Lots of vegetable recipes with beautiful flavours. Recipes that I want to make over and over. Homecooked recipes from their family and friends, this is what grandmas, mothers and regular people make, my kind of cooking. The best for me is what each recipe means to the authors and cultural background.
This talented Israeli born chef have reached the well-deserved status of just being known with one name – Ottolenghi. Ever since I joined the Tasting Jerusalem community on G+, I knew I had to get the book and visit the restaurant Ottolenghi in UK. Dining at Ottolenghi with foodblogger Sylvia of Peaches & Donuts and Jamie of Jaims Kitchen was one of the highlights of my London trip. The small restaurant is always packed during weekend and if you were to be there after 12noon for lunch, expect to queue outside the restaurant for at least 30 minutes. That wouldn't be fun during winter.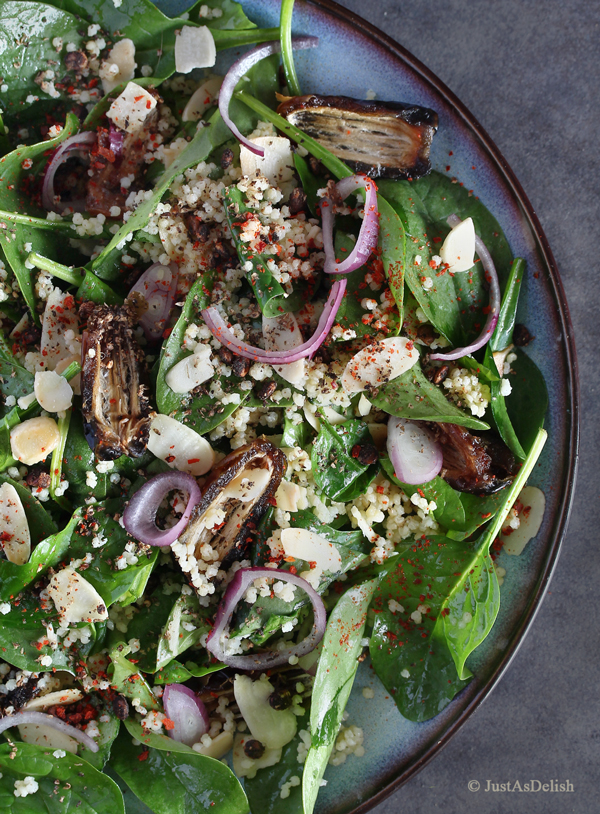 Instead of using pita in original recipe, I added cooked millet. It was surprisingly very filling. I couldn't get enough of this salad that I made it again the next day.
I am submitting this post to Asian Food Fest: West Asia hosted by Shannon from Just As Delish.

Baby Spinach Salad with Dates & Almonds
Author:
Adapted from Jerusalem by Yotam Ottolenghi and Sami Tamimi
Ingredients
1 tablespoon White Wine Vinegar
½ medium Red Onion - thinly sliced
100g Dried Dates - pitted and halved lengthwise
75g Sliced Almonds (or roughly chopped Whole Almonds) - roasted
150 Baby Spinach
2 teaspoon Sumac (can subtitute with a pinch of lemon zest or totally omit)
½ teaspoon Chili Flakes
2 tablespoon Lemon Juice
Salt to taste
50g Millet
100ml Water
Instructions
Put vinegar, onion and dates in a small bowl. Add a pinch of salt and mix well with your hands. Leave to marinate for 20 minutes, then drain any residual vinegar and discard.
Meanwhile, cook millet with 100ml water in a small pot for about 10minutes on low heat until the water is fully absorbed. Let the millet cool down before adding to the salad.
When you are ready to serve, toss all the ingredients with the onion and dates in a large mixing bowl. Serve immediately.
link