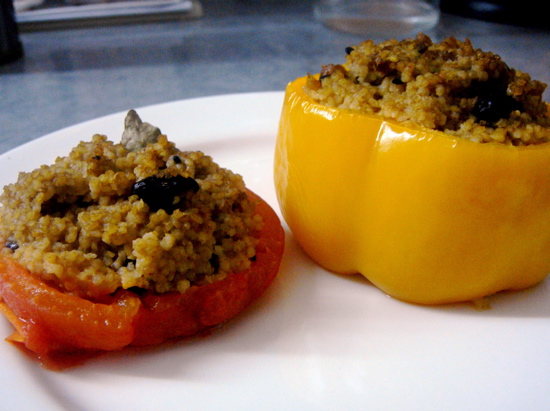 I sort of created this recipe a few weeks ago.. It's one of those nights where I was 'recipe surfing' on my Macbook, home alone and plain lazy to cook dinner.. Ya, 'recipe surfing' has become my hobby because I don't own a single cookbook until last month.
Then the recipe Stuffed Pepper caught my eye. Hmm.. this seems easy, it's a bit like Dolma and I have the ingredients. Over in Asia, pepper or bell pepper is known is capsicum. As usual I like to get creative & modify the recipe I found, so I changed a few things..
✒ I used millet instead of rice.
✒ Make it vegetarian because I am hungry and I have not defrosted any meat. If you want to add ground meat, saute meat with oil first, then add in the rice.
✒ use Indian spices (curry powder & cumin)  because I felt like having something hot.
✒ I tried stuffing tomato to see if it works.. ya it did and the soury juice after it is bake blends well with the curry spice.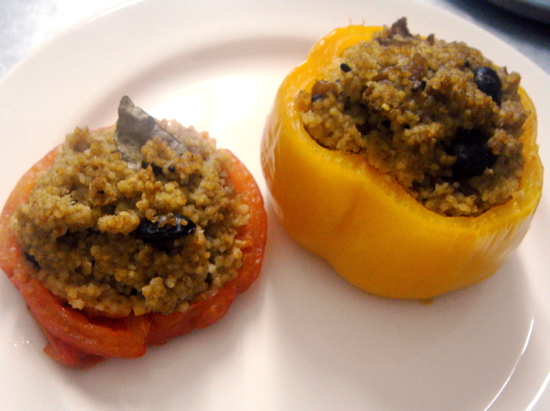 Here's the Spicy Stuffed Capsicum recipe..
Serves 2
1/2 cup Rice (I used millet in this recipe – read about millet in my previous post)
1 cup Water
1 teaspoon Cumin Powder
1 teaspoon Chili Powder
6-7 Fresh Curry Leaves
1 Tablespoon Black Bean
Salt & Pepper to taste
2 Capsicums
Cheese for topping (Optional)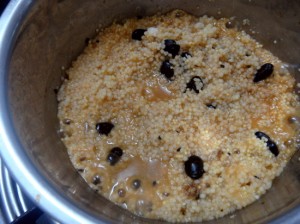 In a pot, add millet, water, cumin, chili powder and black bean. Bring to a boil and lower heat to simmer for 15 minutes or until all liquid is absorbed.
While waiting for rice to cook, cut capsicum & tomato to half and take out the insides.
Preheat oven to 400C and lightly oil the baking tray.
Once millet is cooked, add salt & pepper to taste.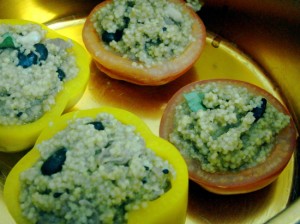 Stuff the capsicum with cooked rice and bake for 20minutes. The millet gets nice and crispy on top.
If you like cheesy taste, top with grated cheese and bake for another 5mins.
Gently transfer to plate using flat spatula and enjoy!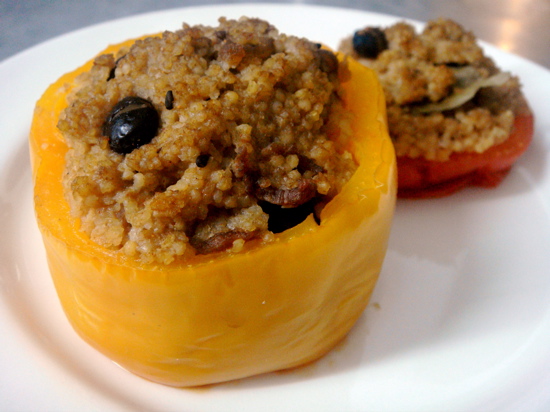 Big bright yellow capsicum – Pretty sight to behold. The tomato got a bit mushy and the soury taste goes well with the indian spices. I was practicing on my night photography skills, I think it turned out alright due to the flourescent lighting. Still a long way to improve.. anyone can help?