Simple yet very comforting Spicy Minced Lamb with Peas and Rice, top with a dollop of yogurt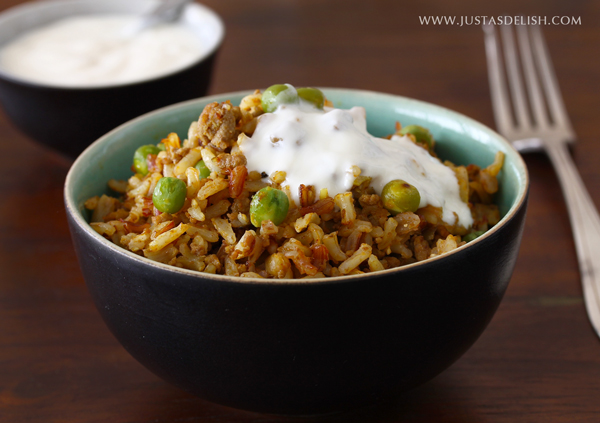 Confession time. I suck at meal planning. And I don't enjoy doing it. I always read about how great it is to do meal planning. Saves money and time because you can prep in big batches earlier And don't get me started on the headache of scratching my head thinking of what to cook for the whole week. Major brain freeze.
I seriously did try, listing down the recipes & ingredients. Went grocery shopping, bought everything on my shopping list and many more ingredients not on the list. That's the problem. I get excited when I see beautiful produce. When I get home, I got even more excited with the ingredients not in the list that I end up ignoring the initial recipes until 1-2 weeks later. Or maybe months later until the mojo comes back. I'm that bad.
Maybe because I only cook for one or two at the most, ad-hoc cooking is still possible.  So please don't follow this habit of mine if you have a family with kids. I pray that in the future my kids won't starve while waiting for their mama's creative juice get to work. Almost every parent tell me that everything (habits, working style, sleep) changes when you have kids. Hopefully not my creative juice.
Many wonderful creations happen often when I don't plan and also some weird ones. I'm happiest when trying new recipes. A typical scenario: Rummaging through my fridge or pantry.. Oh I have this and that ingredient. Let's google what I can cook with them. (Shh.. that explains my countless hours surfing for recipes) Oh I'm missing one or 2 ingredient for this recipe. Let's see what I can substitute with. Et voilà!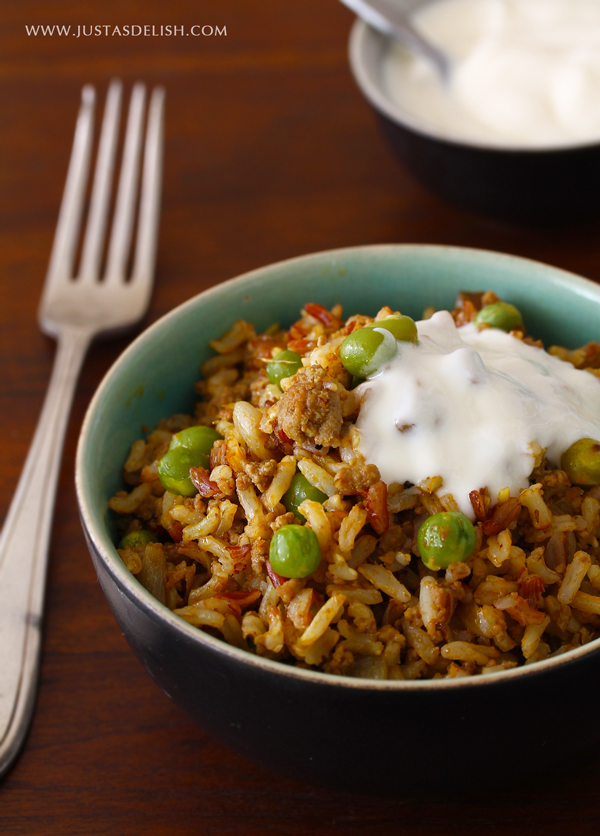 One day there's minced lamb and frozen peas in the freezer. I had a hard time figuring what to cook as lamb hardly appear on my grocery list, maybe once a year. Kheema Mattar Chawal (Indian Spicy Minced Lamb with Peas and Rice) was what ended up for my cosy curry night with Masterchef Australia. It's a simple dish yet very comforting. If you have yet to try yogurt with rice, I know it sounds strange but it's really GOOD. I miss my yogurt & yogurt making days..
Oops.. it's one of those days where I forgot to take the step-by-step cooking photos, too hungry waiting for my food. Do you do meal planning? Do you have some tips to share how to do it better?
I am submitting this post to Asian Food Fest – Indian Subcontinent hosted by Chef and Sommelier.

Spicy Minced Lamb with Peas and Rice
simple yet very comforting Spicy Minced Lamb with Peas and Rice, top with a dollop of yogurt for curry night
Instructions
Cook Basmati Rice with 1 cup of water in the rice cooker or over the stove.
Meanwhile, cook peas in 2 cups of water in a small pot on medium heat until soft, about 5 mins.
When the rice and peas are ready, heat 1 tablespoon of oil in a pan or wok. Add the onion and garlic and fry for 1 minute, then tip in the minced lamb and continue cooking for 7-8 minutes.
In a small bowl, combine the remaining 1 tablespoon of oil with the tomato purée, all the ground spices, and the salt to form a thick paste.
Add the paste to the lamb and fry for 30 seconds, then tip in the peas and ginger. Mix well, then add the rice and stir until the mixture is piping hot and thoroughly combined.
Serve hot with a dollop of yogurt on top and garnish with coriander leaves.