Crispy and chewy spicy kale chips baked in the oven, a healthy alternative to potato chips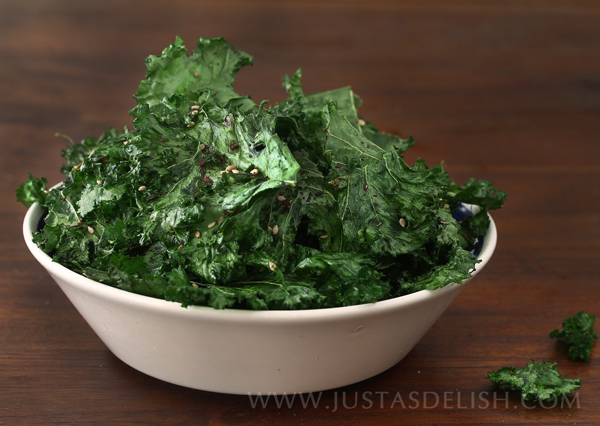 Who would have thought a leafy greens can become into crispy chips? It did sound strange when I read about it. The stranger it is, the more I have to give it a go.
My 1st try at baking kale chips turned out to be a pleasant surprise. It was at my friend, Lily's London apartment. The kale did indeed become really crispy, like a very thinly sliced potato chip, only that kale tasted woody. Lily was just as amazed as I was, kale chips makes a good snack. I baked using 2 trays at the same time. The bottom tray was not as crispy, it was chewy, and after baking for another 5 minutes, they turned crispy like the top tray.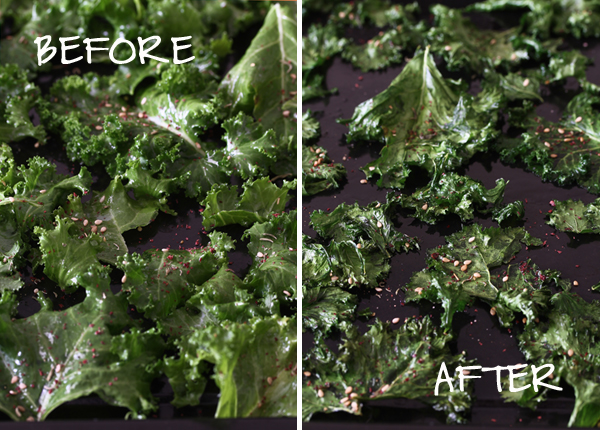 I baked again, after I left London to the Netherlands. It's not strange that I make food even when I'm on vacation 😀 I couldn't find whole kale leafs, so I used chopped kale instead. It tasted burnt and "papery".. Gaah! Not a very pleasant taste unfortunately, as the temperature were too high for the finely chopped kale.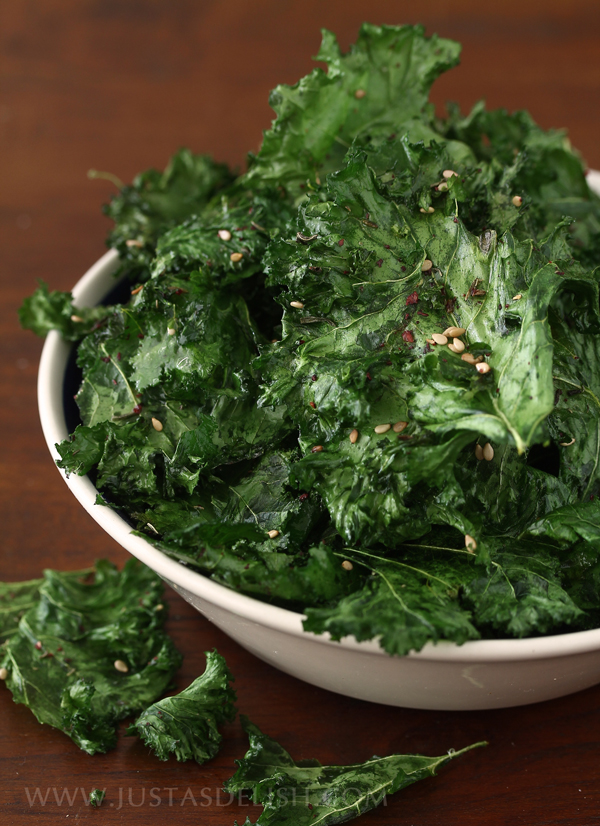 After a few more tries with my kale harvest, I found that low heat and "lightly oiled" kale works best to get the perfect baked kale chips. Dress them up with your favourite spices – garam masala, curry powder, any middle eastern spices, and they're so amazingly good. I like mine with asian spicy flavours.
These photos do not do justice to how good these chips are, it's just not easy trying to make these paper thin leaves look delicious. You just have to trust me and give them a try. ASAP.

Spicy Kale Chips
Crispy and chewy kale chips baked in the oven, a healthy alternative to potato chips
Instructions
Preheat oven to 150C(300F). Line a large rimmed baking sheet with baking paper.
Remove leaves from the stems of the kale and roughly tear it up into large pieces. Wash and spin the leaves until thoroughly dry.
Massage kale leaves in a large bowl with the seasoning, until all the nooks and crannies are coated in oil.
Spread out the kale onto the prepared baking sheet into a single layer. Do not to overcrowd the kale.
Bake for 10 minutes, rotate the pan, and bake for another 10 minutes more until the kale begins to firm up.
Cool the kale on the sheet for 3 minutes before digging in! Enjoy immediately as they lose their crispness with time.


Notes
Note: If you are just using dry spices, sprinkle them on after coating the leaves with oil.