Spiced protein packed breakfast to rev up your day.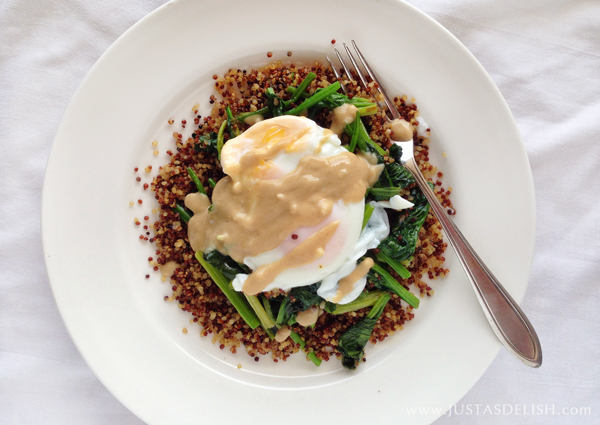 After my 2 weeks cleanse, sweet breakfast seems so icky nowadays. Anything that's sweetened, even honey, seems icky. Even my favourite big breakfast oats with fresh fruits or granola doesn't seem very appetizing. Yay! after 30 something years my sweet tooth is gone (for good I hope).
Having a savoury breakfast for Malaysians is pretty typical – nasi lemak (coconut rice with condiments), dry noodles or noodle soups, is what you will commonly see at the shops or markets. At home, oats or granola are my go-to quick breakfast, which I've been having for years. I don't cook much savoury breakfast at home. Right after the cleanse, I made miso millet porridge that I learnt from a macrobiotic talk. Even though it was a small bowl of porridge, savouring it put a smile on my face, even my heart was smiling. It was much more satisfying than my usual oat breakfast and it filled me up real good until lunch time. That became my breakfast for the next few days. I must remember to post the recipe.
Previously I would wonder why Kellie from Food To Glow would always make savoury breakfast. Now it's not a mystery anymore. Her plant based recipes are always so mouth watering and inspiring. I just had to try her Baharat Quinoa, Lentils and Eggy Breakfast after she posted it.
I've read about having protein for breakfast, but never really put it into practice. After doing it for 3 weeks, I understood how it reacted to my body. Grains (oats, wheat, rice) raises our blood sugar, then fall, having the effects on our body (mild fatigue) and emotional spike too. Protein at breakfast causes the blood sugar levels to remain even, rev up energy and metabolism. Protein can be nuts, seeds, nut butter, legumes, cheese, fish, yogurt, chia seeds, or eggs. I noticed I don't crave for mid morning snacks for the past month.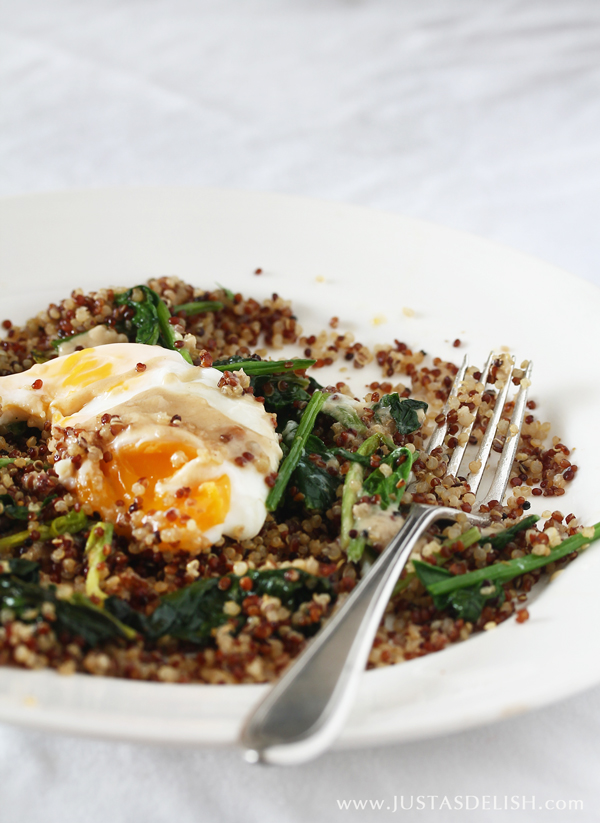 The Middle Eastern Baharat spice that I have grinded a while back was meant for meat rub, it was a pleasant surprise that it worked so well with grains and vegetables too. Other spices like Ras el hanout, Za'atar, Garam masala could also work. Kellie's recipe made baharat spice my favourite for the moment.
This recipe pretty much works with any veggies you have on hand. I made mine with leftover cooked quinoa, spinach, poached egg with tahini sauce. The protein content in quinoa and egg makes me a nicer person throughout the morning. Don't get intimidated if you have never tried cooking poached eggs. It took me many tries before getting it right, watching this video may convince you to give it a go. Millet, a slow burning carb that keeps your blood sugar lower and steadier, works well too instead of quinoa. If you have leftover cooked beans/legumes, you can add them in like what Kellie did. Totally agree with Kellie that this can also be lunch or dinner. I've been using a lot of tahini sauce lately, it's great with pretty much a lot of stuff – salad and roasted vegetables.

Spiced Quinoa, Spinach & Poached Egg with Tahini Sauce
Spiced protein packed breakfast to rev up your day
Recipe type:
Breakfast / Lunch / Dinner
Ingredients
1 cup Cooked Quinoa
A bunch of Spinach or any soft leafy green - cut into 2-3 inch length
2 Eggs (use fresh egg) preferably at room temperature
1 teaspoon Baharat spice (or grind yourself )
Olive oil
Pinch of Sea Salt
Tahini Sauce
½ tablespoon Tahini
1 tablespoon Lemon Juice
1-2 tablespoon Water
1 teaspoon Minced Garlic (optional)
Pinch of Sea salt
Instructions
Heat a non stick pan on medium heat, add cooked quinoa, a pinch of salt & baharat, stir for 1 min. Remove to 2 serving plate
Using same pan, add a teaspoon of oil, spinach, a pinch of salt & baharat, stir for 1 min. Remove to 2 serving plate.

Break an egg into a small sauce bowl or ramekin. Bring a small pot of water to boil and lower to gentle simmer. use a wooden ladle to stir the water to make swirls. Quickly bring the bowl of egg close to the surface of simmering water and gently pour into water. The egg liquid will move in the flow of water, swirling into a ball. I like to use the ladle to gently stir the outer flow of water to make the egg into a nice shape. After 2 mins, gently remove egg with a slotted spoon onto plate. Continue the process with 2nd egg.


Serve with a dollop of tahini sauce (or thick yogurt)
Tahini Sauce
Mix all ingredients well. It should be consistency of thin mayonnaise, add more water to if too thick

Notes
Note:
* If you are making a few eggs at a time, cook one egg at a time & remove the poached egg into a bowl of water to stop the cooking process
* You can use any veggies - blanch or saute it, add in cooked beans or legumes for extra protein
How to cook Quinoa
Cooking quinoa is like cooking rice, water portion is similar to brown rice. 1 part grain to 2 parts water.
Ingredients
1 cup Quinoa (I use multi coloured ones)
2 cups Water
Instructions
Wash quinoa & drained with a strainer
Add quinoa & water into a pot, bring to boil & lower to simmer for about 12 mins until water is completely absorbed. Switch off fire & remain covered for 2 mins (to continue steaming the quinoa).
Don't want to miss a recipe? Sign up to get Just As Delish's recipes delivered to your inbox? (fill in your email on the right). Or stay in touch on Facebook, Google+, Pinterest, and Instagram for all the latest updates. Thank you so much for reading. Untill next time!