Crispy Spiced Quinoa Cakes – great as snack with a squeeze of lemon juice or addition to any meal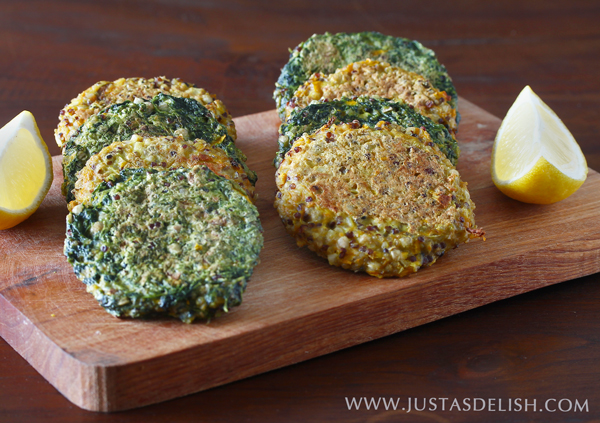 After my 2-week Fruit and Veggie Cleanse, I've been finding ways to increase my overall vegetable intake. What more do I need to say with the recent findings by British experts of 7 a day (5 portions of veggies and 2 portions of fruits) would prolong life. Most of us are struggling with the recommended 5 a day, let alone 7. For the past couple of months, I find it getting easier for me to go meatless for a few days in a week because my body has somewhat been conditioned by the cleanse. I'm proud that my other half is getting there by amping up vegetables into every meal to slowly replace carbs. But for those who are not used to eating a lot of vegetables (kids and adults alike), sneaking them in certain dishes is certainly helpful. Just like this Spiced Quinoa Cake.  
These quinoa cakes could easily come together in minutes if you have leftover quinoa and a food processor. I made a 2 recipe variations with the vegetables in my fridge: frozen spinach, zucchini & carrot. Whatever that's available in your fridge works too: broccoli, asparagus, or cauliflower. These can be baked too, for 25mins, but I'd rather not turn on the oven in this hot weather. Non-stick pan works great and it only takes 5-6 minutes on each side.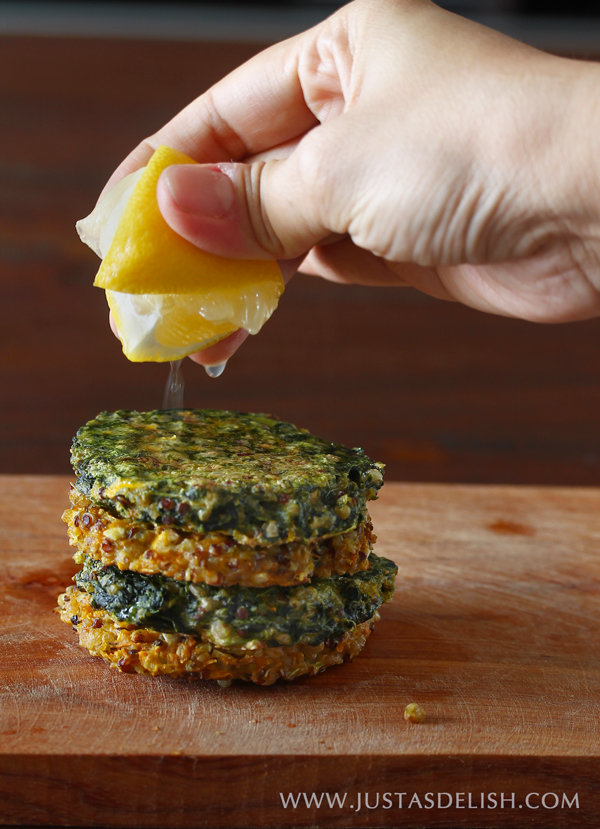 Using 'gram' flour (chickpea flour) with spices makes these cakes even more fragrant, turning this recipe gluten, grain and dairy free so almost anyone can enjoy these delightful crispy cakes. They're great as snacks on their own with a squeeze of lemon, slathered with hummus or drizzled with yogurt dip. I served them for lunch with salad, and for dinner tossed into a wrap or served with roasted veggies. This could also work as a veggie burger patty.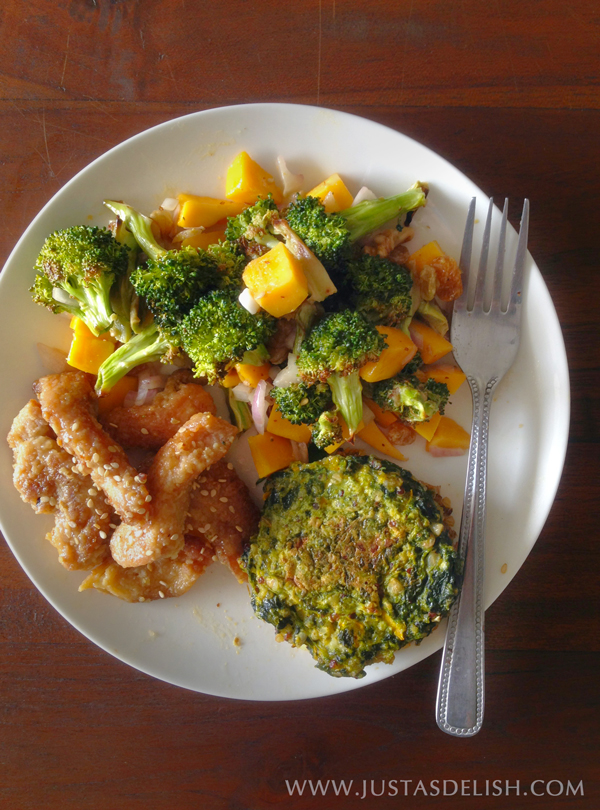 Whether it's breakfast, lunch, snack time, or dinner, they make a great addition to any meal. Just don't be surprised if your favourite way to enjoy them is straight from the pan..

Spiced Quinoa Cakes
Crispy Spiced Quinoa Cakes - great as snack with a squeeze of lemon juice or addition to any meal
Recipe type:
Snacks / Appetizer
Ingredients
½ cup Frozen Spinach - thawed and squeezed dry
½ medium Zucchini - cut into big pieces
1 Garlic
1 small Red Onion
½ teaspoon SeaSalt
½ teaspoon Cumin
½ teaspoon ground Coriander
½ teaspoon ground Fennel
½ teaspoon Turmeric
freshly ground Black Pepper
1 cup Cooked Quinoa (cooked from about ½ cup raw quinoa and 1 cup water)
1 medium Egg
4 tbsp Gram Flour (Besan or Chickpea Flour)
Instructions
Add the first 10 ingredients into a food processor and blitz 3-4 times until the vegetables become finely chopped. Add in quinoa, egg and gram flour and mix well with a spatula. Place the mixture into the freezer for 5 minutes to firm up.

After 5 mins, heat up 1 teaspoon of oil on the non-stick pan on medium heat. Take 2 tablespoons of the mixture and shape into a 8cm (3inch) patty with both hands. Place onto the pan and use the spatula to slightly pat down the patty. Continue shaping the rest of the mixture and pan fry for 5-7 minutes until the bottom are browned. Flip over and cooked for 5 minutes or until browned. Remove from the pan and cool on a wire rack.

Serve with a squeeze of lemon juice.
Notes
* Wheat flour or rice flour can be used instead of gram flour
* To cook quinoa: Cook 1 cup (portion) uncooked quinoa with 2 cups (portions) water in a medium pot. Bring to a boil, cover, lower the heat, and simmer for 15 minutes, until water is fully absorbed. Keep the pot covered for 5 minutes to continue steaming to achieve tender quinoa.
* If you don't have a food processor, finely diced zuchini, garlic and onion, then mix everything together.
* use vegetables that can be eaten raw, or blanch them in hot water for a quick cooking