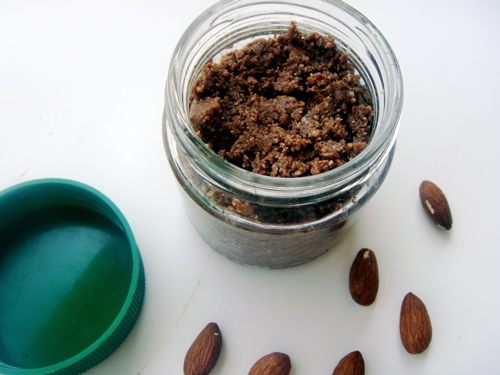 After yesterday's Apple Starfruit Spiced Crisp post, it got me thinking about other stashed away recipes that I added spices to.. and got me digging.. This post must be sitting in my draft folder – in a misery, because it was long forgotten.
So here I present: Spiced Chocolate Almond Butter..  I'm totally nuts about nut butter, I just couldn't get enough of them. Considering my love for good-for-you chocolate and nut butters, I have to combine them together with my new found love – spices!
Before you start thinking what the is it I'm talking about, think peanut butter. And think of all the nuts you love. Yup, nuts can be easily made into butter just like the yummy jar of peanut butter, within minutes. except that homemade taste so much better and you will most likely not buy any jar ones after that. For a less complex flavour, check out Honey Roasted Walnut Butter post.
Almond takes longer than other nuts to process till smooth, and my poor food chopper just couldn't get it smooth after 20 minutes, so different from walnuts that only took 3 minutes to make it buttery. I was almost sweating in my kitchen making almond butter! Time to an early birthday wish – Kitchen Aid Food Processor *wink*. At the end, my Homemade Almond Butter with Chocolate and Spices turned into something rather more sophisticated than I originally intended, and I was quite blown away by the complexity of its flavor and the richness of its mouthfeel. Sorry, can't help but blow my horn 😛 of course I also have to attribute to the rich raw honey and Hershey's chocolate powder..

Chocolate Spice Almond Butter
Ingredients
2 cups Raw Almonds
1 teaspoon Unsweetened Chocolate Powder (I use Hershey's)
3 tablespoon Raw Honey
½ tablespoon Olive Oil
Pinch of each - Ground Cumin, Ground Cardamon and Chili Powder
Sea salt to taste
Instructions
Put raw almonds in the food processor. Run the processor until they become small chunks. If you like chunky nuts in your butter, put aside 1-2 tablespoon of the chunky nuts.
Add the rest of the ingredients and pulse until it start to turn sticky. Taste the almond paste to see if you want more salt, honey, or cinnamon.

Transfer to a jar and close tightly. The texture is best for spreading at room temperature, but keep in the fridge if you're not going to consume it right away or if the weather is very warm.

Notes
* You can replace or mix with other nuts of choice, use them raw or roast them in the oven. Almond takes longer than other nuts to process till smooth * I use a small Moulinex chopper and the sticky honey took me longer than 20minutes. If using a normal food processor, and it's still not smooth after 15minutes, you can add ½-1 Tablespoon of Olive Oil to help smooth it out. This nut butter was very thick, almost paste like and tasted like sugar cookie dough or chocolate chip cookie dough without the chocolate chips.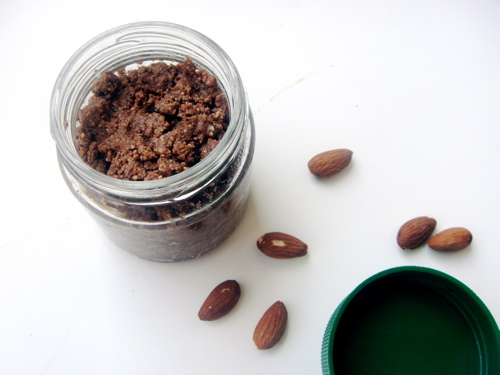 Until my next experiment, Enjoy!