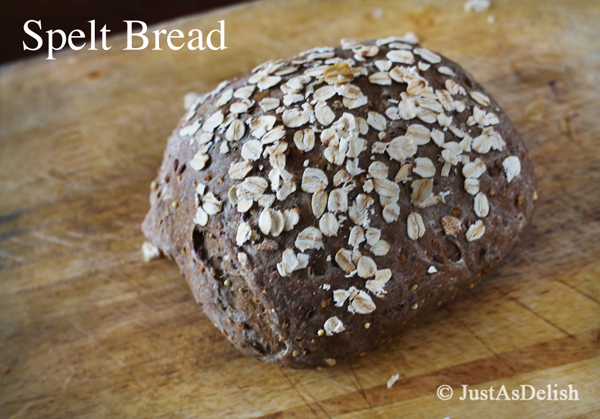 I recently found out that I do not really have gluten allergy, just mild wheat allergy. You can imagine how elated I am to know I can use other types of grains such as rye and spelt. The 1st thing I did was buy a packet of IREKS 'Dinkelspitz' at Pastry Pro in Kepong to try out spelt bread. Dinkelspitz is the ready mix for coarse-textured spelt bread with linseed, coarsely ground lupin seeds and spices – RM8.50 for a 500g packet.
Spelt, also known as dinkel wheat, is a species of wheat. Spelt was cultivated by the Celts and ancient Egyptians and was also an important staple in parts of Europe during the Bronze Age. Spelt flour yields denser, more rustic baked foods and pastas than many other flours. Spelt does contain some gluten, therefore is unsuitable for people on gluten-free diets. However, do check with your doctor if spelt flour is suitable for your diet.
The German mystic nun and alternative medicine physician, Hildegard von Bingen, wrote about spelt in her book "Physika – Naturkunde": "Spelt is the best of grains, it is warming and nourishing, is of high-quality and milder than all other grain. When spelt is eaten, it produces a strong body. Spelt provides healthy blood and makes the spirit of man light and cheerful.. it can be said that spelt is good and easily digestible"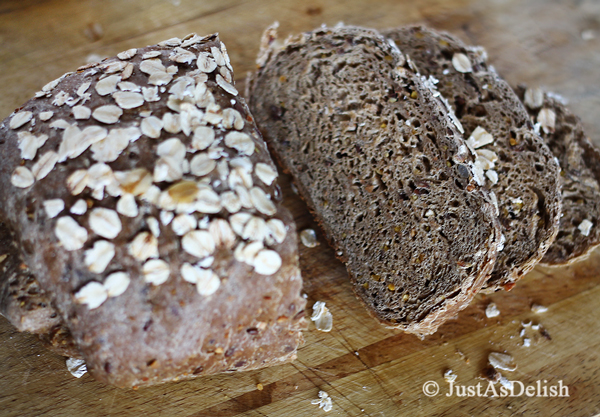 Making bread using bread machine is just too easy, there's nothing like the real thing manual kneading using my biceps. It's my 1st bread without the machine, seeing the bread rise and smell of the freshly baked bread gives me a sense of accomplishment. *a pat on my back* And it's a good workout too.
This recipe is specifically for Dinkelspitz mix. If you are using just spelt flour, use it in place of wheat in any bread recipes. I've seen spelt flour (organic) at organic stores and organic sections in supermarket in KL. I've yet to find non-organic spelt flour here.

Spelt Bread
Dinkelspitz is the ready mix for coarse-textured spelt bread with linseed, coarsely ground lupin seeds and spices.
Ingredients
500g Dinkelspitz
6g Dry Activated Yeast
20ml Warm Water
250ml Water
Optional - Oats / seeds for coating
Instructions
Sprinkle yeast onto warm water in a small bowl and make sure it bubbles after 1-2 minutes.
Mix flour with water, and yeast with a wooden spoon until well mixed. Take out dough onto floured surface, and knead. When the dough no longer sticks to the counter after a few kneads, it is finished. Kneading will take between 10 and 20 minutes. (If using mixer with a dough hook, mix for about 10 minutes).
Oil the mixing bowl, put the dough in, oil the top and cover. Let it rise for 20-30 minutes, or until double in size. If the room is cold, you may want to put into a warm (110 degree) oven.
After the dough has doubled in size, punch it down to degas it. Repeat this step for a lighter loaf.
Form dough into a ball, or oblong shape, pat on oats/seeds and place onto baking tray with baking paper.
Let it rise for another 40-50 minutes, or until double in size. Do not let it rise for too long as that may cause the bread to fall or the top crust to separate.
Preheat the oven to 230C. Bake for 20 minutes.
When the bread is finished baking, take it out of the oven, let cool for 5-15 minutes and remove it from the pan. Place on a cooling rack.
Notes
The bread will keep for several days at room temperature. Place in an air-tight bag and keep for up to a week in the fridge or a couple months in the freezer.
Source: World's Healthiest Foods, Wikipedia & IREKS