Delicious European Sunday brunch of Spanish Tortilla De Patatas with Niçoise Style Salad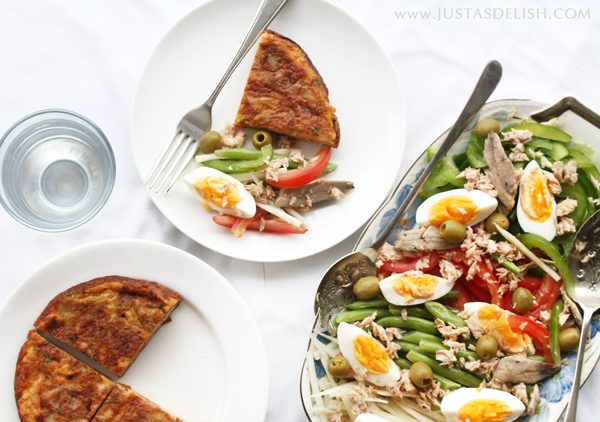 For someone like me who seeks authentic fare everywhere I travel, the flavours of European cuisine here had been somewhat disappointing because they are usually localised. That's why I'm stoked for the opportunity to learn authentic European food from the chefs of The French Culinary School in Asia. I chose to attend French Classics & Spanish Fiesta classes during a whole week of European Food Fair Cooking Class at Jaya Grocer. What's even sweeter about it was that the classes were "technically" free – you pay for the class and get European products (from the sister company Gourmandine) equivalent to that amount. Über awesome.
On the Classic French menu was Niçoise Salad, Duck Confit Cassoulet (Bean Stew) and  Tatin Tart (Upside Down Apple Tart). As delicious as duck confit sounds – a cured duck leg preserved in its own fat— it always struck me as a daunting endeavor reserved solely for fancy French restaurants. Chef Jean Michel Fraisse have helped to demystify the art of French cooking. Actually making duck confit is quite a breeze. It takes a few minutes of prep the night before and then the stove does most of the work for 1 ½ hours. Because the meat is preserved, it will literally last for months in your fridge, so it's great to make ahead, an impressive dish to serve on special occasions. Bonus: The duck fat can be strained and reuse (also can be kept frozen for later use).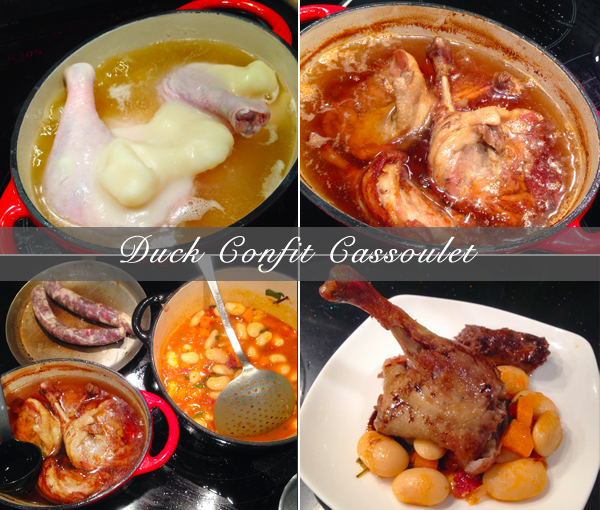 Cassoulet is slow-cooked casserole from south of France, with white beans and meat. Chef Jean Michel's version is with organic lima beans (that melts in the mouth), duck confit, homemade duck sausages and homemade duck bacon (ingredients from Gourmandines)
When I dig to find out further about eating ducks, I was surprised to discover the health benefits of duck fat.  "The main difference between chicken, turkey and duck is that duck contains more linoleic acid, which chicken and turkey contain a higher amount of polyunsaturated fats. It appears that duck and goose fat is more like olive oil than it is like butter or beef" – Source: Fatty Acids in Foods and Their Health Implications", Ching Kuang Chow
Tapas, Paella Valenciana and Churros makes a delightful Spanish fiesta with Chef Mickaël Cornutrait. I've never tasted the dish in Spain, so Chef Mickaël's Paella is the best I've tasted anywhere else. It's packed with flavours of saffron and smoked paprika, the rice is soft and the dish moist, with the flavourful stock made from deglazing the pan after browning the chicken and squid.
At first glance, the Tortilla de Patatas (or tortilla española) recipe looks quite similar to Italian Frittata, minus the cheese. But a bite into the tortilla blew me away with the smoky flavour. Step aside frittata, the tortilla de patatas is the best of all omelettes. It's amazing how simple ingredients of potatoes, onions, and eggs are transformed into a delicious dinner, breakfast, lunch, or snack. Taste it for yourself, and you'll know why.
It was a privilege to have known both chefs, especially Chef Jean Michel, as they are passionate about good quality ingredients. It's obvious that they made a lot of food from scratch, duck sausage and duck bacon are amongst the few. Even though Chef Jean Michel grew up in a poor family, his mother always made sure that there was the best fish, meat and produce on the table and that became his life philosophy. "Never stinge on ingredients, get the best. It's not a question about spending the money because we have to eat everyday. If you eat rubbish, you become a rat." Oh I love that phrase.
There's also some valuable tips that I picked up from the class. Bell pepper skin are difficult to digest and causes burping, hence the skin are removed by roasting. Who knew that it's the core of the garlic that causes bad breath?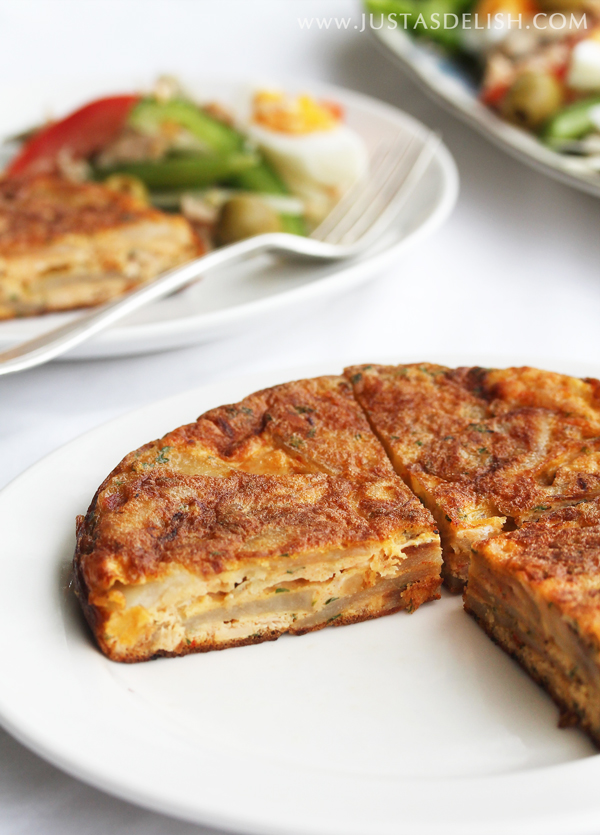 Over the weekend, I made a variation of Tortilla de Patatas and Niçoise style salad for brunch. I added tuna, with a different technique – cooked the tortilla on the stove and flipping it over with a plate. Normally tortilla is cooked in a pan, I used a small (15cm / 6inch) pot as I don't have a small pan just for 2 person. It was a bit difficult to flip but it turned out alright.  Niçoise salad is a rustic salad, which I made with seasonal ingredients.
Can't wait to attempt duck confit some day.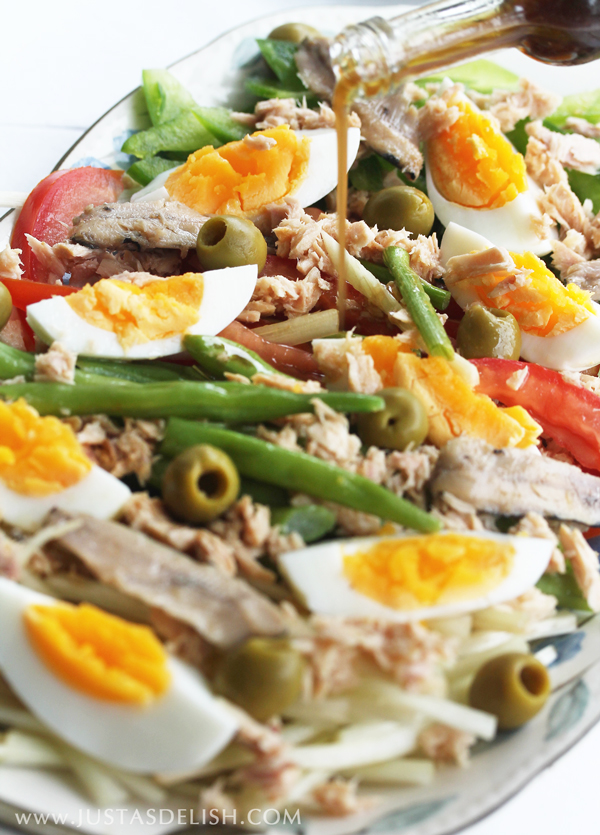 Note:
* Gourmandines products can be found at Jaya Grocer stores.
* I was invited by Jaya Grocer to attend the classes. This blog received no payment or other compensation for reviewing the classes. All opinions expressed are my own.

Spanish Tortilla De Patatas
Simple ingredients of potatoes, onions, and eggs are transformed into a delicious magnificent omelette.
Ingredients
3 tablespoon Olive Oil
200g Russet Potatoes - thinly sliced with same thickness *
1 small White Onion - thinly sliced
1 teaspoon chopped Garlic
1 sprig Parsley - chopped
Pinch of Smoked Paprika Powder
100g canned Tuna in Oil - break with fork
Salt and Black Pepper to taste
4 Eggs - beaten
Instructions
In a large frying pan, heat up the oil on low and cook the potatoes about 1 minute on each side, flipping them over a few times until they're tender inside yet pale outside. Try not to brown them but if a few slices do get golden and crispy, it's not a big deal.
Add in onion, saute until translucent. Add in garlic, and saute for another minute. Season with smoked paprika, salt and freshly ground black pepper.

In a mixing bowl, whisk smoked paprika, eggs and parsley. Add in the cooked potatoes and tuna. Season with smoked paprika, salt and freshly ground black pepper to taste.

Brush pan with oil, including the sides. To prevent the bottom from sticking, line it with baking paper. Heat up pan on medium heat and pour in the potato-egg mixture.
After the mixture cooks for a minute, reduce the heat. This ensures that the inside sets before the outside burns.

When the eggs have mostly set, run a spatula over the edges to loosen it. The eggs will be a little jiggly and wet in the center, but the tortilla should slide around as a whole unit. Cover the pot with a flat plate (bigger than the pan). With one hand holding the pan handle, the other supporting the plate, flip the tortilla over. You'll invert the tortilla onto the plate and then slide it back into the pan to finish cooking for another 1-2 minutes.

Tortilla de patatas can be served warm, cool, or at room temperature.
Notes
Note:
* It's best to use a mandoline to get consistent thin potato slices, or slice it with a knife as thinly and consistently as possible.
* Other variations to the recipe with additional capsicum, chorizo and shrimp
Niçoise Style Salad
Rustic french summer salad
Recipe type:
Appetizer / Side
Ingredients
Salad Ingredients
100g canned Tuna in Oil - break with fork
2 Eggs - washed
1 small Green Capsicum - seeded and finely sliced
1 Tomato - seeded and finely sliced
2 Spring Onion - cut into 2 inch length
1 small Cucumber - seeded and cut into 2 inch strips
30g Green Beans - cut into half
Dressing
1 clove Garlic - chopped
1 tablespoon Balsamic Vinegar
2 tablespoon Lemon Juice
3 tablespoon Olive Oil
Salt and Pepper to taste
Instructions
Bring a small pot of water to boil, then reduce to simmer and add in the eggs. Simmer for 10 minutes.
While waiting for eggs to boil, prepare the vegetables.
After 10 minutes, remove eggs into a bowl with cold water, peel and cut into quarters.
In the same pot of water, cook green beans with a pinch of salt for 4 minutes and remove into a bowl with cold water (to stop the cooking process)
Mix all the dressing ingredients in a large mixing bowl. Toss in all the salad ingredients and serve.