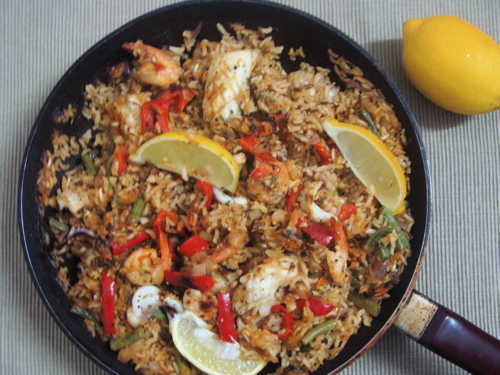 Paella is a Valencian rice dish that originated from Valencia, on the east coast of Spain. Valencian paella consists of white rice, green vegetables, meat, land snails, beans and seasoning. The key ingredients are bomba rice (short white grain rice), saffron and olive oil. I made a mixed paella of chicken, seafood, bell pepper and long beans with brown rice, making use of the ingredients I have in my kitchen. Paella is usually cooked and served in a paella pan, and not having one, I used a frying pan instead.
This is my first attempt at cooking Paella, and it won't be my last. Despite not having any stock to cook with, the seafood and lemon brings out the beautiful flavours. I can't wait to cook this again! Any 1 dish meal recipe has always been my favourite recipes to cook – fast, easy, full of flavour and less cookery to wash!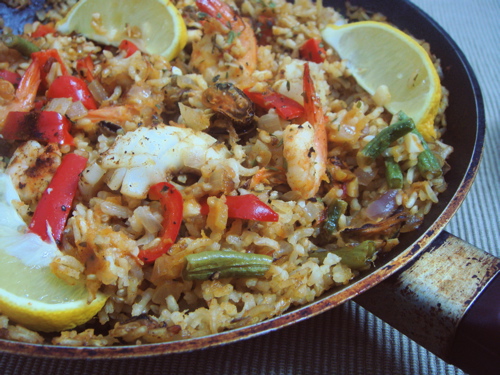 Spanish Paella is a rice dish originated from Valencia, south of Spain. This recipe is a mixed Paella, made with chicken, seafood, bell pepper and long beans
Author:
Adapted from Simply Sedap! by Chef Wan
Ingredients
3 tablespoon Olive Oil
3 cloves Garlic - finely chopped
1 medium Onion - finely chopped
1 fresh Bay Leave (I use 2 dried bay leaves)
½ teaspoon chopped fresh Thyme (I use 1 teaspoon Dried Thyme)
1 tablespoon Paprika
1 Celery Stalk - finely diced (I replace with Long Bean)
1 cup Short Grain Rice - washed and drained
1 red Capsicum / Bell Pepper - finely sliced
1 cup frozen Green Peas
1 cup Tomato Puree/Paste
1 cup Chicken/Seafood Stock (I use Water)
1 teaspoon Saffron strands
200g mixture of Fish Fillets, Squid, Prawns and Clam/Mussels
100g Chicken Breast
Salt & cracked Black Pepper to taste
1 tablespoon chopped Parsley - garnish
Lemon Wedges to serve
Instructions
Heat oil in a saucepan and saute garlic, onions, bay leaves and thyme until fragrant.
Add paprika and celery and stir-fry for 1 minute.

Add rice and stir for 2 minutes
Add the capsicum (bell pepper), green peas, tomato paste, stock, saffron, seafood, chicken, salt and pepper. Stir well and bring to a boil.

Cover pan with pan cover or aluminium foil and cook on low heat until liquid is absorbed and rice is cook. Remove pan from heat and let it sit for 5 minutes to absorb remaining broth.
Just before serving, garnish with parsley and squeeze of lemon juice.

Notes
Paella usually has a layer of toasted rice at the bottom of the pan called socarrat in Spain. This is considered a delicacy there and is essential to a good paella. The toasted rice develops on its own if the paella is cooked over a burner or open fire. Place the paella pan over a high flame while listening to the rice toast at the bottom of the pan. Once the aroma of toasted rice wafts upwards, remove it from the heat. The paella must then sit for 5 minutes to absorb the remaining broth.