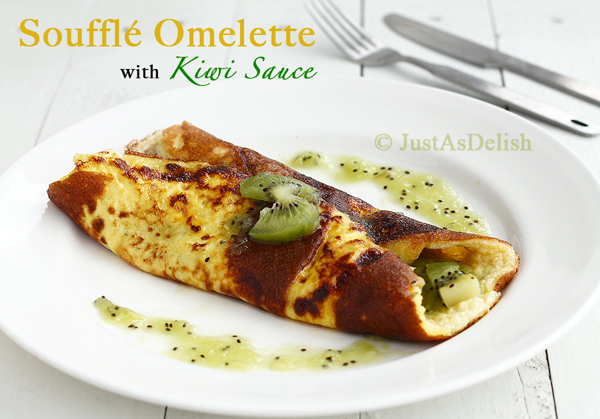 Soufflé Omelette with Kiwi Sauce. You absolutely read the title of this post right. It's not a omelette, it's not a soufflé – it's a combination of the two. Yes it's a sweet omelette for breakfast or even for dessert. This might be the best healthy breakfast or dessert you'll have all year.
Ahh the sweet delicious breakfast omelette, sister to savoury omelette, and the healthier cousin to pancakes, crepes and bread! Low in carbohydrates and high in protein, this will surely satisfy all egg lovers.
Being wheat intolerant, my usual breakfast foods are oat meal, homemade granola, green smoothie, fruits, nuts and yoghurt or eggs. I love eggs, any type of egg recipe will fast become my favourite. Light and fluffy eggs topped with sweet and sourish sauce is simply irresistible. Blend kiwi+honey+water (no cooking needed *yay*). Whisk the egg whites until stiff, fold in egg yolks and make the omelette. Easy enough, right?
Anyone will be impressed with such a gourmet breakfast that takes some arm muscles to whipped up in minutes.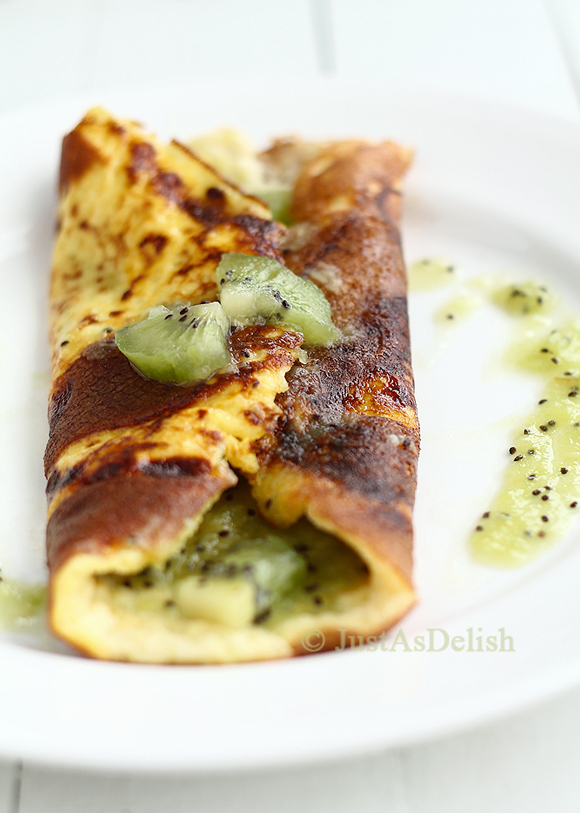 This recipe was created as part of Zespri 14-Day Daily Scoop Amazing Challenge. Read about the challenge here.

Soufflé Omelette with Kiwi Sauce
A sweet Soufflé Omelette makes an ideal breakfast for one, especially with the sweet sour kiwi sauce filling.
Recipe type:
Breakfast or Dessert
Ingredients
Kiwi Sauce
2 Kiwi - scoop out the flesh
1 teaspoon Raw Honey
2 tablespoon Water
Soufflé Omelette
2 eggs - separated
1 tablespoon (15g) Butter
Instructions
Kiwi Sauce
Blend all the ingredients to make sauce.
Soufflé Omelette
Pre-heat the oven on grill.
Beat egg yolks with 1 tablespoon water. Whisk egg whites in another bowl until stiff, then fold into the egg yolks.
Melt butter in a large pan over low heat. Pour in the egg mixture and cook for 2-3 minutes.
Place the pan in the oven to broil/grill for 3-4 minutes until the top of the omelette has puffed up and turned golden brown colour. (Take note: If your pan has a plastic handle, wrap the handle with double layer of aluminium foil)
Slide the omelette onto a plate, pour the kiwi sauce & cut kiwi over the top and fold the omelette.
Notes
*The omelette can also be cooked without the oven, just gently flipped over the omelette to cook on the other side for 2 minutes. The egg does not puffed up but the texture is still light and fluffy.