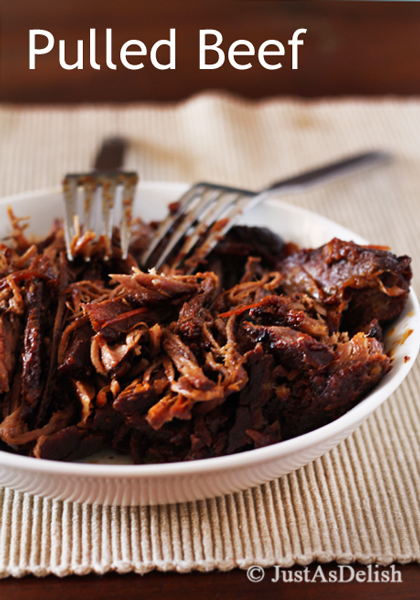 Remember the gorgeous spelt bread I made in my previous post? I confess.. I made the spelt bread to eat with pulled beef.. I've been wanting to make pulled beef, but can't seem to find a good gluten free bread to go with it. How happy I am when I found I can take spelt bread and I get to try the pulled beef. 
Yes you got me, I crave for beef / meat. My body craves for it since as long as I can remember. I know many of you argue that red meat is not good for you and causes heart problems. Actually good red meat has an excellent source of minerals and protein.  Even my naturopath prescribe me to take beef because I am anaemic. I believe there is a biological reason why our body crave certain whole food (not junk food): Our body needs it. Listen to your body. Some people crave for veggie, I crave for meat.
Now the recipe. I'm always on the look out for slow cooker recipes, it's an easy & lazy way of cooking. Just throw everything into the slow cooker and in a few hours, voila, dinner is ready.
It's the first time I'm making pulled beef, it's a slow cooked beef tri-tip in barbeque sauce. It's called "pulled" because you use a couple forks to "pull" it apart after it's been slow cooked…like shredding it apart. It turned out very tender but I found the sauce to be salty. You can further reduce the amount of soy sauce & Worchestershire sauce.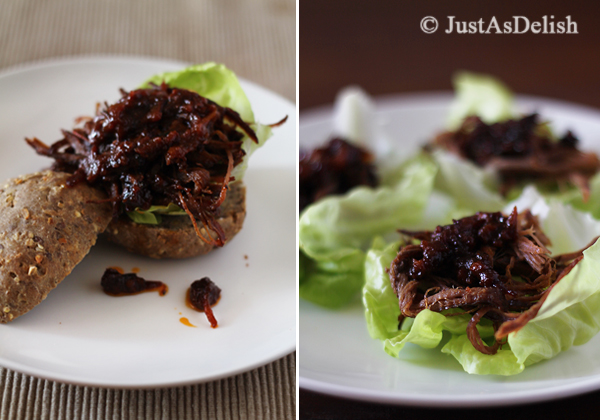 This versatile recipe can also be made with chicken or pork. It is great served with sandwiches, low carb lettuce wraps, or on rice or noodles. And have I mentioned how easy it is to make this beef dish?  You've got to love that!

Slow Cooker Pulled Beef
Tender Slow Cooker Pulled Beef with barbeque sauce
Ingredients
500g Beef Tri-tip or Chuck Roast
½ teaspoon Ground Mustard
½ teaspoon Paprika
½ teaspoon Chili Powder
½ teaspoon Black Pepper
1 tablespoon Olive Oil
1 medium Onion - halved and sliced
SAUCE:
100g Tomato Sauce
2 tablespoon Honey
1 tablespoon Dijon mustard
1 tablespoon Worcestershire sauce
1 tablespoon Soy Sauce
3 Garlic clove - minced
2 teaspoon Balsamic Vinegar
Instructions
Combine the first six ingredients and rub on the roast. In a large pan, brown beef in oil on all sides. Transfer to a 5 liter slow cooker. Add in onion and the sauce combined.
Cover and cook on low for 6-8 hours or until meat is tender.
Remove roast; cool slightly. Skim fat from reserved juices in the slow cooker. Shred beef with two forks and return to slow cooker to heat up the beef.
Serve wrapped in bread, lettuce wrap, or on rice/noodles.