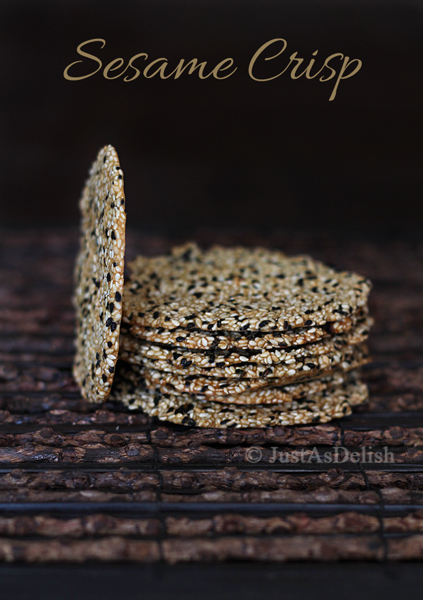 2 more days to Chinese New Year and I'm totally overwhelmed with last minute preparations. A lot of things happened unexpectedly.. or it's more like me being too ambitious with a long to-make list and I end up with many late night baking.. and panda eyes. So this post will be short.
This year, I've decided to make some unconventional but healthier/low carb cookies and goodies – Apple Chips with Cinammon, Dried Agar Agar Candy and these addictive Sesame Crisp. Another goody I can't resist making is Bak Kwa (Barbecued Dried Meat) after last year's good reviews from relatives.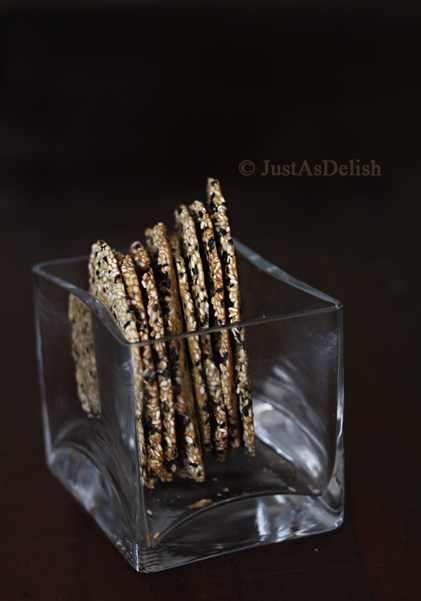 These Sesame Crisps are not sweet at all but filled with nutty and aromatic sesame flavour. I made these with my gluten free blend of 50% rice flour & 50% tapioca starch. It's so addictive that we finished the 1st batch on the same day and I made a 2nd batch with triple the volume. Even though the method is pretty easy but you need a lot of patience when spreading the layer very thinly so that you will have a crunchy crisp.
I have also made in advance some Penang Acar (Spicy Vegetable Pickle) and Elvis Presley's favourite Pound Cake. On the reunion day, we'll be making Yee Sang (Raw Fish Salad), Braised Mushroom with Sea Cucumber, Chinese style Roast Chicken, mama's famous Loh Bak and Pig Trotter Soup. I can't wait for the feast to start!
For those celebrating Chinese New Year, what will you be having for your reunion dinner?
Happy Chinese New Year 新年快樂 to all my Chinese friends & readers!

Sesame Crisp
Nutty & Addictive Sesame Crisp
Author:
adapted from food-4tots.com
Ingredients
25g Egg White (about 1 medium egg at room temperature)
30g Brown Sugar
30g All-Purpose Flour (I use 15g rice flour & 15g tapioca starch for gluten free recipe) - sift flour twice
20g Butter - melted
80g White Sesame Seeds - toasted
10g Black Sesame Seeds - toasted
Instructions
Preheat oven at 170°C and line baking tray with grease proof baking paper.
In a mixing bowl, whisk egg white (with a hand whisk) until you see white bubbles. Add in sugar and beat in circular movement until the sugar dissolves.
Stir in melted butter and mix well.
Add in flour and mix till no traces of flour and lump-free.
Add in toasted sesame seeds, use a spatula to fold in until the mixture is well combined. You will find the mixture is dry and sticky. That's the correct texture you need.
Spoon ⅓ or ½ tablespoon of mixture on the baking tray. Spread out into a round shape (about 2cm diameter) using a fork. Dip fork into water to wet it for easier spreading of the sesame mixture.
Bake at 170°C for 8-10 minutes or until golden brown and crispy. Rotate the baking tray towards the last 2 minutes.
Remove from the oven, leave to cool and then store into an air-tight container.
Notes
The layer must be thin and even to make it crispy. Wet the fork lightly to avoid mixture sticking on it and easy spreading. Be careful not to overbake the crisps. If not, the sesame seeds will be burnt If the crisps turn soft, you can reheat them for 2-3 minutes at 160°C in a preheated oven.