Make these Almond Cranberry Salted Chocolate Bark. Easy beautiful edible gifts in 10 minutes.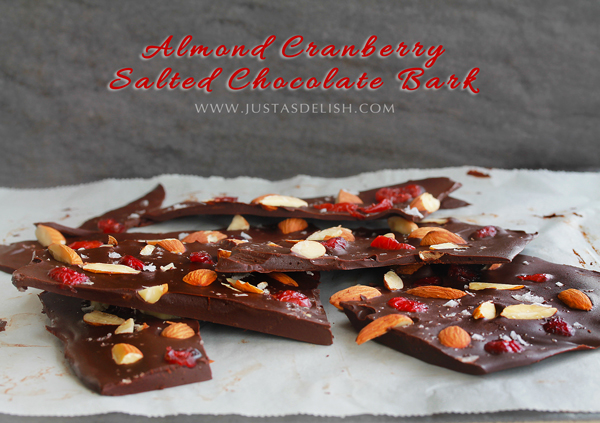 It's that time of year again – gifting time! I do not celebrate Christmas, I just enjoy joining in the joy of the year end festivities and gifting. I'm not very good at gift shopping – I always struggle to think of what to get someone & the frugal me dislike the thought my gift being stored away and never used.
I personally think the best gifts are edible ones. However most of the time, the edible gifts are unhealthy commercial sweets or cookies. One or two of these is OK, too much of it will make you feel unhealthy. The good news is there are many healthy and delicious edible gifts you can make. Friends who received my Passion Fruit Vinegars last year, kept requesting for them. Sorry, I make different gifts every year. You can get more ideas on my posts Homemade Edible Gift Ideas and 30 Healthy Dessert Ideas. People love receiving gifts when it's been made with love. Yes, I know you don't have time to make your own gifts, neither do I. But a lot of them are sooo quick and easy, like my previous No Bake Coconut Cranberry Seed Bars recipe.  And so are these Chocolate Bark. You can make them in bulk, and add personalised topping. 
Get good quality couverture chocolate, like Varlhona and Callebaut. and preferably dark chocolate with at least 60% cacao. Chocolate is made up of cacao mass, cacao butter, sugar, and sometimes emulsifier and soy lecithin. So 60% cacao means the rest of the 40% is made of cacao butter, sugar and others. The higher the cacao content, the less sugar there is in the chocolate.
I prefer using the small chocolate discs that Callebaut comes in, as they melt faster. Else, finely chop the chocolate bars. I do not temper the chocolate because it's impossible to bring down the temperature to 26C in my hot 30C kitchen. Hence my chocolate barks needs to be kept chilled always (if they are not finished in one sitting!).
Tempering is a must if you want the chocolate to be firm at room temperature and to have a glossy sheen and a crisp texture. Tempering sounds intimidating, but it is not difficult to temper the chocolate at home without a thermometer (watch this video to learn how), only do it if you are working in an air-conditioned room or your room temperature is below 18C.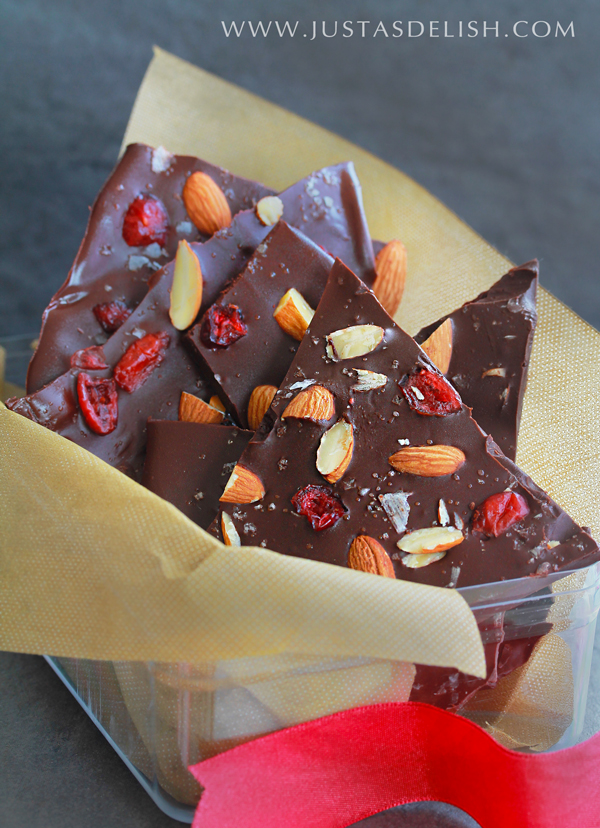 My favourite topping is with a crunch of almonds and a sprinkle of Maldon Sea salt flakes. Oh heavenly.
Have fun with these choice of toppings and make your own combo.
Nuts & Seeds – Almond, Pistachio, Pecan, Pumpkin Seeds, Sunflower Seeds
Dried or Fresh Fruits – Sour Cherry, Cranberries, Apricots, Strawberries, Raspberry, Gojiberry, Coconut Chips
Candied Fruit Peels & Ginger
Nut Butters
Sea Salt
Cacao Nibs
Spices – mix into the melted chocolate
Puffed Rice – need to be mix & fully coated with chocolate, or it will turn soggy
What's your favourite flavour combo?
Almond Cranberry Salted Chocolate Bark
Recipe type:
Sweet Treats
Ingredients
200g Dark Couverture Chocolate (I use Callebaut 60% chocolate dics) (if you use bars, chop them finely)
20 Almonds (raw & sprouted*) - half roughly chopped (or roasted almonds if preferred)
1 tablespoon (or more) unsweetened Dried Cranberries
sprinkle of Maldon Sea Salt
Instructions
Fill ½ of a small pot with water, and bring it to boil. Place chocolate into a heatproof or stainless steel bowl bigger than the pot, and sit the bowl on top of the pot. Make sure bowl does not touch the water. stir the chocolate once or twice until completely melted.
Pour chocolate onto a piece of baking paper (placed on a tray) and add the nuts, seeds and sea salt. Gently press the ingredients into the melted chocolate so they stick better.
Chill in the fridge until set, about 30 minutes. Cut or break them into pieces and wrap into bags or boxes. Keep them refrigerated if you are living like a warm country like me.


Notes
* I use raw and sprouted Almonds because they are better for digestion. It's easy to soak and sprout the nuts and seeds, learn how to sprout
here
. You can also use roast them if you prefer.