I remember watching the show Jamie's Kitchen, impressed with Jamie Oliver's ups & downs in setting Fifteen Foundation where he train disadvantaged kids and adults to develop their culinary skills. A few years later, here I am in the presence of one of Fifteen's brightest protegé – Aaron Craze, thanks to Asian Food Channel's Culinary Masterpieces with Aaron Craze: Rude Boy Cooks' Tour.
Born into a family of West London criminals, Aaron seemed destined to walk down the path of personal destruction, dropping out of school at the young age of 15, only to take on a succession of low-paid jobs, including working in a factory and as a gardener in Mortlake cemetery. Aaron received his first big break when his wife, Nicci, signed him up to participate in reality programme "Jamie's Chef", a television competition created by Jamie Oliver in 2007.  Aaron emerged victorious and was awarded £120,000 to establish a business and the license to a pub worth £500,000.
Beneath his tattooed and tough demeanour, Aaron Craze is passionate about street food and is a strong believer in using fresh herbs to enhance the flavour of dishes. In his first cooking show, Rude Boy Food, he explores street food around the world and replicates the dishes with his own unique twists, reflecting the multi-culturalism of his upbringing in West London. Not satisfied with just a cooking show, he wrote and launched his debut cookery book, Aaron Cooks Italian, in June 2008.
With dogged determination and immense perseverance, Aaron Craze has worked his way up the ladder to become a valued part of the Oliver Empire. His transformation from a disadvantaged background to a celebrity chef definitely serves as an inspiration to all the budding chefs.
Totally unpretentious, the witty and charming Aaron kept us entertained while he cooks throughout the 2 hours. and a brilliant chef too. He makes cooking look so easy, and his food – unpretentious just like him. His energetic & charming personality reminds me of his mentor Jamie Oliver.
The mexican beef tortilla is so easy to make and very flavourful with just salt & pepper, he said that's how the mexicans would enjoy them. Will definitely attempt them with my gluten free buckwheat wrap. I could hardly taste any tomatoes or onion in the samples we were served, an equal dose of veggie + beef would balance the whole dish.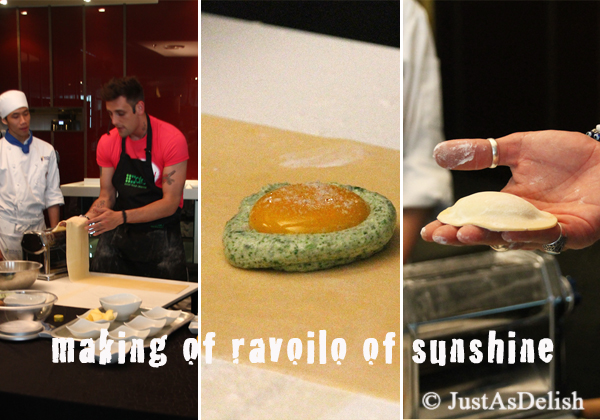 It was a joy watching Aaron making pasta sheets from scratch, the sheets have to be extremely thin for the Ravioli of Sunshine (what a beautiful name). and a single piece is called raviolo.
It was unfortunate that some hiccups in the kitchen messed up our samplings, it was completely different from what Aaron cooked. Our table were lucky enough to be taste the dish Aaron cooked up (always arrive early to get a seat in front of demo table). The oozing eggyolk, spinach ricotta and butter sauce just complements the whole sexy dish.
The last recipe is my favourite. The Unbaked Lemongrass Cheesecake was very light and refreshing with the tinge of lime juice, and could be easily prepared in advance for any dinner party.
Despite some hiccups by the venue sponsor, it was easily overlooked as we were all too engrossed with this charming rude boy.
Rude Boy Food airs on AFC, every Thursday 11pm.

Mexican Beef Tortilla
Typical mexican street food with chopped beef, tomato salsa & sour cream
Ingredients
Beef Tortilla
Filling - 600g beef skirt
Olive oil
Salt and pepper
1⁄2 white onion, roughly chopped
2 red tomatoes, chopped
1 bunch of coriander, finely chopped
6 tortilla wraps
1 lemon
Sour cream
Salsa
1 400ml tin of chopped tomatoes
1 bunch of coriander, stalks finely chopped
1 onion, finely chopped
2 cloves of garlic, finely chopped
1 chili
Instructions
Beef tortilla
Bash out the beef skirt as thinly as possible / or get a butcher to. Drizzle on some olive oil and season with salt and pepper.
Put the seasoned beef skirt onto a hot griddle or pan to sear.
Once cooked, remove from the heat and chop the beef skirt up on a board to create a mince.
Mix the mince together with the white onion, red tomatoes, salsa and coriander.
Squeeze lemon into the mixture and serve topped with coriander, wrapped in a tortilla.
Add sour cream.
Salsa
Sweat off the onion, garlic, chili and coriander stalks.
Add tinned tomatoes and cook for 20 minutes.
Leave to cool.
Rude Boy Food airs on AFC, every Thursday 11pm.