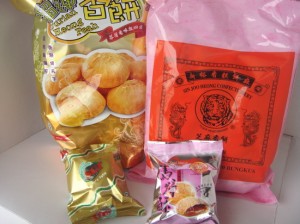 Happy Sunday Morning! I have a very exciting announcement about the Heong Pneah Giveaway Winner!  Drumroll please…
and the winners are…
♥ Missyblurkit
♥ Yueky
♥ Melissa
♥ July Tang
James Oon from Tiger Head Heong Pneah is so generously sponsoring both flavours of the Heong Pneah to all 4 participants! WooHoo! Please send him all our love!
♥♥♥♥♥♥♥♥♥♥♥♥
My last 2 posts were on healthy snacks, therefore I will end this week with a 3rd healthy snack – a crunchy one with sweet childhood memories.
The health nuts always claim that when you are in the mood to snack, choose fresh fruits and fresh veggies, but lets get real… when a snack craving comes around, fresh fruit and veggies may be the last thing that we are craving. I usually crave for something with crunch, not the crunch of a carrot but the carb-filled crunch of a potato chip.
When I read about oven-roasted chickpeas that was once popping up on almost every food blogger's site, I realised those are "Kacang Putih" usually sold by the Indian man on their motorcycles, by the roadside or outside the old cinemas. These "Kacang Putih" are wrapped in a paper cone, and we would munch away in the cinema. Those were the days before the cineplexess & caramel popcorns..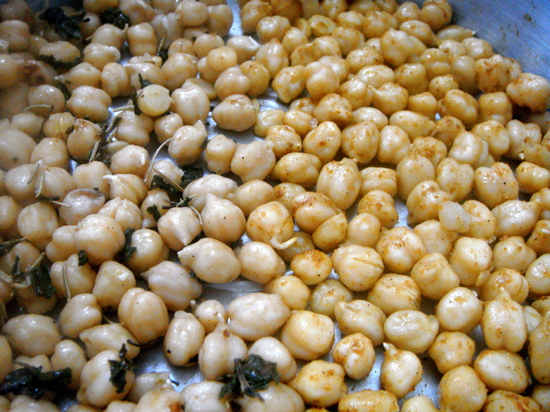 I decided to experiment roasting chickpeas with 2 flavours – Spicy & Lemon Herb. Most of the recipes used canned chickpeas (quicker to make), I used dried ones as these are more easily available in Malaysia. If you are using canned chickpeas, just drain the chickpeas, pat them dry, season & roast.
Next time you are craving something to crunch on, skip the pre-packaged snacks, loaded with fat, chemicals, artificial sugar and other processed ingredient… Kacang Putih are still easily available, but these homemade ones are wayyy better.. Now time for movies in the comfort of my home with these babies..
ROASTED CHICKPEA RECIPE: TWO WAYS
Note: You can use different spices in both of these recipes or leave out the seasoning altogether.
1 cup dried chickpeas
Spicy Flavour:
2 2 teaspoons Chili Powder
1 1/2 teaspoons Salt
1/2 teaspoon Cumin Powder
1/2 teaspoon Aniseed Powder
Lemon Herbs Flavour:
1 tablespoon Lemon Juice
1 tablespoon Rosemary
1 teaspoon Salt
1. Cover with water 2 inches above the level of the chickpeas and let soak overnight.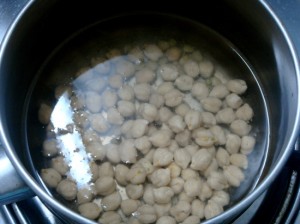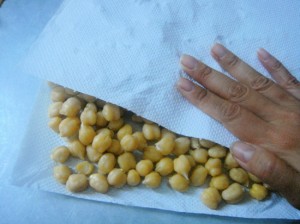 2. Drain and rinse the chickpeas. Put in a pot with enough water to cover, bring to a boil and simmer on low heat for 15 minutes. Drain & pat dry with paper towel.
3. Preheat the oven to 400F.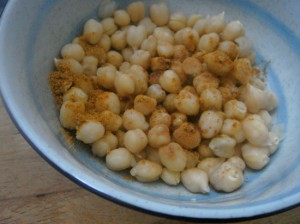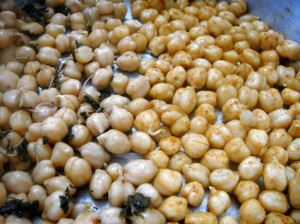 4. Place in a bowl and toss with the seasoning of choice.
5. Place them in a single layer on an oiled baking sheet. Roast in oven, stir after every 15-20 minutes. When they are golden brown and crispy (about 60 minutes in total), remove from the oven . Cool completely before serving.
Note: You can also add more seasoning after roasting in the oven. 
ENJOY and have a Great Sunday!