Turning leftovers into an easy peasy delicious roast pumpkin salad for lunch.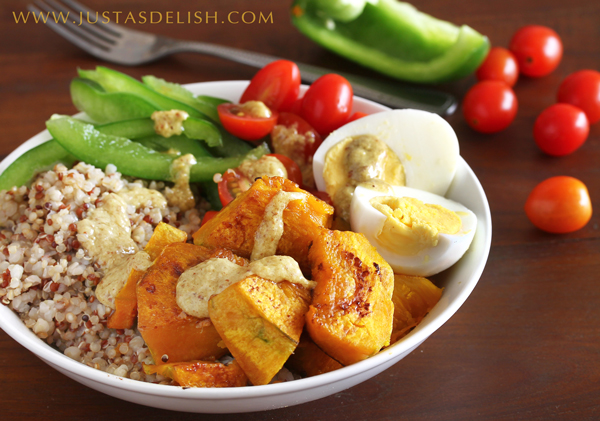 I was ecstatic to get a share of homegrown organic pumpkin from my bestie's urban farm. It was an unexpected produce as the plant started growing from the pumpkin seeds she added into the compost pile. These pumpkins were compact, juicy and delicious! Roasting them gives a natural caramelisation that further enhances the flavours. I saved some for the next day before using the rest for Spicy Pumpkin Soup.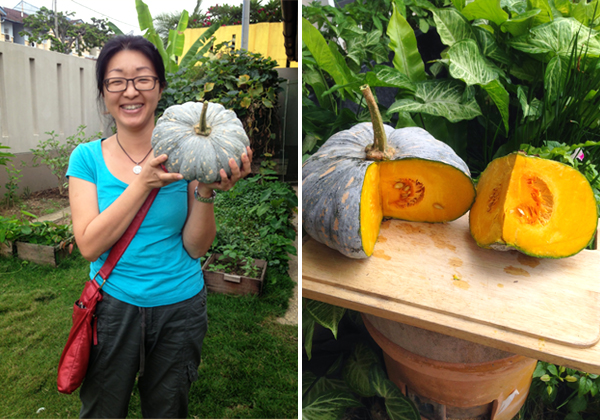 Sometimes leftovers make the best lunch recipe creations, so I would make it a point to cook more the night before. Just don't let mama or grandma know I have leftovers, it's kinda frowned upon because food is preferably cooked fresh and leftovers are considered 'not so healthy' (according to Traditional Chinese Medicine practices). Moreover, I was brought up to clean up my plate, not even a single grain of rice to be left on the plate.
But with busy schedules, it can be rather stretching it to cook everything fresh everyday. Having some leftovers and pre-cooking some food (like roast chicken, soups and sauces) in batches saves a lot of time. The food that I usually cook more the night before are meat protein, grains, and legumes. Throw them together with some raw veggies and dressing, and there's your light meal.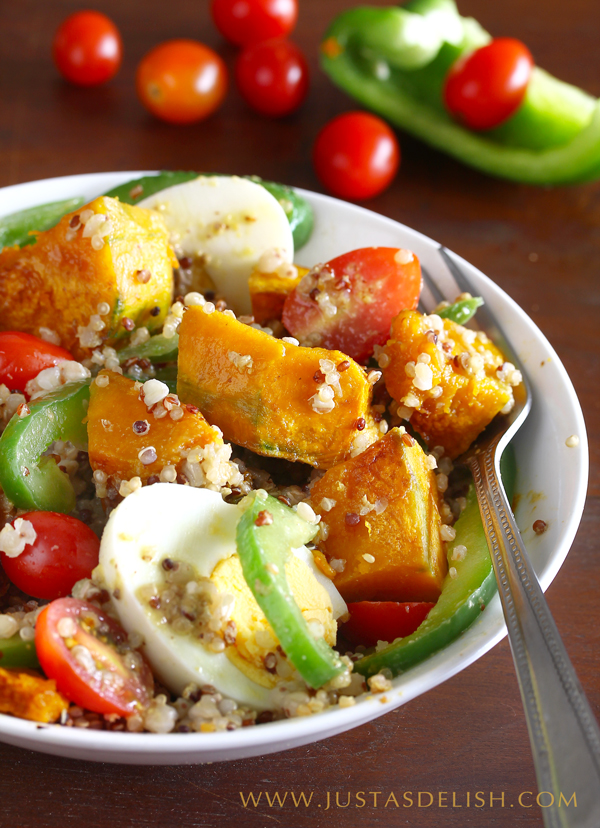 The leftover roasted pumpkin and quinoa from the day before was turned into a lunchbox within 10 minutes. I don't know about you, my morning rush hour is crazy and 10 minutes is the most I can squeeze out to prepare a lunch box. I'm no morning person, I'll prefer to get a few extra winks if I can. Rushing through prepping and photo taking ended up with a messy and unrefined salad. Oh well, we can cut the chunks of pumpkin into bite size pieces when we are eating it 😀 The most important is the taste! For this salad, the first to do is cooking the eggs. If you prefer warm food, heat up pumpkin and quinoa in a toaster oven (if you have) or pan. Or you can also have them cold. Cut veggies and make dressing. Store leafy greens and dressing separately. Easy peasy filling and a hugely satisfying lunch.
Tell me readers, what do you do with your leftovers?

Roast Pumpkin Salad
Ingredients
Salad
200g Roasted Pumpkin
1 cup cooked Quinoa (or any whole grain)
a couple of Cherry Tomatoes - halved
half Green Capsicum - thinly sliced
2 Eggs
4 tablespoon Honey Mustard Dressing
Nice additions: leafy green, nuts, seeds, cheese
Roasted Pumpkin
1kg Pumpkin - cut into bite size chunks
2 tablespoon Olive Oil
Pinch of Sea Salt
Honey Mustard Dressing
2 tablespoons White Vinegar or Cider Vinegar
2 tablespoons Whole Grain mustard
¼ cup Extra Virgin Olive Oil
1 small Shallot - minced (optional)
1 Garlic Clove - minced (optional)
pinch of salt and pepper
Instructions
Salad
Bring eggs to boil in a small pot, and lower heat to simmer for 6 minutes.
If it's leftover roast pumpkin and quinoa, heat up in toaster oven or pan for 5 minutes
Cut veggies. Prepare dressing by mixing all the ingredients with a whisk or shake in a jar.
Place all salad ingredients and dressing, toss to coat. If preparing a lunchbox, store leafy greens and dressing separately
Roasted Pumpkin
Preheat oven to 220C (425F). In a large bowl, toss together all the ingredients and transfer to baking paper lined baking tray and roast for 25 minutes, until tender and just caramelized.