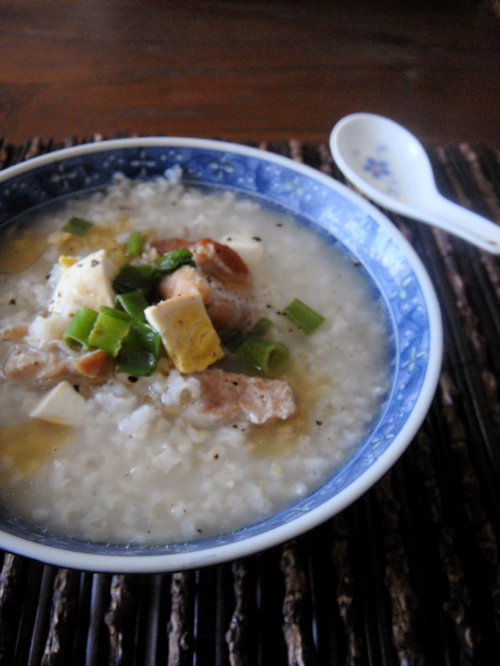 It has been raining heavily almost everyday all over Malaysia for 2 weeks now. With the flooding situation in our neighbouring countries – Thailand, Laos, Cambodia, Vietnam and Philippines, Malaysian government have been warning us of pending flood coming soon to our shores. It is heartbreaking to watch our neighbours suffer, and I pray for the weather to change soon.
These rainy days had me craving for a bowl of hot steaming porridge, particularly Roasted Pork Bones and Salted Egg Porridge my mama used to cook long ago. Porridge or congee is undoubtedly a top comfort food for most Asians – especially for the Chinese people. My mama buys Roasted Pork Bone from the butcher because these bones give a distinct smoky salted flavour to the porridge – that taste so good. As I was lazy to visit the butcher during rainy days, I tried roasting the pork bones I have in my freezer. You can also buy Roast Pork or Roast Pork Ribs from the butcher.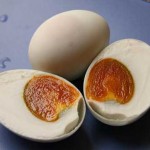 The other ingredient is Salted Egg, which is normally preserved duck eggs. Chinese people use them to make moon cakes, glutinous rice dumplings and many other dishes.
The result of the first time my Roast Pork Bones was not too bad, except they lack the smoky flavour. As I've been trying to cut down on my pork intake (not advisable for blood type O), I'm not in a hurry to find the perfect smoky roast recipe. Until my craving comes back again..

Roast Pork Salted Egg Porridge
Asian style comfort food - porridge with roast pork & salted duck egg
Recipe type:
Main, 1 Dish Meal
Ingredients
300 gm Roasted Pork Bones
1 Salted Egg – wash off the sand
1 cup Rice
4 cups water (or adjust to your preference)
Salt to taste
Spring Onions, Ground Pepper and Sesame Oil to serve
Instructions
Porridge
Bring rice to boil with the 4 cups of water in a medium pot, and add in Pork Bones. Turn the fire to low and half cover the lid on the pot. Let porridge simmer for about 30 minutes or until porridge is tender and gluey.

Meanwhile, boil the salted egg, in its shell. Once cooked, peel the egg shell and smash the egg with a fork.

The porridge is tender and gluey (or to your preferred consistency), stir in the salted egg, add salt to taste and switch off the heat.
Dish up and serve with spring onions, a dash of pepper and a drizzle of sesame oil for that extra flavour, if desired.

Roasted Pork Bones
Marinate 300g Pork Bones with 2 teaspoon salt and 1 teaspoon of 5 spice powder and roast in oven for about 45 minutes. The meat will shrink and is slightly crispy.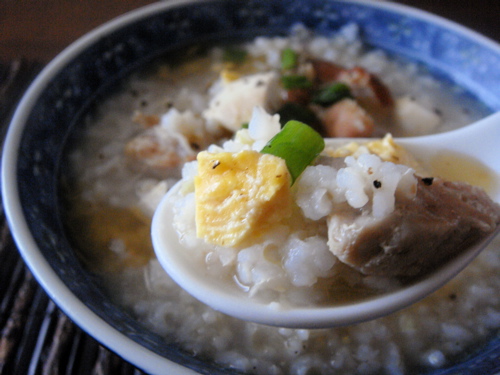 Simply Delish on a cold rainy day