In my previous post, I talked about my 1 month restricted diet for eliminate Candida. Besides changing my breakfast menu, the 2nd hardest is finding my snacks options, especially when I have my monthly junk cravings.
When I first started the diet, I bought some organic unsweetened Rice Puffs which I think costs a bomb. I tried finding rice puffs recipe, however it requires deep frying cooked rice. Crossed out the recipe from my list because I hardly deep fry my food. Then I stumbled upon this amazing rice cracker recipe. Looks simple enough and healthy 🙂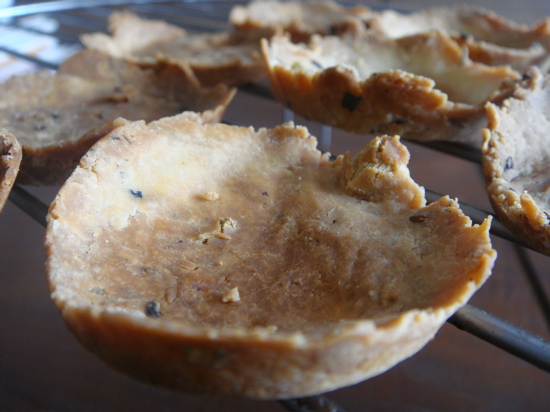 In my 1st trial, the cracker turns out too thick and it crumbles. In my 2nd trial, I reduced the amount of flour and press down the mixture as thin as I can. I used a round tray and also test out in a muffin tray. They turn out to be cute saucer shape cracker 🙂 It taste so good that it doesn't even last 3 days and I've made my 4th batch already.
Ingredients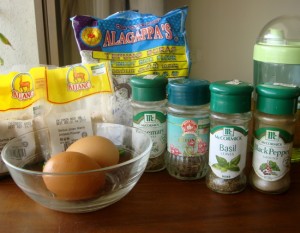 1 1/2 cups of rice flour (or grind brown rice with food processor)
2 eggs, separate yolk and beat egg white
4 Tablespoon olive oil
1/2 teaspoon salt
1 teaspoon pepper
1 teaspoon garlic powder (or ginger/nutmeg/cayenne powder)
4-5 teaspoon of herbs (basil/oregano/thyme/parsley/majoram/sage/chives/dill/rosemary, etc)
4 teaspoon of powdered spices (aniseed/cummin/fennel/cinnamon/cardamon, etc)
Instructions
1. Preheat oven to 180C. Line square tray with parchment paper.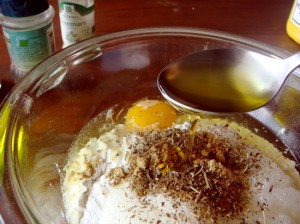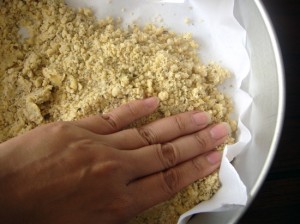 2. Mix all ingredients together. Spread on parchment paper and use fingers to gently pressed down the mixture to flatten it to about 1/2 cm thick or as thin as you can. This will also condense the mixture so that it does not break loose easily.
3. Bake about 30minutes until lightly brown.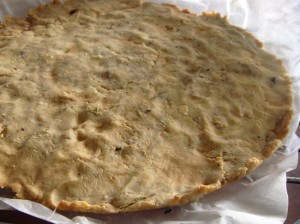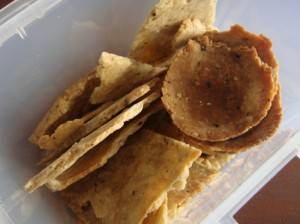 4. Transfer to a wire rack until completely cool. Keep in air tight container, can keep up to 2 weeks (but it only lasts me 3 days)
5. Good as a snack to take with you, take it plain or eat the dips like hummus.