Satisfy your sweet tooth with this Raw Salted Caramel Nut Tart – a crunchy nutty tart with creamy sticky caramel flavours.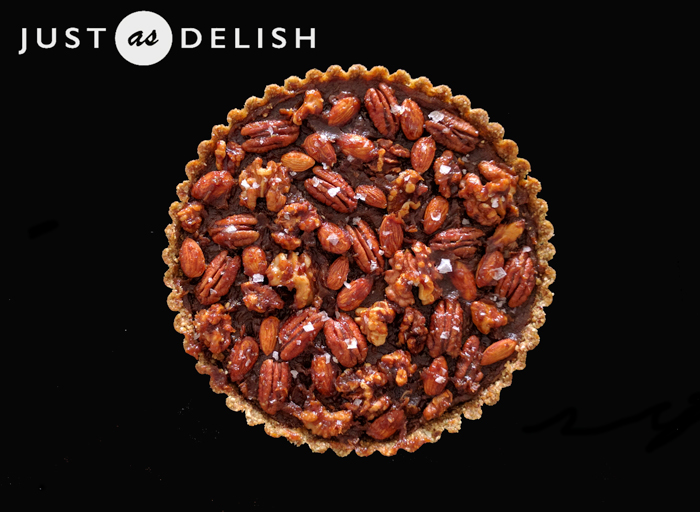 I always admire cooks that are good at both cooking and baking. It is, however more common to meet someone who is good at one or the other, just like myself. I'm not much of a baker and I have yet to develop the patience required for baking. I don't mind taking a long time to prep for my savoury dish, but not for baking. I'm sure I'm not the only weird one 😀 
Hence, raw desserts are just up my alley. Actually with raw desserts, being so easy to make, just about anyone with no cooking skills can make them. Unless you're Mr Bean 😛 All you need is just a high speed blender or a food processor (I use my wonderful Froothie Optimum G2.1 Blender).
The thing that I love about raw desserts is it being allergy friendly – without the 2 major allergenic foods which is gluten and dairy. Isn't it great to bring a dessert to a party where everyone (usually it is me) can enjoy? Raw desserts are made with more nutrient dense ingredients (compared to conventional desserts) that your body will love. Even if you are not a raw food fan – maybe you don't even really know what raw food is – you can still benefit from switching out some of your regular cooked desserts for some raw ones.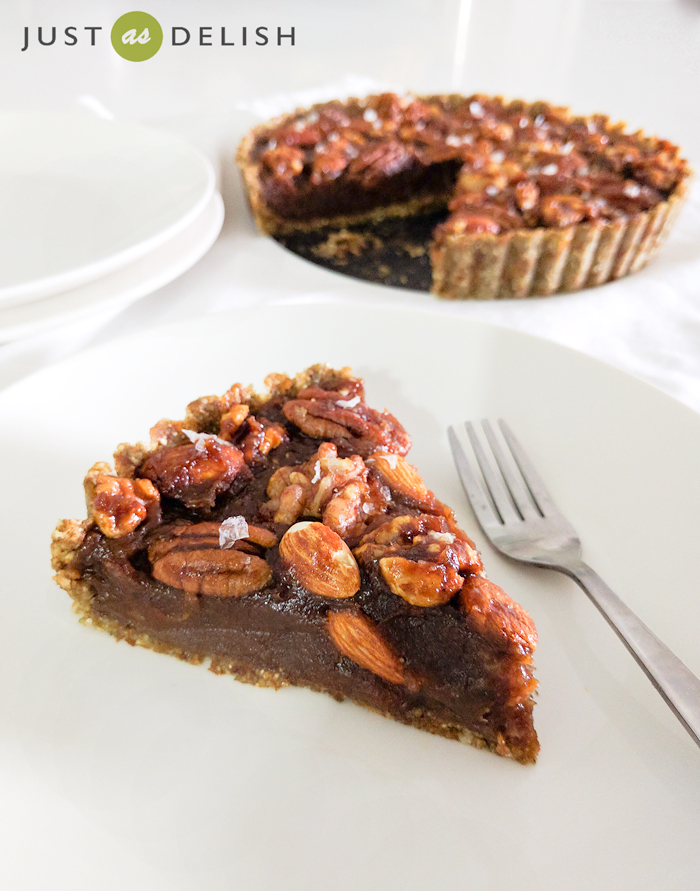 I've been thinking about a Caramel Nut Tart recipe I saw online and I finally gave in. Now who doesn't like gooey caramel? I remember popping caramel candies when I was a kid. As caramel is basically mainly sugar, too much of it can cause a toll on your body. If there's a healthier version of caramel that taste just as good, why not? Mine is raw, the caramel flavour is from the nutritious dates and slightly salted. Salted caramel is pure heaven. Who agrees?
Even though these raw, Salted Caramel Nut Tarts are a healthier substitute to the normal sugary desserts, it's important not to overdo it (as with any dessert) when consuming this tart due to the dates' high natural sugar content.  
If you're eyeing a high speed blender, you can get a special price for OPTIMUM G2.1 Vortex Blender. Froothie is partnering with JustAsDelish to give you, the readers, a discount of RM80. Just key in the code Delish-Optimum-20 after adding the product to the cart on Froothie Malaysia site. Purchase on Froothie USA site will get a rebate of USD20 with the code Delish-Optimum-20.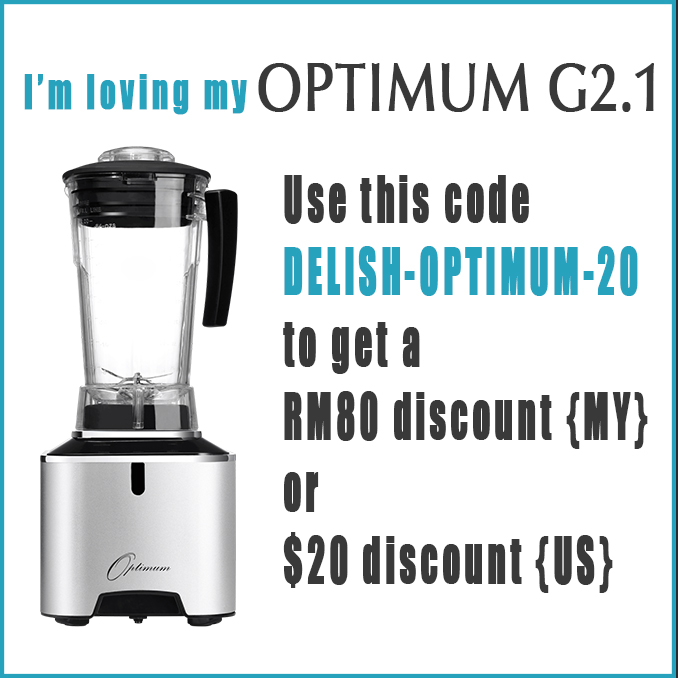 If you're undecided, why not test the Optimum G2.1 out for 30 days? It comes with a 30-day money back guarantee, including return postage.
Disclosure: I am an ambassador for Australian health product brand Froothie. However, as always, all product reviews and mentions are based on my honest opinion. If you would like to know more about Froothie products (they also sell excellent slow juicers!), or this machine in particular, please visit the Froothie website for more details. Not only you get a discount with purchases made with the discount code here, you are also giving Just As Delish a small bit of money to keep the site afloat and developing healthy recipes to share. Thanks!

Raw Salted Caramel Nut Tart
Satisfy your sweet tooth with this Raw Salted Caramel Nut Tart - a crunchy nutty tart with creamy sticky caramel flavours.
Author:
Original recipe from Shannon Lim-de Rooy
Ingredients
Crust
60g Sprouted Cashews
60g Sprouted Almonds
60g Moist Dates like medjool (If the dates are dry, soak in warm water for 5 minutes)
Caramel Layer
180g Moist Dates like medjool (soak in warm water for 5 minutes)
50ml Coconut Oil
80g Almond Butter
30ml Coconut Nectar (or maple syrup)
⅛ tsp Sea Salt
1 ½ cup Mixed Nuts (I use almonds, walnuts & pecans)
Sea Salt Flakes to sprinkle
Instructions
Grind cashews and almonds until fine with the high speed blender (I use Froothie Optimum G2.1 on Nut mode) or food processor. Add dates and continue processing until the mixture come off the side of the jug, mixture should stick together when pressed with 2 fingers.

Press mixture evenly into a 10cm tart tray and refrigerate.

To make caramel, blend dates, coconut oil, almond butter, coconut nectar and sea salt in the blender (with the tamper) or food processor. You might need to stop the blender, scrape the mixture from the sides and continue blending until mixture is completely smooth.
Remove the caramel mixture into a bowl and mix in the nuts well. Remove the crust from the fridge and spread the caramel mixture over the crust. Sprinkle with sea salt flakes and freeze up to 3-4 hours.

Best eaten 10mins after removing from freezer.
BUY ASIAN RAW FOOD KITCHEN