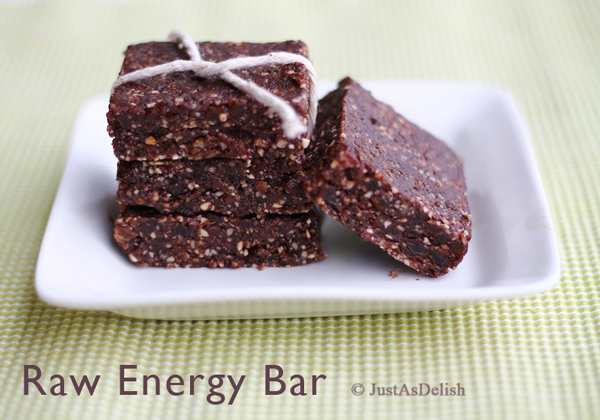 My friend Ash couldn't stop gushing about raw food after she came back from the 2 weeks Inner Dance Raw Food Retreat in Philippines. She was so radiant and full of energy. When food is eaten raw, our body will also absorb the life force of the food at its raw state and hence giving us more energy. I look forward to Ash bringing the Raw Food workshop to KL in August.
Her high enthusiasm has definitely rubbed off on me, causing me to start increasing my daily raw food intake. For snacking, I love Raw Energy Bars in between meals, or pre or post workout. I've tried a few flavours and recipes before, like this Walnut Cookie flavour but this Cashew, Almond and Cocoa flavour is my new favourite. Dates are now aplenty with the festive Ramadhan approaching and I love stock them up as a sweetener and binder in other recipes.
My birthday gift Kenwood food processor comes in handy for this recipe. It's very easy with this kick-ass food processor, using raw ingredients of dates, cashew, almond and cacao powder. Dates give you energy without the fat or cholesterol because it has natural sugar that can be easily burned body to provide energy. Raw Cacao Powder can be found at organic health stores, or you can also use unsweetened cocoa powder instead. If you have a small food processor or spice grinder, follow the instructions of the Walnut Cookie Larabar recipe.
I was amazed when I first tried this combination, and I'm sure you will be too. The nutty cashew gives a good balance to the sweetness of the dates, and combination with cocoa completes the flavour.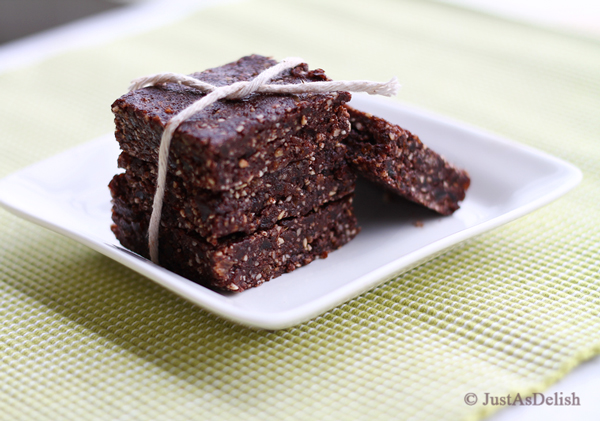 Raw Energy Bar - Cashew, Almond & Cacao
Nutty Raw Energy Bar for snacking in between meals, or pre or post workout.
Author:
Adapted from seasaltwithfood
Ingredients
300g moist Dates - pitted and roughly chopped
250g Raw Cashew Nuts
100g Raw Almond
2-3 tablespoon Raw Cacao Powder (or Cocoa Powder)
A Pinch Of Sea Salt
2-3 tablespoon Cold Water
Instructions
Line 8"x4" container or tray with aluminium foil or cling wrap.
Pulse chopped dates, cashews, almonds, cacao powder, and sea salt in a food processor and process until the texture is coarse.
Then add a little water at a time until it reaches a dry but moist dough consistency.
Scrape the dough mixture into the lined pan, press evenly with a rubber spatula.
Chill for at least an hour and cut into 1" squares. Keep the bars chilled in an airtight container.



Notes
If you have a small food processor or spice grinder, grind the nuts first and place them in a large bowl. Then process the dates & cacao powder until become a paste. Add date paste to the nuts and use your hand to mix until well combined.