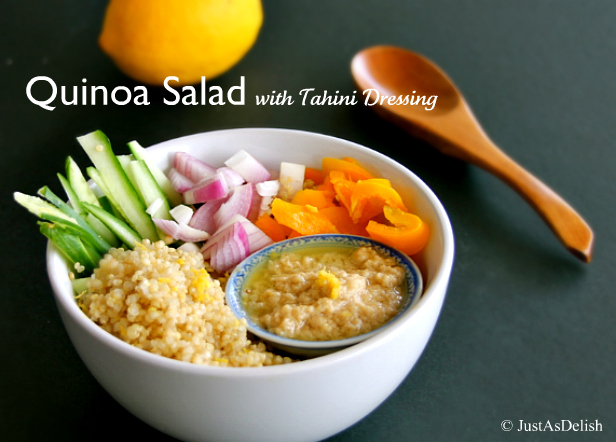 This Quinoa Salad is another of my new love discovery. I know I'm quite late to get into the bandwagon of whole grains. My mama have been mixing whole grains and legumes in her daily 'rice' for the past 7 years, and I used to quietly eat and complain under my breath about the weird rice combination. There's red/black/brown rice, millet, quinoa, buckwheat, corn, red/black bean, dal, chickpeas, etc.
I started eating millet last year and my love for millet was rather obvious with 3 recipes posted here.
Now move over millet, it's Quinoa's time to shine. Chances are you've already heard of quinoa benefits or seen quinoa recipes on other blogs. After I getting to know this curious little grain (er, seed), I found it's an easy ingredient to work with and  there are endless ways to incorporate it into my cooking – breakfast, lunch and dinner. This cute tiny seed (grain-like) is dubbed as a Superfood, and fluffy yet interestingly crunchy.
I love the tahini dressing ingredients from here, and I just throw in the vegetables found in my fridge to make this Quinoa Salad. It took about 15 minutes to cook the Quinoa. While waiting, I prepare the dressing and to throw together a delicious healthy lunch.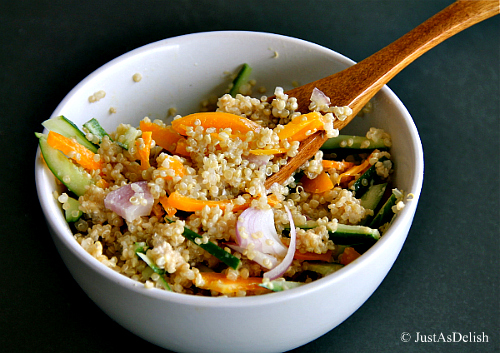 I was rather skeptical when I serve this to my man (who don't like millet because unhulled millet is bird's feed in his country!). When he asked for more and commented "This is so good & crunchy!" and went for seconds and thirds. Just simply throwing what I have in the fridge turn out to be a jackpot. All the ingredients makes a delicious crunch without me realising.
This recipe is definitely a keeper.
** Updated 27th March 2012 – In my excitement to share this yummy recipe, I skipped out explaining about Tahini, as requested by some readers. Tahini or sesame paste is a paste of ground sesame seeds used in cooking and one of the popular condiment in Middle Eastern cuisine. You can find tahini in Middle Eastern shops in KL, or in the supermarket under the organic section.
I'm participating this post to Your Best Recipe of February 2012 hosted by Spicie Foodie.
Quinoa Salad with Tahini Dressing
Ingredients
½ cup Quinoa
1 cup Water
½ teaspoon fine Sea Salt
1 Capsicum - chopped
1 Cucumber - chopped
½ red onion, chopped
Tahini Dressing
1 clove Garlic - smashed and chopped
3 tablespoon Tahini
Zest of half Lemon
3 tablespoon fresh Lemon Juice
2 tablespoons Olive Oil
1 tablespoons Hot Water
½ teaspoon fine Sea Salt
Instructions
Rinse the quinoa in a fine-meshed strainer. In a small pot, heat the quinoa and water until boiling. Reduce heat and simmer until water is absorbed and quinoa fluff up, about 15 minutes. Quinoa is done when you can see the curlique in each grain, and it is tender with a bit of pop to each bite. Drain the quinoa in the strainer for any extra water and set aside.
While the quinoa is cooking make the dressing. Mix together all ingredients until smooth. Add a little more hot water to thin the dressing if needed.
Toss the cooked quinoa, cucumber, capsicum, onion, and half of the dressing. Add more dressing if you like and season with more salt to taste.