While I'm off to Penang to visit my mama for a couple of days, I'm so delighted to have one my favourite bloggers & fellow penangite Ping from Ping's Pickings. If you haven't been to her blog, you must go now. Yes I mean now. Her blog become a must to visit, to get my dose of recipe inspiration and laughter. I'm always waited eagerly.. no, it's more like waited impatiently.. to her new post, seeing what else she will conjure up next. Ping's creative and super easy recipes is a delight to try & tested: especially her 2 ingredient Strawberry Ice Cream, easy Coconut Pie and  Passionade Ale.. and not forgetting her reconstructed recipes of Yong Tau Foo and Mango Glutinous Rice.
Yes, I can tell you Ping is even more funny in person & her yummy bakes is unforgettable – still can't get over her pineapple tarts.  Ok enough of me babbling non-stop about Ping, it's her turn. Take it away Ping!
♥ ♥ ♥ ♥ ♥ ♥ ♥ ♥ ♥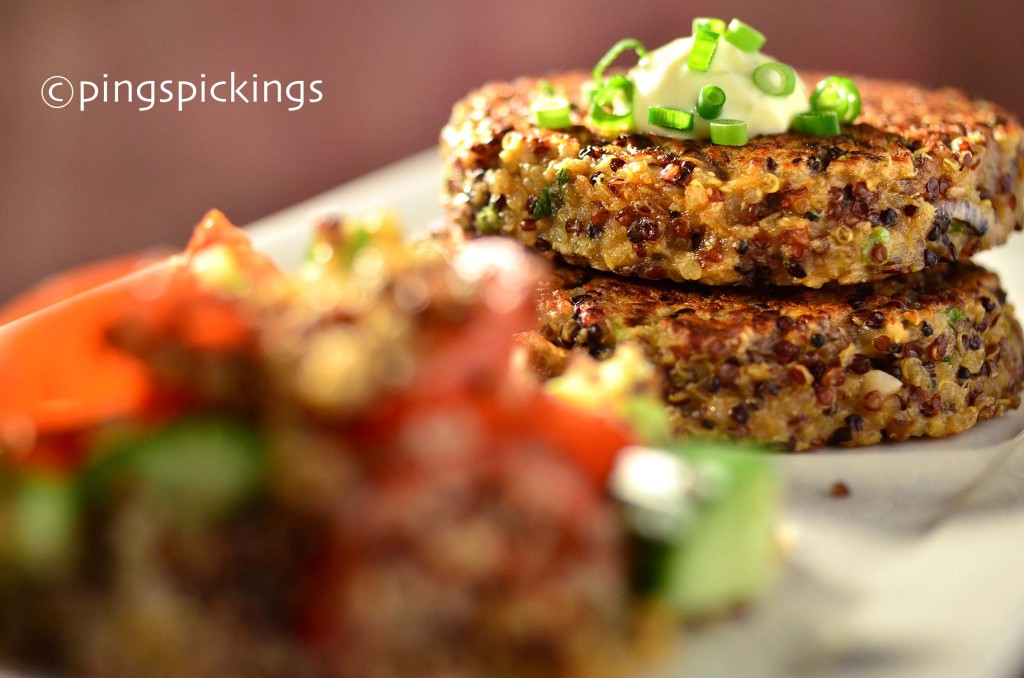 Whoo! My first time doing a guest post!
Thank you Shannon, for asking. I'm excited! I'm nervous! I'm panicking!
Shannon asked. I'd said ok. I'd be honored. I asked Shannon if there is anything specific she'd like. She'd said no, no specific recipe. I asked if there are any special requests. And she'd said yes! It needs to be simple and healthy (ie. no deep frying, no loads of sugar/butter/cream). All of the above is what I am … unhealthy. Now you see why I'm panicking? I'm doomed!
Ok, ok, I'm calm, I'm calm. I just need to see this as a challenge to my high-fat-cream-infused brain.
Wait. What's this packet of healthy looking thing doing in my pantry? It stuck out like a sore thumb. The mother of all grains, Quinoa! (Well, according to the Incas, anyway).
How healthy is that?
And when I told Shannon it's going to be quinoa, she said, "Quinoa? Isn't that too healthy for you?". Does she know me or what?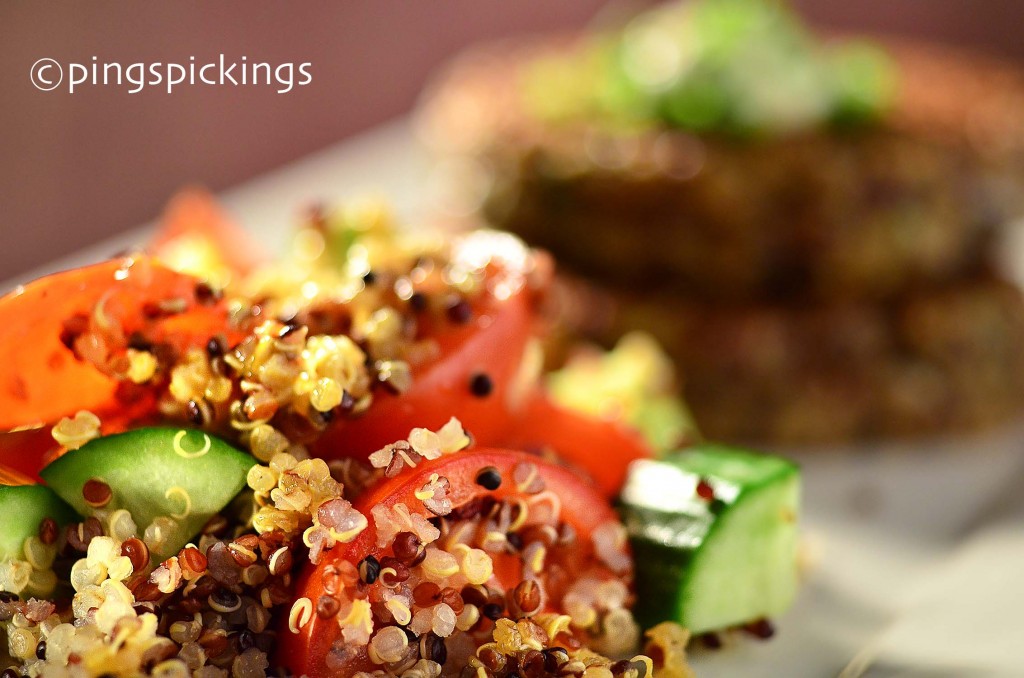 Confession: This is the first time I'm having quinoa. I'd read so much of it having the highest protein content compared to other whole grains, contains all 9 essential amino acids (a complete protein), gluten-free and cholesterol-free.
And I can tell you that I'm already totally in love with it. (Strange, isn't it? Me being in love with health food). I love the texture. It's not mushy like I initially thought it would be. I love the subtle crunch. And I can think of so many ways to use this. There's gonna be a lot more posts on it soon!
Now, a little bit about how Shannon and me came about before I go on to the recipe …
I'd first found Shannon on the blogsphere when I noticed her Mee Goreng, just like how the hawkers do it back home. I drooled, I commented, she replied. We checked out each other's posts regularly. And recently, we met up a couple of times. I tell you, that girl is sweet! And to find out that we're both from Penang, fellow islanders, even sweeter!
I'm helping her out here today as she heads off to Penang.
Eat all the hawker stuff for me, Shannon, and as much seafood as you can manage!
I call this "Death by Quinoa" …. kidding. Well, since there are two recipes here and both use quinoa, isn't that appropriate? No? Oh well, for a better and boring name …

Balsamic Onions Quinoa Patties
Ingredients
Balsamic Onions Quinoa Patties
2 cups cooked quinoa (see below on how to cook quinoa)
2 large eggs
2 tbs chopped spring onions
½ cup grated parmesan or any strong cheese
½ cup breadcrumbs
¼ tsp salt
2 medium-sized onions, thinly sliced
1 tbs balsamic vinegar
Sour cream & chopped spring onions
Instructions
First cook the quinoa. Wash and rinse 1 cup quinoa. Place in a rice cooker and add 2 cups of water.
When cooked, fluff up to loosen grains and leave to cool a little.
For the balsamic onions, heat a little oil in the pan and saute sliced onions til soft but not browned. Add in balsamic vinegar and cook until reduced and sticky. Cool.
To make patties: In a mixing bowl, mix together the eggs, spring onions, cheese, breadcrumbs, balsamic onions and salt.
Stir in 2 cups of cooked quinoa.
Shape into patties.
Spray a little oil on a non stick pan and cook patties for about 3 minutes on each side.
Serve hot with sour cream and chopped spring onions.
Note: I had about 1 cup of cooked quinoa left after making the patties, so I'd made them into a salad as an accompaniment.
Ingredients
1 cup cooked quinoa
2 small tomatoes
1 picolino cucumber
VINAIGRETTE INGREDIENTS
1 small clove garlic, minced
1 tbs mild mustard
2 - 3 tbs grapeseed oil
¼ tsp sesame seed oil
1 tsp balsamic vinegar
freshly ground black pepper
pinch of salt
pinch of sugar
Instructions
Cut tomatoes and cucumbers to bite-sized. Add to the quinoa in a salad bowl.
Place all of the vinaigrette ingredients in a jar. Screw the lid on tight and shake to mix well.
Toss together with the quinoa, cucumbers and tomatoes.
Serve as a side or it's just as good on its own.
Add some leftover roast meat to it and you get a lovely light lunch or dinner.
Have ever seen such gorgeous health food? I bet anyone who has not tried Quinoa is now a new convert. Oh Ping, I can't wait to try the quinoa patties