Protein packed Quinoa Egg Wrap Breakfast Burrito to start your day.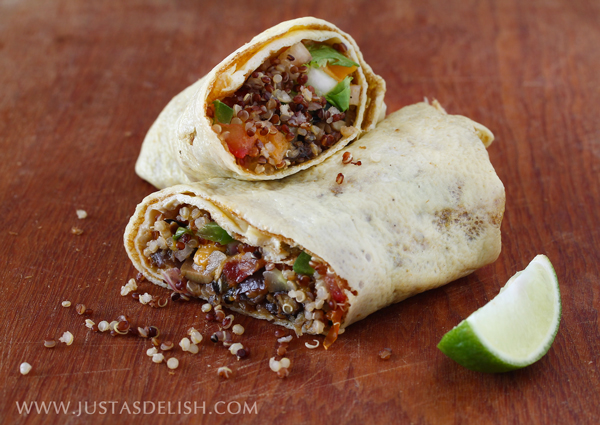 Egg wrap, egg crepe, egg tortilla, egg roll. Whatever it's called, it's pretty brilliant. Just whisk 2 eggs to make a thin omelette to use it as a wrap. It's a quick gluten free, protein filled nutritious addition to your breakfast, lunch or dinner.
Egg Wrap is kinda my new favourite. Especially leftover egg wraps. All you need is about 5 minutes to make the egg wrap and reheat the leftovers. Just beat 2 eggs and the egg wrap is ready in 2 minutes for any leftovers, or to wrap fresh salad ingredients.
Customise your egg wrap flavours with any sauce or paste. Red curry paste for Thai wrap. Pesto for Italian wrap. Hoisin Sauce for Chinese wrap. Miso dressing for Japanese wrap. Well you get the idea.
I made some quick Refried Black Beans by using the pressure cooker, and together with leftovers of quinoa, guacamole and mango salsa (from previous fish taco recipe), American style Breakfast Burrito is served for brunch.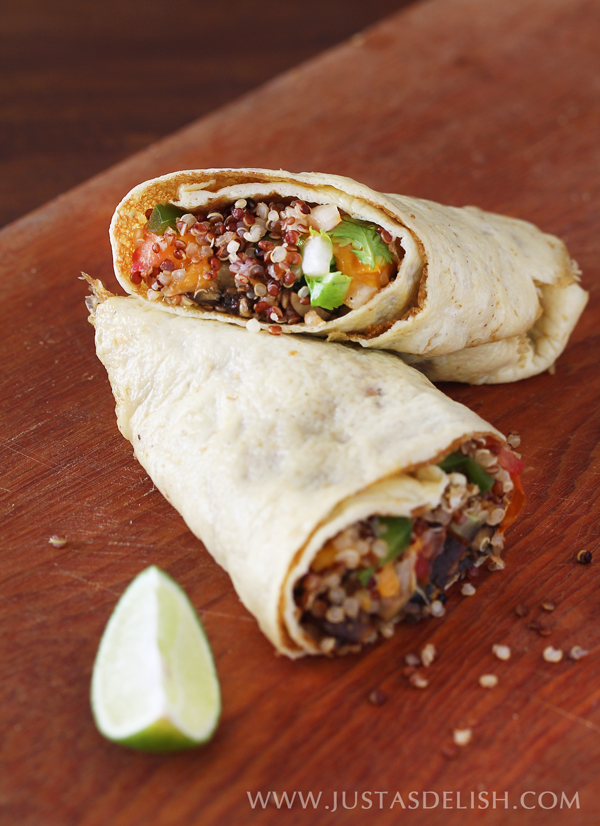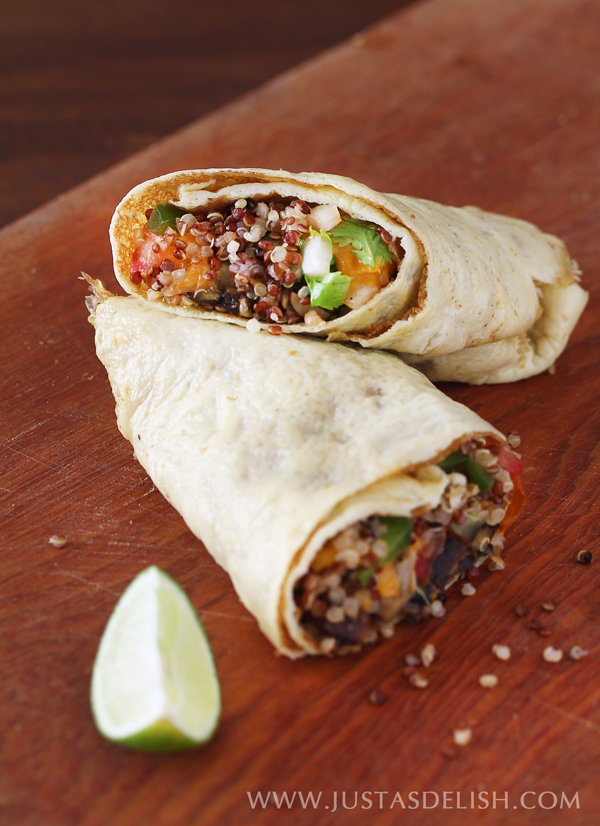 The trick to get a really thin flawless omelette is sieving the whisked eggs to get rid of the membrane parts and using a non-stick pan on medium heat. Using a normal pan with oil still gets the omelette stuck to the pan. 2 medium eggs makes a thin omelette with 16cm pan. Adjust the eggs required with the size of your pan.

Quinoa Egg Wrap Breakfast Burrito
Protein packed Quinoa Egg Wrap Breakfast Burrito from leftovers to start your day.
Ingredients
1 cup cooked Quinoa
Refried Black Beans (recipe below)
half Capsicum - thinly sliced
1 cup Guacamole / sliced Avocado
4 medium Eggs
Seasalt and Black Pepper
Instructions
Whisk 2 eggs in a bowl. Pour it through a sieve into another bowl and add a pinch of salt and pepper.
Heat up a 16cm (6inch) non-stick pan on medium heat. Pour the eggs onto the pan and quickly swirl it around to get the whole pan coated with egg. When the top part is cooked, gently loosen the omelette with flexible spatula and slide the omelette onto a plate.

Whisk & sieve the other 2 eggs and cook as per step 2.
To assemble, place some quinoa, salsa, refried black beans, guacamole and capsicum in the middle of the omelette. Wrap it up like a spring roll. Egg wraps can be served warm or cold.

Quick Refried Black Beans
Quick Refried Black Beans with dry beans using pressure cooker (no soaking needed)
Instructions
Place dry beans and 1 teaspoon salt in the pressure cooker and add enough water to cover the beans by two inches. Cook the beans according to the instruction time on your cooker. Mine is 15 minutes to get it mushy soft.
Heat 2 tablespoon of olive oil in a large frying pan on medium high heat. Add the chipotle powder, chili powder and cumin. Once the spices are sizzling, add the chopped white onion and cook until translucent, add the garlic and cook a minute more.
Add the cooked black beans (and liquid from the pot) to the frying pan. Use a fork (or potato masher) to mash the beans in the pan. Let them cook 3 to 4 minutes longer. If the beans are a little soupy for your taste, just let them cook longer. If too thick or dry, add more water. Adjust seasonings to taste.
Garnish with chopped green onions and fresh cilantro. Great in tacos or burritos, or for a dip with corn tortilla chips.

Notes
I cooked the soaked dry beans in pressure cooker first. If you are using cans of cooked black beans, skip the first two steps, rinse and drain the beans and add to the pan with a little water in step 2.