Imagine food grown using the age-old methods of Mother Nature herself. That means no chemicals, fertilizers, irradiation, artificial food additives or genetic tampering in the production of food. Anni Brownjohns, founder of Ozganics – an Australian owned organic food manufacturer, is in town on a personal mission to change minds and lives by telling the world that good, healthy food is not merely boring and dull.
At the pantry in Jaya Grocer, Empire Shopping Gallery, Anni Brownjohn shared about her passion for organic living while she whipped up  quick healthy meals with her Ozganics ranges of products. I'm glad to hear that she highly advocate on supporting local producers and recommended some exceptional local organic producers. By supporting local producers and more people consuming organic produce, the price of organic produce can be lowered.
Ozganic products which include sauces, dressing and marinades are certified organic by the Australian government as well as being gluten-free and dairy-free with no preservatives.
The 1st dish demonstrated was Thai Pumpkin Soup. The traditional pumpkin soup is given a Thai twist with the addition of Red Curry, lime juice & cilantro.
I could not get enough of the Moroccan Chicken with Lemon & Olives. The original Moroccan recipe is to be cooked in a tagine, but how many of us have one of these moroccan pot, hence this dish could also be cooked in any pot. If you have seen my Beef Tagine recipe, the spice rub for tagine has almost 20 spices. It definitely is much easier to get a jar of the tagine sauce and I look forward to try their Spicy Lamb Tagine sauce.
Chef Ryan whipped up Sprouted Multigrain Bread, served them with butter and Ozganics Fig Spread that had everyone asking for seconds.
The watermelon feta salad can be mixed with any of the salad dressing range. Anni uses 3 different dressing with the salad, I like the Lemon Mrytle Dressing but I find the feta overpowers the other flavours of salad.
It was an educational & fun afternoon well spent with a group of fun-loving food bloggers and wonderful hosts – Anni & Chef Ryan.
For those interested, Anni will be conducting a few demos next week at Jaya Grocer @ Empire Subang for RM100 per day (including cooking demo, 3-course lunch and RM100 worth of Ozganics products). Ozganics products are available at Jaya Grocer.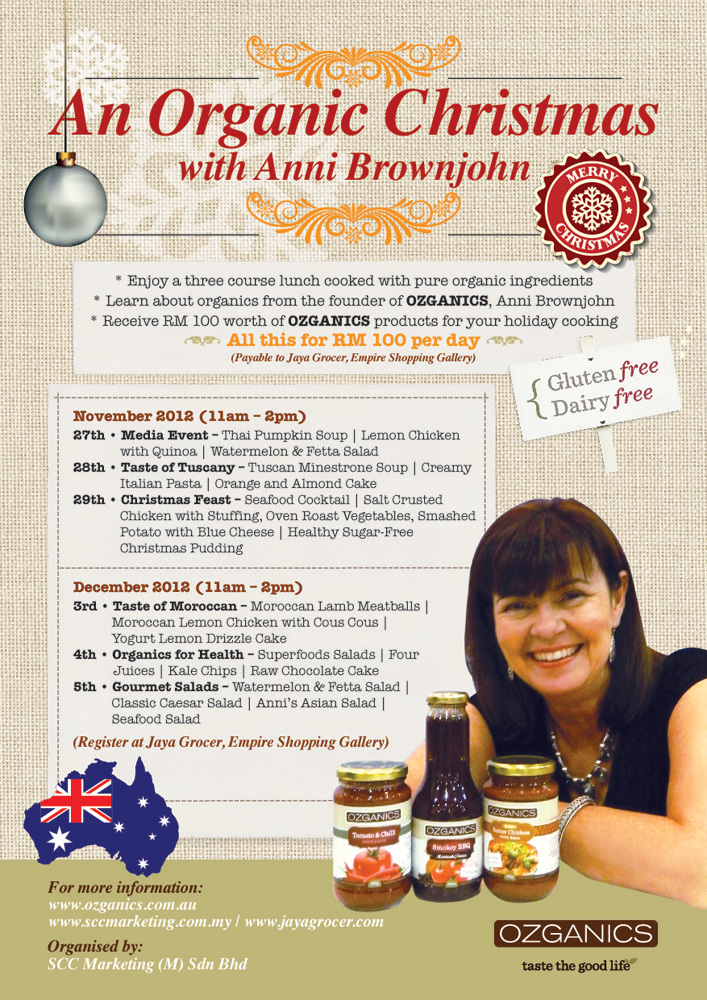 We were presented with some products and I immediately cooked Butter Chicken for dinner the next day, the sauce makes it a quick & easy for a weeknight meal.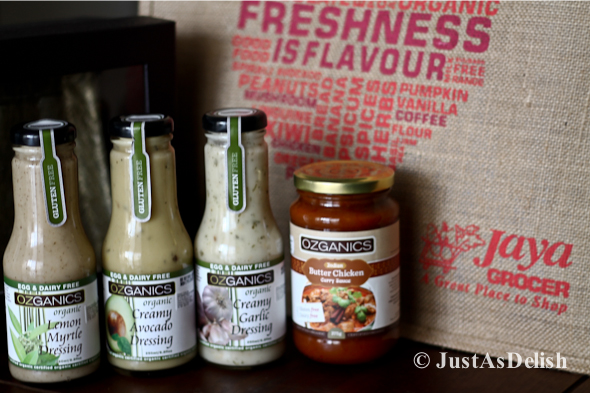 This dish brought me back to my uni days in Sydney where Butter Chicken is a popular dish in Indian restaurants. I don't think you can find Butter Chicken anywhere else. Before you gasp in horror, there's no butter in this dish, it's basically a tomato based mild curry that is very rich & creamy. What I like about the sauce (and other Ozganics products) is that it is very low in sodium, and you can adjust the saltiness to your liking.
Cooking this Butter Chicken is very easy – While waiting for the steaming potato, sauteed chicken pieces until cooked & brown, add potatoes &  sauce. Simmer for 5 minutes and serve.
Special thanks to Veronica & Nourish! magazine for the invite.