If you have been following my blog, I have been trying out alternative whole grains to using wheat flour in my recipes. I absolutely love millet & quinoa and I have posted a few millet recipes and it's benefits here. However whole grains like these are rather costly on a long-term basis as they are sold in organic health stores. As much as I support organic produce, I prefer if the general population is able to have access to whole grains as well.
When I found that finger millet or ragi is a common staple in South India, off I go to Indian grocery stores in search of Ragi flour. A packet of 500g Baba's Ragi flour only cost RM2.50 (less than 1USD). Using Ragi flour, I've made Dhosa or Thosai and Putu.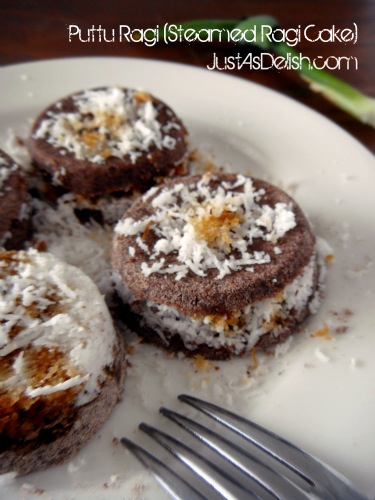 This Steamed Ragi Cake or Putu is a very traditional healthy breakfast in South India. When I was about to start making Putu, only did I realise this is similar to what we have here in Malaysia using rice flour – that is Putu Piring (which means Putu in a plate). While putu maker is used in India, I improvised and used my muffin tray instead, sandwiching grated coconut and palm sugar in between Ragi flour. To add the extra fragrance, I dry fry the flour with Pandan Leaf (Screwpine Leaf) and steam with the leaf too. These Putus are very easy to prepare and makes a healthy and filling breakfast. If you prefer to have a savoury breakfast, omit palm sugar and serve putu with curry.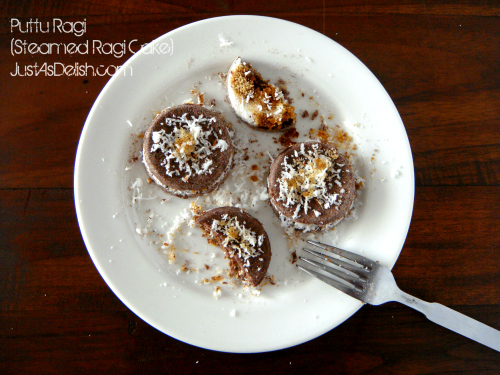 This recipe will be submitted to Muhibbah Malaysian Monday December Round-up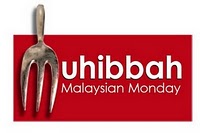 Putu Ragi (Steamed Millet Cake)
Easy breakfast recipe of steaming Ragi flour (Millet) and grated coconut. Healthy and filling breakfast. Similar to Malaysian Putu Piring
Author:
Adapted from Lite Bite
Recipe type:
Breakfast, Healthy Snack
Ingredients
1 cup Ragi Flour (or can use Rice Flour)
½ cup Grated Coconut
1-2 Tablespoon chopped Palm Sugar / Gula Melaka
A pinch of salt
2-3 tablespoon Water
1 Pandan Leaf - shred into 2-3 pieces and tie into knot (Optional)

Instructions
Dry fry Ragi flour and Pandan Leaf for 2-3 minutes. (You can avoid this step but it gives a better flavor to the recipe)
Place the flour in a bowl, sprinkle 1-2 tablespoon of water in it. Mix the flour by rubbing with your fingers. Add balance water and rub until the mixture resembles breadcrumbs. Make sure that there are no lumps in the mix.
Mix salt into the grated coconut.

Place 1 tablespoon of flour mixture into a muffin tin and top with a teaspoon of grated coconut. Finally top with 1-2 tablespoon of flour mixture and gently press down. Repeat process for the balance of Putu.

Place into steamer (or wok with water), steam for 5 minutes on high heat.
Gently remove each putu with a spoon, and serve hot with sprinkle of grated coconut and palm sugar.

Notes
* Best to serve hot, it will hardened when gets cold * You can use Rice Flour with this recipe