I first saw mayonnaise being hand whipped on MasterChef Australia a few months ago, and that got me totally intrigued. Doesn't mayo come in bottle? It's one of those things that I thought was difficult to make at home. Then I saw on my Moulinex Chopper manual that I could make mayo with it. My first attempt with the chopper turned out to be oily runny egg yolk mixture.
So I thought maybe my chopper is not working well, because I've read about recipes using food processor or blender, NOT chopper. 2nd attempt using blender – OH NO, another oily runny egg yolk mixture!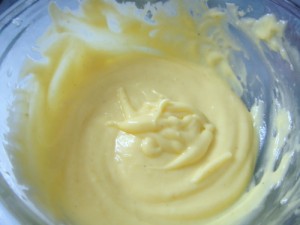 Yesterday was my 3rd attempt at making mayonnaise, this time I put my muscles to good use – using hand whisk and in 10 minutes PHEW.. my mayo turned out! YAY! Do try making your own mayo, it's so easy even though it's using hand whisk, and cheap to make your own. It's even easier using a food processor, but I can't vouch for it yet until I make it successfully one day. Homemade mayonnaise taste even better than bottled ones, and you can make flavoured mayo. But mayonnaise can only keep for 3-4 days in the fridge, so make small batches and use it up soon.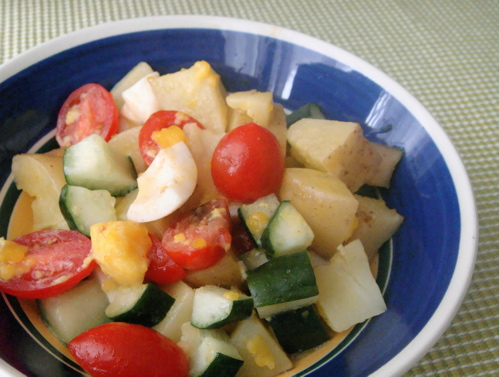 So what do I do with the mayo? I was craving for potato salad yesterday and made a huge bowl with eggs and cherry tomatoes. It taste so good and fresh with the homemade mayo.. My man who don't quite like mayo, thinks the salad tastes good.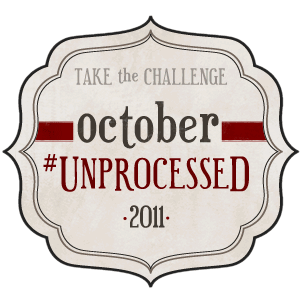 The mayonnaise was my preparation for the 1st day of October Unprocessed Challenge that I signed up for. If you have not heard of
October Unprocessed
, it is a "whole month of no processed food" challenge started by
Eating Rules
October last year . This year more than 1800 people signed up, including yours truly. The Challenge has set it's own definition of Unprocessed Food
here
. I pledge on my own definition of unprocessed food: "Any food that has a label and an expiry date is processed food".
.
I've been eating almost 70% unprocessed food for about a year, and it's a real revelation to me. My taste buds are enhanced, my cravings for junk food reduced, I lost weight and my body has a strange reaction if I eat processed food. Now I can't wait to try out new recipes. I am excited to see how this one month will turn out for me. Why don't you give unprocessed food a try this month? Even it's just for a week or a day. You might be pleasantly surprised..
 .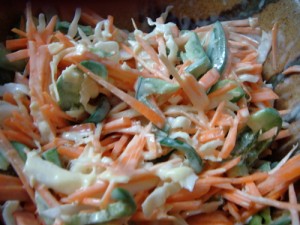 Today is Day 1, it being a Saturday helps a lot as I am home whole day.
Breakfast
: Banana Oatmeal
.
Lunch
: Seafood Coleslaw with homemade mayo (fresh and gorgeous)
.
Dinner
: Vegetable Stir Fry with Rice
.
.
Oops I know I'm a bit off topic, so here is the Potato Salad and Homemade Mayonnaise
recipe
: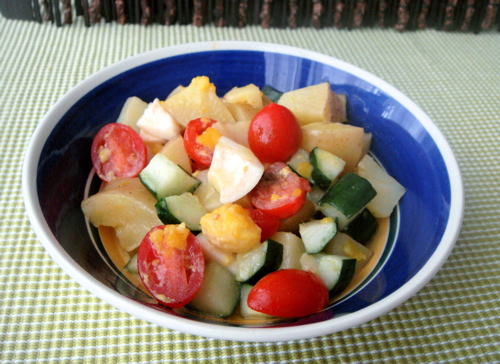 POTATO SALAD WITH HOMEMADE MAYONNAISE
Serves 2
500g Potatoes – scrubbed and cut into bite-size chunks (I like my potatoes with skin)
1 large Egg
Half cucumber – cut into bite-size chunks
A handful Cherry Tomatoes – cut half
2 tablespoon Homemade Mayonnaise
1 tablespoon Lemon Juice
Salt & Pepper to taste
1. Put potatoes and water in a small pot, and bring to a boil. Reduce heat to medium-low and boil for about 8 to 10 minutes, or until potatoes are just tender. Take out potatoes and set aside to cool completely.
2. In the same pot, put the egg to boil for 2 minutes and switch off the fire. Cover the pot for 5 minutes to get the perfect Hard Boiled Egg. Set aside to cool completely before peeling and cutting into bite-size chunks.
3. Combine all ingredients into a large bowl until well blended. Chill thoroughly (if preferred served cold). I prefer room temperature.
.

HOMEMADE MAYONAISE
(from
www.about.com
)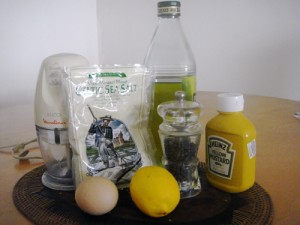 Makes 1 Cup
.
2 Egg Yolks
3/4 teaspoon Salt
1/2 teaspoon Sugar
1/2 teaspoon Mustard
Pinch of Ground Pepper
4 teaspoons Lemon Juice
1-1/2 cups Vegetable Oil (try to use oil that has less flavour)
* Note: Make sure all ingredients are the same room temperature
1. Using a hand whisk, beat yolks, salt, sugar, mustard, pepper, and 1 teaspoon lemon juice in a small bowl until very thick and pale yellow. (Note: If using electric mixer, beat at medium speed.)
2. Add about 1/4 cup oil, drop by drop, beating vigorously all the while. Beat in 1 teaspoon each lemon juice.
3. Add another 1/4 cup oil, a few drops at a time, beating vigorously all the while. Beat in another teaspoon each lemon juice. The mixture starts to thicken
4. Add 1/2 cup oil in a very fine steady stream, beating constantly, then mix in remaining lemon juice and water; slowly beat in remaining oil. If you like, thin mayonnaise with a little hot water. Cover and refrigerate until needed.
 .
For Blender or Processor Mayonnaise, the recipe is
here
.
.
Flavoured Mayonnaise Variations:
Sauce Nicoise: Mix 2 tablespoons tomato puree with 2 minced pimientos and 1/2 crushed clove garlic;
Mustard Mayonnaise: Mix in 4 teaspoons Dijon mustard.
Curry Mayonnaise: Mix in 1 to 2 teaspoons curry powder.
Fruit Mayonnaise: Mix in 3 tablespoons each orange juice and superfine sugar, 1 teaspoon finely grated orange rind, and a pinch nutmeg. Serve with fruit salads.
Thin Mayonnaise: Prepare mayonnaise, then thin to desired consistency by beating in hot water, a tablespoon at a time.
ENJOY!