Lately I've been having loads of fun with my breakfast menu, especially now I start to make my own nut butter. Yup, you can use any nuts you like to make your own nut butter, just like peanut butter. It's so simple and I just made my own honey roasted walnut butter.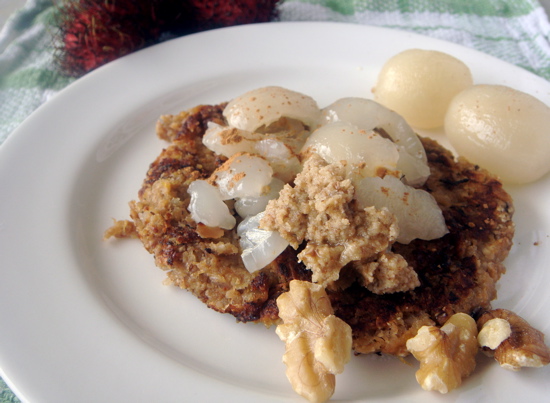 Instead of making scramble eggs for breakfast, now my new love is Banana Scramble 😛 Huh?? Yup yup scramble banana with oats.
Try it. It's easy & delish!
Peanut Butter Banana Scramble
Serves: 1
3 tablespoon rolled oats
2 tablespoon milk / yoghurt (or other non-dairy milk)
1 teaspoon cinnamon powder
1 small ripe banana
1 tablespoon peanut butter (or other nut butter, I use walnut butter)
1 teaspoon wheatgerm (optional)
1. Add all ingredients in a small bowl. Mash and mix until all elements are well-incorporated.
2. In a well-oiled pan over medium heat, place the mixture in the middle of the pan and flatten into a pancake-like shape. Cook for 3 minutes and then flip onto the other side. Cook for another 3 minutes.
3. Top with raw honey, fresh fruit, peanut butter, chopped nuts, etc. I have mine with rambutans (in season now), raw walnuts and more walnut butter.. 🙂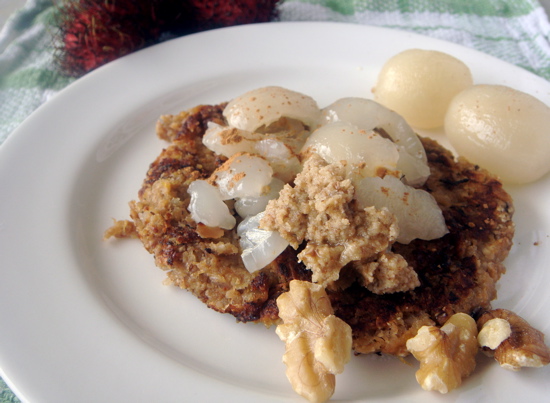 Ohh I can't wait for breakfast!