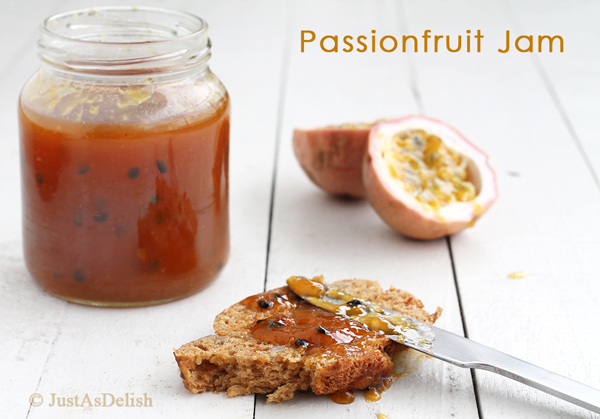 I'm a big "fruit-head". I go crazy when I see gorgeous fruits at the market, even when I'm travelling. So many varieties, so many choices, they all look so gorgeous, all so tempting. I always end up buying too much and there's not enough space in my fridge.. sigh. Sometimes the fruits turn old and wrinkled before I'm able to finish them, so I turn the fruits into jam.
We're so fortunate to have gorgeous homegrown passionfruits, which I love using for my breakfast, on yogurt, or jazz up my salad. Passion fruits give out the most beautiful, sensual fragrance but they aren't the prettiest looking fruits when ripe. You have to wait for the fruits to wrinkle, cut them open and eat only the pulp with seeds. Norbert loves it when I brought him my homemade passionfruit jam on my visit to Europe. He proudly brought it to work for his lunch, I think to show his colleagues this exotic jam which they can't get in the Dutch stores.
The whole fruit will be used to make jam. Don't throw away the passion fruit skin, there are tons of pectin in the pulp from under the skin, to thicken the jam. But don't overdose the amount of skin as it does have a slight bitterness that may overpower the lovely passiony-fruity flavours. I love adding the seeds to the jam, gives it a nice crunch.
For readers who do not have access to fresh passion fruits, look for passion fruit puree (frozen or concentrated). Heat it up to turn it into liquid and add pectin to thicken it. You will get jam (minus the seeds). I've seen Boiron Passion Fruit Puree (frozen) at Pastry Pro in Kepong.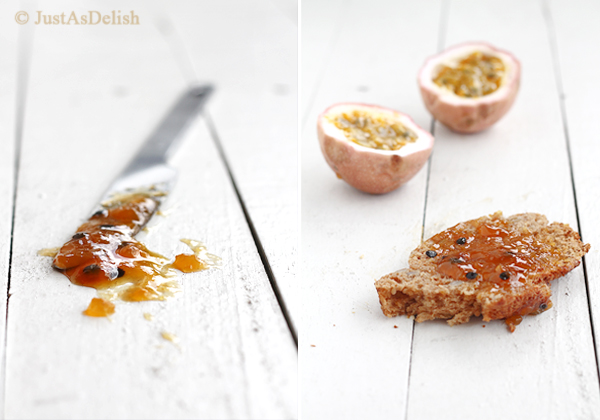 Great as plain old jam with toast or use as a filling for pastry or a topping for cheesecakes, or make ice creams with it.. And oh slather some on cut cheese, they taste amazing together.
Have you made your own jam before?

Passion Fruit Jam
Ingredients
10 Passionfruits
juice of ½ Lemon
1 cup Raw Unprocessed Sugar
Instructions
Wash the passionfruits. Halve and scoop out the pulpy seeds. Put aside in the fridge.
Put half the quantity of the shells in a pot and fill with enough water to just cover the tops. Boil for about 30 - 40 mins or until it turns translucent and soft. Drain & cool for easier handling. Save 1 cup of boiled liquid.
When cooled, scoop out the inner flesh and discard the papery skins. Pulse in a food processor or blender until a smooth puree.
Add to reserved seeds together with the lemon juice, reserved liquid and sugar in a deep stainless steel pot. Stir over medium heat until all the sugar has dissolved. Then bring to a boil. Reduce to fire to low, let it simmer for 15 mins without stirring too much except for the occasional scrape or two with a wooden spoon to make sure it doesn't stick to the bottom and burn.
Turn off heat and skim scum from the jam surface with spoon.
Note: A clean sterilised jar is essential to the success and longevity of the jams. Dirty or jars that have not been sterilized properly will infect the food inside and it will spoil very quickly and need to be thrown away. 2 easy methods I like:
1. Hot Water Bath: Place jars and lid in a big pot of boiling water, make sure the water fully cover the jars and boil for 10 minutes. Remove the jars only when needed. Be very careful when removing the jars using tongs.
2. In the Microwave: Wash the jars and leave them a bit wet. Microwave the jars (not the lid) on high for 1 minute.