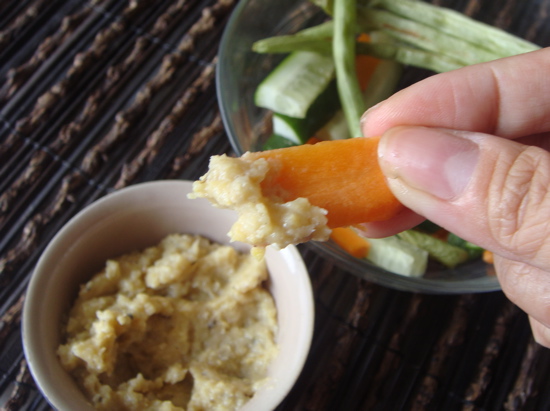 I first tried Middle Eastern food when studying in Australia and love it. There were lots of Lebanese eateries at that time, I love their hummus and falefal. Both are made of chickpeas. Hummus is blended chickpeas served as appetizer with bread, or dip for salad. Falefal is blended chickpeas shaped into a ball & deep fried. Hummus & falefal goes very well together. My ultimate favourite Lebanese food then was kebab (sliced meat and veggie wrap in thin flat bread).
Fast forward a few years (I am side-tracking my hummus story), there I was, arguing my heart out with my Arab friends that my favourite wrap is called kebab! It is unveiled to me the name of the wrap is actually Shawarma and kebab is cube meat on skewers. Those single Arab men in Malaysia can really cook, or else they will starved. Actually they are forced to cook because most of them find it difficult to adapt to other type of cooking. Maybe their culture is not exposed to others, as we do.
Back to my hummus story.. I usually use chickpeas as a snack – boil then in salt water and eat them as snack, remember kacang putih sold by indian uncles on a motorcycle outside the old cinemas? It was until someone told me recently chickpeas produce gas that i reduce my chickpeas snacking intake. oops..
So I have bought some  raw chickpeas, and I thought why not try my version of hummus. Why my version? Because i don't have the main ingredient-tahini (sesame juice). But i do have sesame oil, a must have in chinese cooking. The result? I was given a pass by a Middle Easterner.
300g raw chickpeas / garbanzo beans
2 tablespoon olive oil
1 fat garlic
1 tablespoon sesame oil
1 teaspoon cumin
1. Soak chickpeas in water at least 4 hours, if possible soak them overnight.
2. In a medium pot with 500ml water on high heat, bring chickpeas to boil. Turn the fire to low heat and let it simmer for 1 hour until the chickpeas become soft. Set aside to cool down.
3. In a food processor, blend all ingredients together with the leftover water used to boil the chickpeas until smooth and creamy.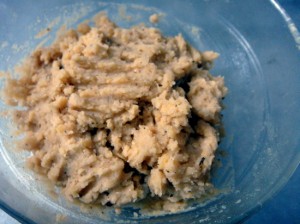 I prefer a bit of chunks so I did not blend until creamy. Alternatively you can also mash with a fork. Serve immediately with bread, biscuits, stick cucumbers/carrots.
It goes well with my homemade rice crackers.
Store in the fridge for up to three days.