Refreshing Fish Tacos with Mango Salsa on Gluten Free Oat Flatbread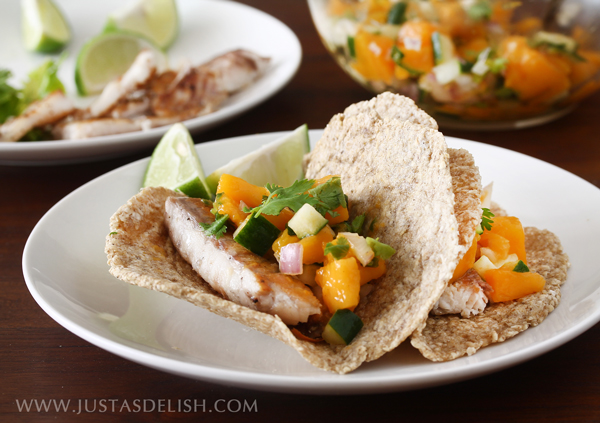 As a Pinterest addict, getting lost in the world of beautiful photos of recipes and DIY crafts happens pretty often. If I don't set a time frame for my "Pinterest" time, I could spent hours pinning away. It's not uncommon that Pinterest is a great source of recipe inspiration, because recipes are amongst the most pinned items. Easy oat flatbread is one of the recipes I found and experimented with a few times, if you have been following my instagram account, the few gluten free flatbread recipes I've tried, couldn't be rolled out properly, the texture was dry and stiff.
The recipe I found used egg to bind the ground oats together. I replaced the egg with "pixie dust", as I don't fancy eggy flatbread. Pixie dust is a great recipe from Dr Jean Layton (the Gluten Free Doctor), as a binder for gluten free recipes, in replacement of xantham gum. In my experience, pixie dust (consist of ground flaxseed, chia seed and physllium husk) binds the flours better than a similar 'flax-egg'.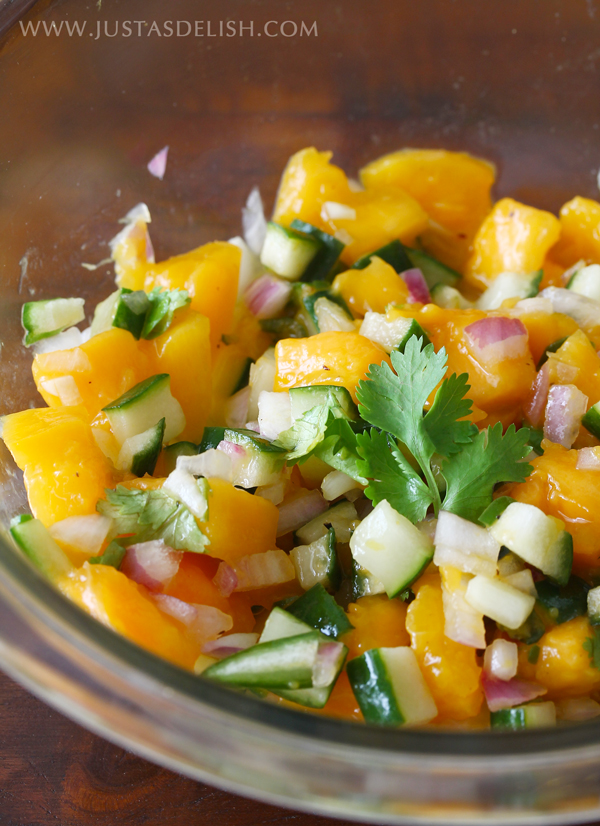 Mix ground oats, pixie dust and water, flatten the dough and cook in the pan. It's very flexible and makes great pizza base too. This oat flatbread is pretty dense and filling, I'm stuffed with 2 pieces of 16cm (6 inch). I now store ground oats and pixie dust for my instant flatbread, which just takes 15 minutes to make 4 pieces. To turn oat flatbread into crispy taco shell, hang them onto the oven rack after it's cooked on the pan and bake for 5 minutes.
Normally, you can wrap whatever is on your plate in a fresh tortilla and you have a taco. Almost everything tastes good with fresh salsa, and the mango salsa goes exceptionally well with fish.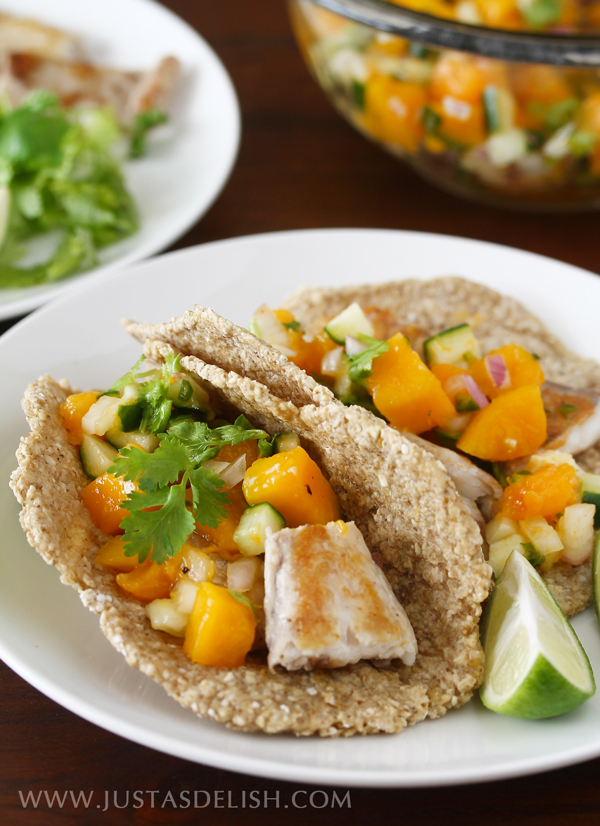 Oat Flatbread Fish Tacos
Refreshing Fish Tacos with Mango Salsa on Gluten Free Oat Flatbread
Ingredients
Fish Taco
Seasalt and Blackpepper
Olive oil
4 Oat Flatbreads (or 6 corn tortillas)
Mango Salsa
1 ripe Avocado – pitted and sliced,
½ cup thinly sliced Cabbage
½ tablespoon Cider Vinegar
2 Lime - quartered
Mango Salsa
1 ripe Mango - diced
½ medium Red Onion - finely chopped
1 Jalapeño Chile - minced
1 small Cucumber - seeded and diced
3 tablespoon Coriander Leaves - chopped
3 tablespoon fresh Lime Juice
Salt and pepper to taste
Optional - Diced Red Capsicum and Jicama
Instructions
Prepare oat flatbread as per recipe. If you want to make them into taco shells, hang on rack and bake for 5 minutes on 170C.
Mix sliced cabbage, cider vinegar and salt in a small bowl.
Heat a non-stick pan with 2 teaspoons of olive oil to medium high heat. Pat dry the fish fillet with a paper towel and place the fish on the pan. Cooking time depends on the thickness of the fillets – 1 minute on each side for a thin fillet and a couple of minutes of thicker fillet. Fish should be still barely translucent when cooked. Remove from pan and sprinkle with salt and pepper.
To assemble, place the fish, salsa, cabbage, and avocado onto each flatbread taco with a piece of lime. Or place each ingredients on the table and let everyone assemble their own taco.

Mango Salsa
Combine all of the ingredients in a bowl. Season to taste with salt and pepper. If the salsa is a little too spicy or sour for your taste, adding some diced avocado will temper it.
Oat Flatbread
Quick gluten free Oat Flatbread, great as thick wraps, sandwich or pizza base
Instructions
Mix all the ingredients in a mixing bowl, the dough is moist and goey. Divide dough into 4 portions.

Place 1 portion of dough between 2 sheets of non-stick baking paper, flatten it with a chopping board (or something flat and heavy), the thickness should be about 2-3mm. I find this method makes a round shape than using a rolling pin to flatten it. If the thickness is thinner, I find the dough will break when I peel off the paper.

Heat up a non-stick pan on low heat. Remove the top baking paper on the flattened dough, place the uncovered part onto the pan and peel off the bottom layer of baking paper. Cook for about 1 minute and flip over the flatbread with a flexible spatula and cook for another minute.

Continue with the rest of the dough.
Notes
Note:
*1 tablespoon Pixie Dust + 3 tablespoons of warm water replaces 1 medium egg in recipes
*Make sure the oats are certified gluten free if you are gluten intolerant