When mama came visiting recently, I made these oat biscuits for her. I was happy to have found a gluten free recipe here. The biscuits were crumbly and a tad too bland for me (with just ¼ teaspoon sea salt). Mama was happy with the bland taste, but it was horrifying for me to realise how much more sugar & salt was in the store-bought biscuits.
For my 2nd batch, I combined the recipe with a digestive biscuit recipe.. that is to place the dough in the fridge for 15 minutes before rolling and cutting. The biscuits turned out more firm and taste almost like digestive biscuits. Wanted to use these for cheesecake base, but alas they were finished in no time – for breakfast and afternoon tea.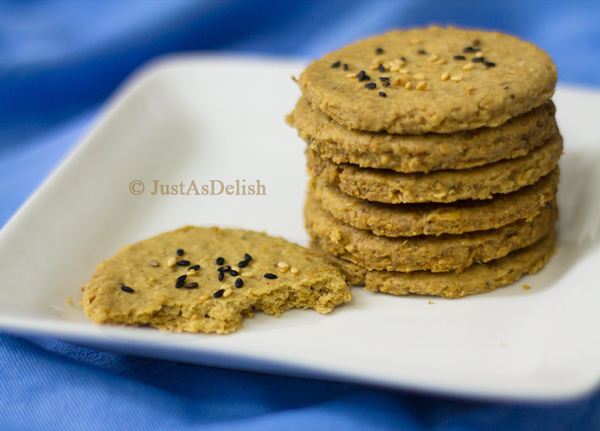 For those who prefer more flavourful biscuit, add 1-2 tablespoon brown sugar and 1 teaspoon sea salt. Wheat flour can also be used instead of rice flour, for those who are not having problems with gluten.
Enjoy your homemade biscuits!
This is submitted to Gluten Free Fridays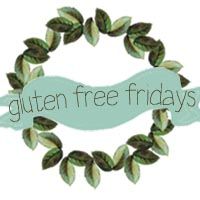 Gluten free Oat Biscuits with olive oil
Ingredients
150g Rolled Oats
75 Rice Flour (or wheat flour)
2 Teaspoon Baking Powder
90g Olive Oil
65ml Milk (or water)
½ teaspoon Sea Salt
Sesame seeds, to sprinkle on top
Instructions
Preheat the oven to 200℃/ F and line 2 baking trays with baking paper.
Place all ingredients (except sesame seeds) in a food processor and blitz until everything is combined. Form the mixture into a ball with your hands, wrap it with a cling wrap and place in the fridge for 15 minutes.
Then take out dough and place in between 2 pieces of cling wrap or any plastic sheets. Roll out the dough into 5mm thickness. Peel off the top layer of cling film and cut the dough into rounds with a 7.5cm (3") round cutter. Use a cutlery knife to carefully transfer the biscuits to the baking tray.
Sprinkle the biscuits with sesame seeds and bake in the preheated oven for 25 minutes or until pale golden brown. Transfer to a cooling rack and leave to cool.



Notes
This recipe is purposely kept bland. For those who prefer saltier & sweeter biscuit, you can 1 tablespoon brown sugar and a bit more salt