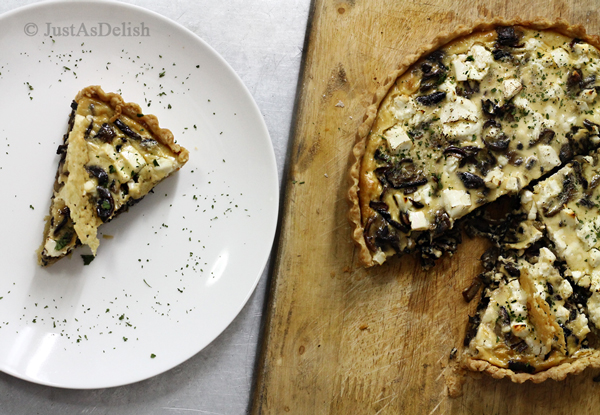 I was on a crazy baking quest last month, I've never baked so frequently in a whole month. When Veronica of Quay Po Cooks invited me (a few times) to join the Nutriplus Pastry Competition, I hesitated because I'm no baker and I have sensitive reaction to wheat. To join the competition, we have to submit a pastry recipe with a photo and 12 person will be selected to compete in the semi-finals. I've mostly baked gluten free/wheat free but those recipes are certainly not competition material. I planned to make some flourless bakes but due to time constrain, I submitted my Spinach Mushroom Quiche recipe. Yes, the original recipe was a crustless quiche, I've never baked a proper short crust pastry and I never thought I'll get selected into semi finals.. so sue me..
When I receive a call from the organizer, I nearly dropped my phone. Imagine my panic. "Are you sure you are calling the right person? Oh shit, I've got to learn short crust pastry in 2 weeks. OK 2 weeks is not that bad, I'm sure I'll master it by then.. (trying to psyche myself)." All these playing in my mind, while he briefed me about the competition.
Luckily we have a mentor chef to help us fine-tune our recipes to impress the judges. Chef Loke is so patient and have so much faith in me. And he's also my SOS helpline when my crust didn't turn out right. I practiced and practiced, made 6 quiches and 1 tart over 2 weeks.
Before the competition start, all the contestants were invited to Nutriplus Think Out Of the Shell Volume II Cookbook Launch. We get to meet all the talented bakers that were featured in the cookbook, and taste their delicious bakes.
And contestants were called on to the front for a short 'introduction' session.
Following the launch was the Pastry Competition Semi Finals held in 4 rounds over the next 4 days, winner of each round will then proceed to the finals. As I'm on the Round 4, I had the chance to check out the equipments, observe and learn a lot about pastry making from the contestants and the judges. With all this observation, I would be all calm when it's my turn.. dead wrong. When I did my final practice, the dish was completed in the nick of 3 hours. I was so nervous that I hardly slept the night before, my mind kept playing the recipe steps over and over so I could finish on time.
Luckily there were not many passer-by watching the competition, and it started off well for me. I just execute recipe step by step, just like how it was played  over and over in my dream the night before. I was surprisingly calm until I took out the chilled dough to roll. The dough was too dry and having 3 judges standing in front of me while I roll and press down the dough was just plain nerve wrecking. Rolling the dough has always been my biggest worry, I find it difficult to roll even though rolling between 2 plastic sheets. Judge Veronica noticed the crust was too thick in the center and suggested I use my thumb to thin out the crust. I did it quickly as I could feel the butter in the crust starting to melt.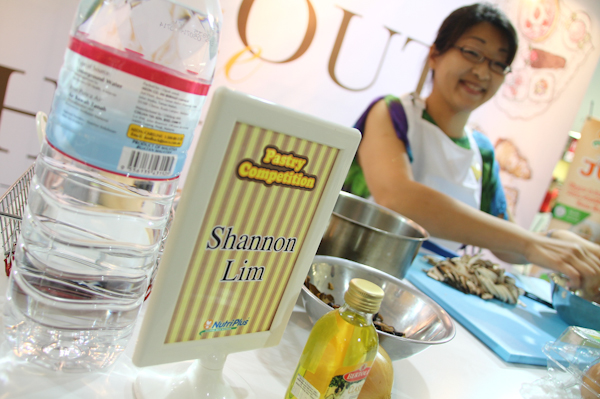 Next is to prepare the mushroom infused cream (simmer milk cream mixture with the mushroom stems, this makes the custard taste like mushroom soup). Sauteing the mushrooms with butter filled the whole place with earthy aroma that got everyone waiting hungrily for my quiche.  These are some of the secret weapons Chef Loke taught me, that wowed the judges and everyone away.. and not forgetting adding roasted garlic deeply enhances the flavour of the filling. Cooking each ingredient separately instead of together, will bring out the full flavour of each ingredient.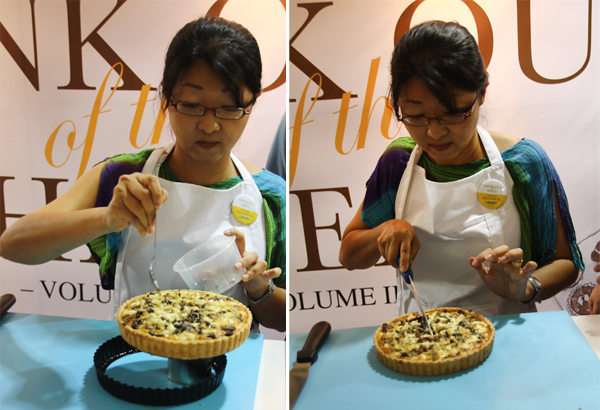 With just 15 minutes left, the quiche is finally out of the oven. The aroma filled the room, everyone was surrounding me while waiting for it to cool down, drizzle some truffle oil and cut the first slice. Later I found out that everyone were very worried I couldn't plate on time, but I was oblivious to all that.. I was in my 'zone'.
The knife came down sharp, the first slice came out beautifully. As I serve the judges, my heart sank. The crust was partly baked, it was too thick in the middle. My secret weapons couldn't save my partly baked crust..  No matter how many techniques I've used, how delicious is the wild mushroom quiche, serving a partly cooked dish in a competition has caused me the precious points.
At the end of the day, I realised that it does not matter if I think I'm not good enough to join any competition. This competition was a great stepping stone for me to overcome my shyness and doubts about my cooking experiments. This experience has fast tracked my learning curve – I learnt so much about myself, and what else I need to improve. Guidance from the chefs and the whole experience is more valuable than the prize itself.
Thank you everyone for your encouragement & support. A small mistake cost me my chance on going through to finals. But doesn't matter, I'm already a winner.. So when's the next competition? 😀
My heartfelt appreciation for friends who came to give me moral support – Faisal for capturing my moments, Ping of Ping's Pickings, Tracy Poon of Pittolo Private Kitchen, Reza Ali, Wendy of WendyinKK, Evelyn Ang of Missyblurkit and 2 other contestants – Treedson Tang & Fan Lee.
Check out Kelly Siew's (Kelly Siew Cooks) post on her experience in Round 1 of the competition here.
More photos on Nutriplus Pastry Competition Facebook page.
Nutriplus Pastry Competition with Wild Mushroom Quiche
Wild Mushroom Quiche, with mushroom infused cream, roast garlic, drizzled with truffle oil and garnish with parmesan crisp
Ingredients
Short Crust Pastry
200g Flour
110g Salted Butter - cubed & chilled
1 Egg Yolk
55g Cold Water
Filing
1 tablespoon Butter
1 tablespoon Olive Oil
1 head Garlic
1 White Onion - chopped
20g Dried Wild Mushroom (Porcini, Chanterelle & Morel) - soaked in warm water
100g Fresh Mushroom (Shiitake, Portobello & Button Mushroom) - take out stems & slice
2 Eggs + 1 egg yolk
80ml Milk
80ml Cream
50g Feta Cheese - crumbled
2 tablespoon grated Parmesan
1 tablespoon grated Pecorino
1 teaspoon Salt
Freshly ground Black Pepper
Truffle Oil (Optional)
Parmesan crisp
Garnish
Italian Parsley - roughly chopped
Instructions
Short Crust Pastry
Place flour and butter cubes into a food processor and pulse (about 15 times) until you have a mixture that resembles a coarse meal, with many butter pieces the size of peas.
Add in water and egg to the food processor bowl and pulse a couple of times until the mixture just barely begins to clump together. If you pinch some of the crumbly dough and it holds together, it's ready, if not, add a little more water and pulse again.
Remove the crumbly mixture from the food processor and place on a clean surface. Then gather the crumbly dough together and shape into a disc. Wrap the disc in plastic wrap and refrigerate for about 1 hour (or 15 minutes in the freezer). (At this point you can freeze the dough disk for several months until ready to use. Defrost overnight in the refrigerator before proceeding.)
Grease the 7" quiche/tart tin. Placed the chilled dough in between 2 lightly floured plastic sheets. Using a rolling pin, roll out the dough to a 8 inch circle with a thickness of ⅛ inch. Place on to the tin, gently press down the sides to line the tin with the dough. Wrap the tin and keep in the freezer until time for baking.
Filling
Pre-heat oven at 180C/400F.
Place the whole garlic into the oven, roast for about 20 minutes until the peel becomes light brown and the garlic is soft when gently pressed. Let it cool down.
Place mushroom stems , milk & cream into a small pot, bring the mixture to a simmer and leave it aside. This is to infused the flavours of mushroom into the custard.
In a frying pan, saute Mushrooms with butter and olive oil, until mushroom is soft. Season with salt & pepper. Set aside
Take out the frozen crust, place parchment paper over crust and top with beans/rice to weigh down the crust when baking. Bake for 10mins, remove the beans and bake another 10 mins.
Press out roasted garlic and mash it with a fork. Strain out the mushroom stems from the milk mixture, beat eggs into mixture with ½ tsp salt & pinch of pepper. Strain the mixture again.
On the baked crust, place sauteed mushroom, mashed roasted garlic and pour in the milk mixture. Sprinkle feta, parmesan & pecorino on top. Bake for 30 minutes until set in the center. (Poke a knife/toothpick and it comes out clean)
Meanwhile, prepare the Parmesan Crisps – place 1 tablespoon of grated parmesan on to a baking tray lined with parchment paper. Use the back of spoon to gently spread out the cheese to about 6cm circle, make sure it's not too thinly spread out or it will break when trying to remove from the paper. Bake for 5 minutes.
When the quiche is out from the oven, drizzle truffle oil on to the hot quiche. Cool down for 10minutes before cutting and garnish with parsley and parmesan crisp.