Non-Alcoholic Kefir Sangria – a refreshingly delicious mocktail that's great for entertaining and even good for you!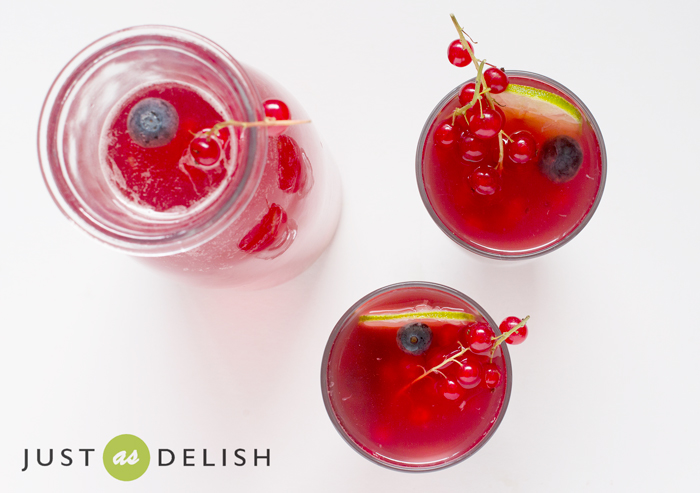 This year's real summer in The Netherlands has finally arrived. At the end of August for 2 consecutive weeks, the weather has been above 30C. That indeed calls for a real celebration. I bet everyone is staying outdoor and soaking up every single ray of sun that comes out that day.
During our Barcelona vacation 2 summers ago, sangria, wine and cava were flowing everywhere. Every day felt like a celebration. I enjoyed how refreshing it is to sip a glass of sangria, the Spanish punch with wine, and munch on the luscious assortment of fruits that gets ladled into each glass. Though I can't take alcohol well, the vacation mood got the better of me and had a few too many. Things didn't end up pleasantly (at least it was not pleasant for a non-drinker like me)… Since then, half a glass of wine is the max for me. And no alcohol for Norbert too because of his gout.
Warm beautiful long summer days make it perfect for outdoor entertaining. Enjoying a cocktail, wine or beer is a normal part of entertaining. Hence I created this non-alcoholic sangria that's perfect for entertaining and everyone (especially me) can enjoy. As usual, I tend to create recipes with benefits – that being this kid-friendly kefir sangria is even good for your gut 😀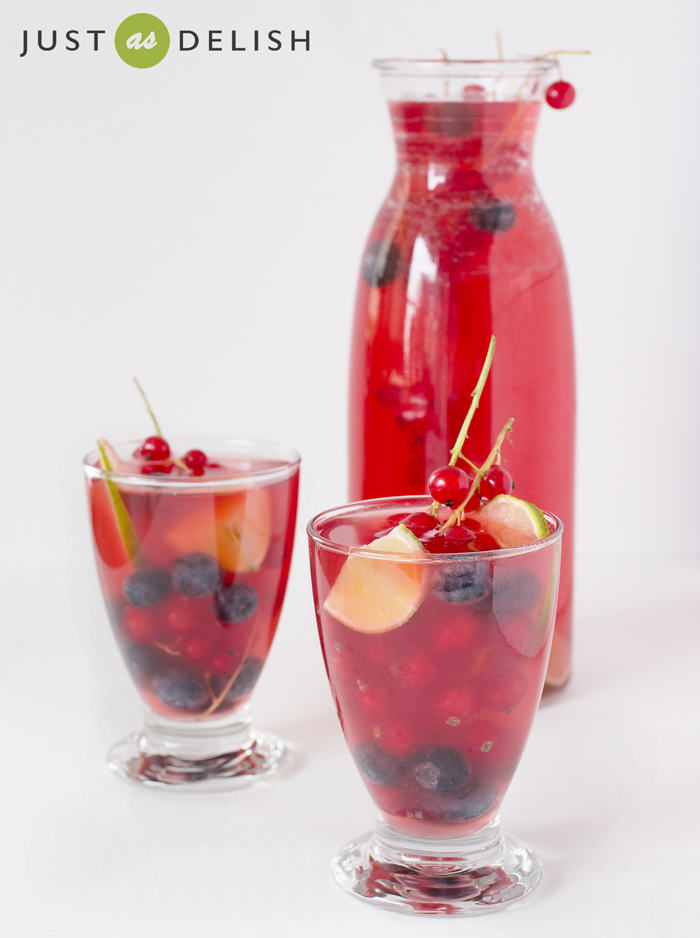 There are hundreds of recipes for sangria, each using a different combination of wine and fruits, so do not worry too much about whether this recipe is "authentic". A mixture of pomegranate / mix berries juice would replicate a red sangria. Grape/apple juice would work great for a white sangria. I like using seasonal summer fruits with something citrusy for the refreshing flavours. You could also try other fresh fruits like orange, apple and pineapple. When steeped for several hours, the fruits both flavour the drink and soak up the liquid, turning plump and juicy. They not only look pretty in the glass, but are a delight to eat. Just before serving, the drink is lightly carbonated with water kefir, and the result is a great punch for everyone to enjoy during mealtimes and parties.

Non Alcoholic Kefir Sangria
Non-Alcoholic Kefir Sangria is great for entertaining and everyone (old or young, drinkers and non-drinkers) can enjoy, and even good for your gut
Author:
An original JustAsDelish recipe
Ingredients
1 liter pomegranate juice / mix berry juice + apple juice
500ml lime flavoured water kefir
2 limes – cut into rounds
2 tablespoon blueberries - lightly crushed
5 strand red currant - lightly crushed
Lime water kefir
Instructions
In a large pot or bowl, combine all ingredients with half of the lime flavoured water kefir and refrigerate for at least 1 hour. Before serving, add balance of lime water kefir and serve in glasses. Enjoy!
Lime Water Kefir
Pour lime juice and ready water kefir into a tightly capped bottle (like these) and place in a warm place to ferment further 18-24 hours. This allows carbon dioxide to develop, producing a fizzy water kefir. When it is ready, open carefully over a sink, as the liquid in the bottle is under pressure, the water kefir may fizz and foam.
If you enjoy simple recipes like this, you will also enjoy the recipes in my book
Asian Raw Food Kitchen.