For the past 1 month, I've been trying to cut down on my flour intake. It can super tempting when it comes to dessert time.. the cakes, cookies, puddings, brownies are calling out to me .. oh dear. Those so sinfully delicious photos on other food bloggers site does not help either.
I have a serious craving for snacks during past 1 week  – my mouth is craving for something to munch. I've been reading quite a few bloggers raving about no bake cookie dough, so I decide to give it a try because it's quite easy to whip up. Just in case it does not turn out nice as expected, I tried with just half of the ingredients and changed it to the ingredients I have – walnuts & dried apricots.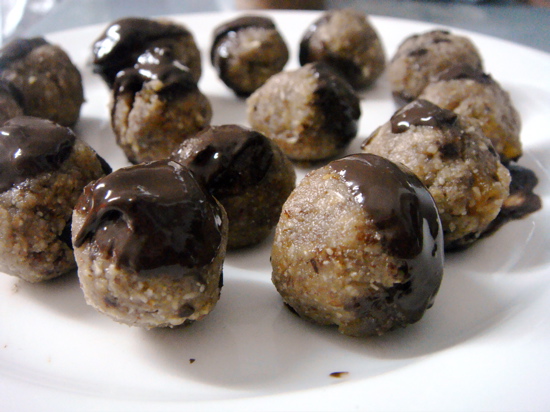 Does this looks tempting? My first bite was a bit strange, I think my brain couldn't register a raw cookie taste, it takes a few bites to get used to.  It taste better after chilling overnight and I couldn't stop popping them into my mouth. Definitely will make this again.
I will be away for a few days, I'm might not have time to post.. will be back soon! Have a great & beautiful weekend!
No-Bake Chocolate & Apricot Cookie Dough Bites
Ingredients
Cookie Dough:
⅔ cup Walnut - Raw or roasted (or any other nuts)
⅓ cup Oats
3 tablespoon Honey
1 teaspoon Vanilla Extract
¼ cup Dried Apricots - diced
¼ cup Chocolate Chips (I use chocolate bars and chop into chunks)
Topping:
¼ cup Chocolate Chips/Chunks for melting and drizzling on top
Instructions
First add walnuts and oats to food processor and grind into a fine powder. Then, add honey and vanilla extract and blend again.
Add apricots and chocolate chunks and either stir in by hand or barely blend/pulse until incorporated. Retain some texture.
Remove the dough and form into cookie bites/balls. If dough is soft or hard to work with, refrigerate/freeze for 20 minutes prior to forming into bites.
Put Chocolate Chips/Chunks in a bowl and melt it over boiling water in a pot. Alternatively, you can melt it in the microwave for 3 minutes on high.
After the bites are formed, dip bites into melted chocolate, or drizzle chocolate with a spoon over the bites.
Store the Bites in refrigerator or freezer.



Optional: add dried coconut flakes to each ball by rolling them in coconut at the end, or adding 1/4 c dried coconut to the dough. Increase honey slightly if dough is too dry.