Fragrant and addictive coconut cranberry seed bar. Easy no bake munchies in 10 minutes. Refined sugar free, grain free, nut free, dairy free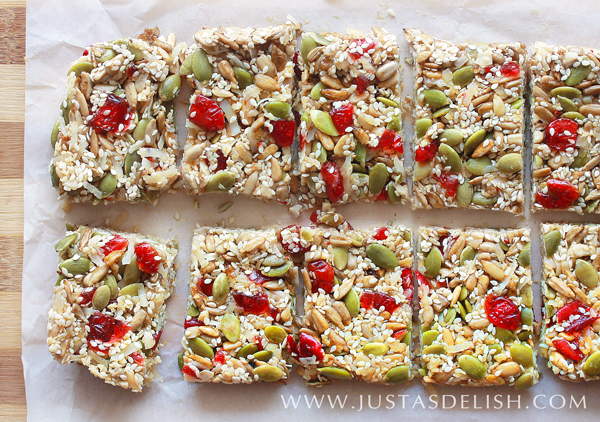 Finally, I've discovered an awesome a no-bake bar recipe for you. And I have to warn you – these Coconut Cranberry Seed Bars are pretty addictive!
I've made these no-bake bars a couple of times, usually with oats, nuts & seeds. For this recipe, I made it with grain and nut free, so it can be enjoyed by everyone. As it's that time of the year, I thought the addition of white from coconut flakes and red from dried cranberries would give it a festive feel. The finished product didn't turn out as I earlier envisioned. In fact, it was even better with the specks of white sesame against the green pumpkin seeds and red dried cranberries. Perfect! And the fragrant coconut flakes just made me wanting to go back for more, over and over until I have to tell myself to stop. A couple of times 😀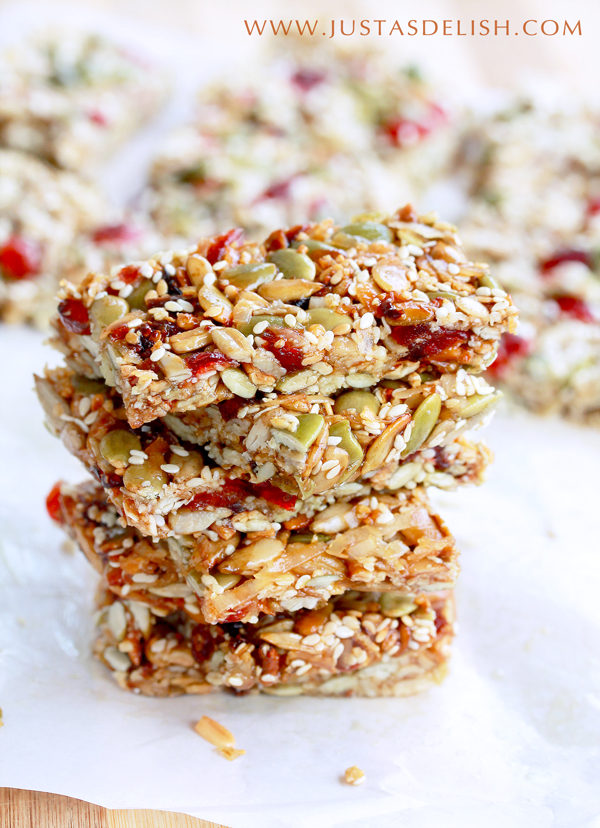 These are great for munching, grabbing a bite on the go, or pre and post workout fuel. Ditch the store-bought snack & cereal bars, they are usually laden with sugar, preservatives and hidden ingredients. Make this today, it only takes 10 minutes and it's super easy.
Heat honey to boil.
Stir in the rest of the ingredients.
Pour into a container and refrigerate for 20mins.
Cut and nom nom nom.
Can it get any easier?
So make this today. For yourself or as a gift. I bet they will disappear in 2 days. When you make them, be sure to share your efforts with me on Facebook and tag @justasdelish!
Cook's Notes:
I use raw and sprouted seeds because they are better for digestion, and the enzymes are . It's easy to soak and sprout the seeds, learn how here.
You can also use roasted seeds if you prefer.

No Bake Coconut Cranberry Seed Bar
Ingredients
120g (4.2oz) Pumpkin & Sunflower Seeds
10g (0.3oz) White Sesame
20g (0.7oz) Dried Cranberries - roughly chopped
10g (0.3oz) Unsweetened Shredded Coconut
3 tablespoon Honey (preferably mild flavoured runny honey) *
10g (about 1 tablespoon) Butter (or coconut oil) - I use ghee
Instructions
Heat up butter and honey in a small pot, to met the butter and let it bubble up for 2 minutes on low heat. Turn off the heat.

Add in the rest of the ingredients - seeds, coconut and chopped cranberries. Mix well, make sure all ingredients are coated with the honey butter syrup.

Line a 22cmx12cm (9"x5") container** with non-stick baking paper. Pour the mixture into the container and press it down tight evenly with the back of a spoon, or preferably the same size container.

Let it cool down for a few minutes and pop into the fridge for 20 minutes to set.
After it is set, cut into 12 bars and store in an airtight container jar (preferably in the fridge in you live in a tropical climate country like me). These can last for 2 weeks – as if they'll last that long!

Notes
* Milder flavoured honey is prefered so it doesn't overpower the other ingredients. Usually the whiter honey have milder flavour
** a 22cmx12cm (9"x5") container gives me 1cm thick of 12 bars. You can use any tray or containers that gives an area of approximately 264sq cm or 45sq inch.